Full Mechanics

1. The contest is open to all Filipino residents
2. Follow the steps below to submit an entry:
a. Fill out the registration form available on the TrueID website or app;
b. Download the Digital Stamp Rally card provided on the registration form;
c. Watch the Pokémon Diamond and Pearl series on TrueID and wait for the special Pokémon character to pop up in the episodes.
d. Provide the following information in your Digital Stamp Rally card:
*Name of the Pokémon character that popped up
*Episode number of the Pokémon series
Example: Pikachu / Episode 8
e. Upload the Digital Stamp Rally card with your complete answers on the registration form and click submit. This will serve as your entry.

3. One (1) completed registration form with the correct answers on the Digital Stamp Rally card is equivalent to one (1) valid entry for the raffle. A participant can submit as many entries as possible but can only win 1 time per round.
4. Winners will be notified by the email address and contact number they provided on the registration page. Winner can claim the prizes through the following:

If winner is within Metro Manila: Physical prizes can be claimed at the True Digital office in BGC upon an agreed schedule between True Digital and the winner/s.
If winner is outside Metro Manila (Provincial areas): Physical prizes will be delivered via courier to the provided address of the winner. Redemption of prizes are only valid 60 days upon receipt of the registered mail.

5. Prizes are not transferable or convertible to cash. The prize is tax-free (20% tax exceeding Php 10,000.00 shall be shouldered by the winner)

The whole contest duration running from November 1, 2021 to January 28, 2022 will be split into four (4) rounds. Each round will require a different Digital Stamp Rally card from a new registration form. The raffle draw for each round will be disclosed and witnessed by a DTI representative.

Watch Pokémon Diamond and Pearl Series here.

Digital Stamp Rally card (click to download)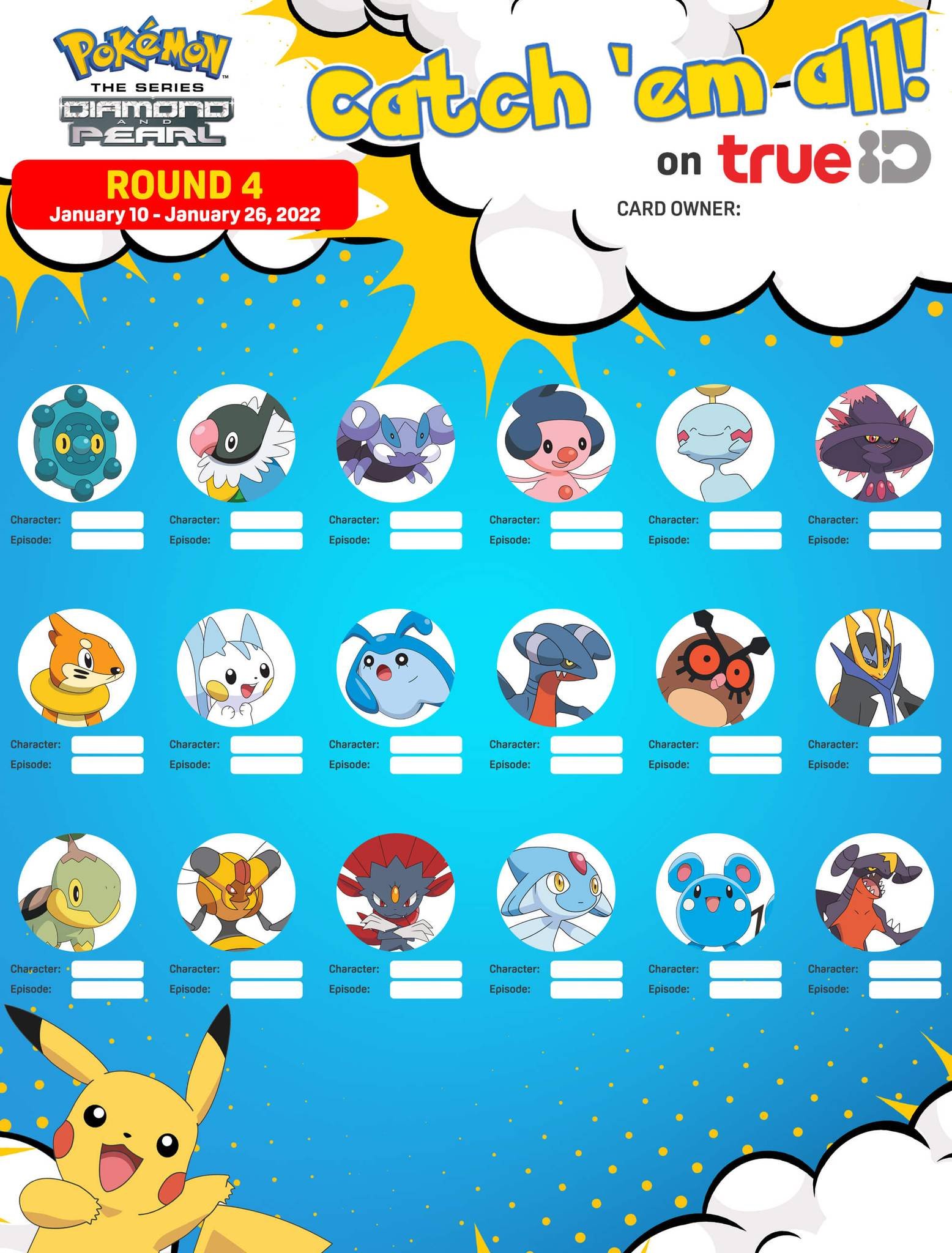 Round 1: November 1, 2021 - November 17, 2021
Announcement of winners: November 19, 2021
1 winner will get 1 Nintendo Switch (with accessories) and 1 Pokémon Brilliant Diamond or Pokémon Shining Pearl Game
2 winners will get 1 Pokémon Brilliant Diamond or Pokémon Shining Pearl Game
8 winners will get 1 Pokémon Trainer Kit (Alolan Ninetales & Alolan Sandslash or Alolan Raichu & Lycanroc)

Round 2: November 22, 2021 - December 8, 2021
Announcement of winners: December 10, 2021
1 winner will get 1 Nintendo Switch (with accessories) and 1 Pokémon Brilliant Diamond or Pokémon Shining Pearl Game
2 winners will get 1 Pokémon Brilliant Diamond or Pokémon Shining Pearl Game
8 winners will get 1 Pokémon Trainer Kit (Alolan Ninetales & Alolan Sandslash or Alolan Raichu & Lycanroc)

Round 3: December 13, 2021 - December 28, 2021
Announcement of winners: January 5, 2022
1 winner will get 1 Nintendo Switch (with accessories) and 1 Pokémon Brilliant Diamond or Pokémon Shining Pearl Game
2 winners will get 1 Pokémon Brilliant Diamond or Pokémon Shining Pearl Game
8 winners will get 1 Pokémon Trainer Kit (Alolan Ninetales & Alolan Sandslash or Alolan Raichu & Lycanroc)

Round 4: January 10, 2022 - January 26, 2022
Announcement of winners: January 28, 2022
1 winner will get a grand-prize Pokémon Rebel Clash Elite Trainer Box
8 winners will get 1 Pokémon Trainer Kit (Alolan Ninetales & Alolan Sandslash or Alolan Raichu & Lycanroc)