Rowena Guanzon, along with ABS-CBN, calls out publication site, Abogado.com.ph for an erroneous report related to her on COVID-19 vaccines. The news outlet then apologized for its incorrect article.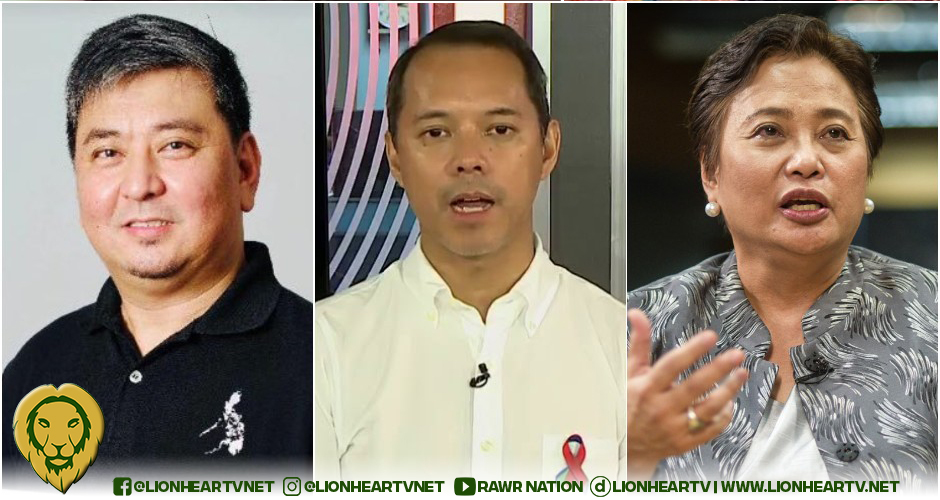 Commissioner of the Philippine Commission on Elections (COMELEC) Rowena Guanzon incorrectly identified a DDS propagandist to that of an ABS-CBN chair, Monday, May 24.
Earlier today, Guanzon was looking to buy vaccines for her drivers as well as staff in COMELEC.
Anyone has extra vaccine for sale? I need it for my drivers and staff. Salamat po

— Rowena Guanzon (@rowena_guanzon) May 20, 2021
However, it did not sit well as she received criticism for her tweet. Many have lambasted her as per the Government, Covid-19 vaccines are not for sale.
Guanzon then looked for an "ABS-CBN News officer" who ridiculed her for sourcing vaccines for her staff and employees. She responded that she has to protect her people in the COMELEC against the coronavirus.
Who is that @ABSCBNNews officer who said nakakahiya ako for sourcing out vaccines for my staff? Shut up you elitist rich boy ! I have to protect my people @COMELEC

— Rowena Guanzon (@rowena_guanzon) May 24, 2021
Kapamilya TV host Kim Atienza clarified to Guanzon that it was not one of the ABS-CBN executives who were criticizing her. Atienza explained that many are named Mark Lopez.
Hi ma'am. Madami pong Mark at madami pong Lopez. Salamat po. https://t.co/n1Br4JIgqG

— kim atienza (@kuyakim_atienza) May 24, 2021
The "ABS-CBN officer" Guanzon was referring to, was Mark Lopez, chairman of ABS-CBN. However, it was a case of mistaken identity as the personality who criticized her was a DDS propagandist named Mark Lopez as well.
In a Twitter post, this certain Lopez, who is a follower of Duterte, condemned Guanzon for inquiring about any available vaccines that can be bought for her staff.
Government official naghahanap ng bakuna para bumili?

Ano yan, prank? https://t.co/MfLm3EEF4Z

— Mark Lopez (@MacLen315) May 24, 2021
This DDS propagandist has been known to attack any critics of the government. On May 22, he ridiculed Frankie Pangilinan for taking a jab of the Covid-19 vaccine despite being a heavy critic of Duterte.
However, he forgot to mention that Pangilinan is a taxpayer and is entitled to receive the vaccine as part of the priority list since she was asthmatic, thus falling under the category A3—persons with comorbidities.
WALA NA SIGURONG MAY MAS MAKAPAL PA ANG MUKHA DITO, EXCEPT PERHAPS UNG TATAY… pic.twitter.com/Yijfp5wNle

— Mark Lopez (@MacLen315) May 22, 2021
And on May 19, he lambasted the leftists or the dilawans for being "stupid" since the vaccination program in the Philippines has already progressed. But again, he did not say that the country is the fifth in South East Asia to start its inoculation drive.
Dapat sa Duterte Admin, mag slow down muna sa bakuna rollout, at masyado na kawawa at mukhang tanga ang mga dilawan, wokinimans at mga disenteng hipokrito. Pati tuloy ibang bansa like Japan, gusto na pumunta dito mga citizens nila para magpabakuna…

Masyado ginalingan eh 😂

— Mark Lopez (@MacLen315) May 19, 2021
During the Miss Universe pageant on May 17 where the country's representative Rabiya Mateo placed 21st, Lopez associated the evening gown and swimsuit (being color yellow) worn by Mateo to the dilawans as the reason for her failure to clinch a top 10 spot. However, according to the gown's designer, Furne Amato, the color of the dress represented the sun, a symbol of happiness, strength, and vitality.
"Even at 93 million miles away, it warms, illuminates, and energizes us, making us feel our best and our brightest," Amato said on Instagram.
Pinilit kasi yung DILAW na kulay…

Yun ang nakasama eh.

— Mark Lopez (@MacLen315)
In August 2020, Lopez was lambasted by Rappler journalist Rambo Talabong for his insensitive Facebook post about a viral post of a daughter who lost her mom to COVID-19.