A video of Ilocos Norte 1st district Rep. Sandro Marcos "playfully distracting" Assistant Majority Leader and Cavite 8th district Rep. Aniela Tolentino has gone viral.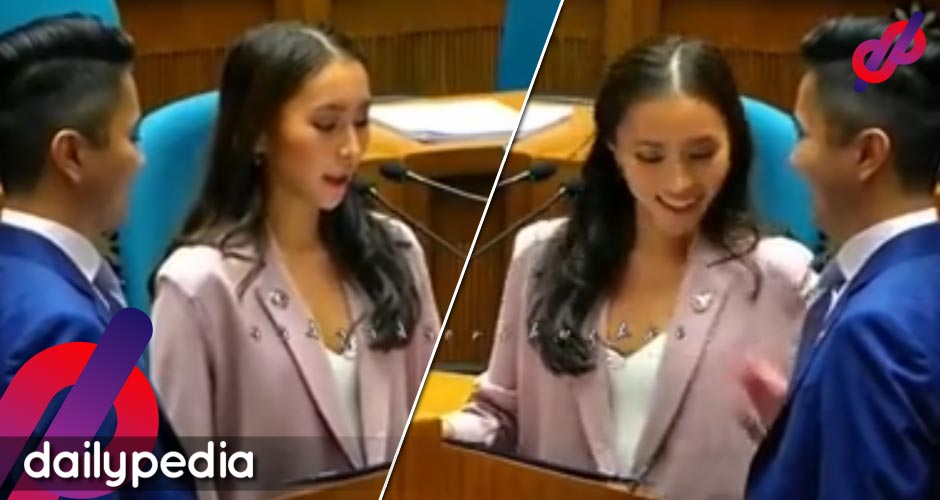 In the video uploaded by TikTok user Trixie Torikushii, Tolentino got spotted as he motioned on the floor while Marcos stood beside her.
She then began giggling after Marcos did something to make her do so, although it wasn't clear what he said that made her slap his arm in a friendly manner.
Tolentino continued while Marcos walked away with a big smile on his face.
Followers of the administration saw nothing wrong with what happened, saying that the interaction between the two reminded them of puppy love.
There is nothing wrong with the behavior of Congressman Sandro Marcos, but the young Congw. Aniela Tolentino cannot concentrate because she was thrilled by the presence of Sandro Marcos. I actually find it cute because they are both single. Don't exaggerate things Mr. MLQ III. pic.twitter.com/Ub4DXh8HTF

— Mr.Winwin_Situation (@WinwinEklabu) September 1, 2022
Some said it wasn't that big of a deal.
Si aniela tolentino po yan! Wala namang masama sa ginawa nila ah. Bini-big deal masyado..

— Kris Rivera Carillo (@carillo_rivera) September 2, 2022
May loveteam! Ang cute 🥰 – SanNiela @sandromarcos7 @AnielaTolentino bagay. naalala ko tuloy crush ko ganyan kami nung elementary… https://t.co/sNh15PXv4N

— Concerned Citizen (@ConcernCitisenz) September 1, 2022
But other netizens took it seriously. The grandson of former President Manuel L. Quezon criticized the interaction, called both Tolentino and Marcos "kindergarten students wearing suits."
Today's version of Congressmen Behaving Badly aka Kindergarten in Suits. pic.twitter.com/x03g1wuofZ

— Manuel L. Quezon III (@mlq3) September 1, 2022
Lang hiya!! Ginawang HS ang Congress!! Never thought I would see this in my lifetime!! https://t.co/Qb1AGCaUEx

— Peter Villadolid (@PeterVilladolid) September 1, 2022
Another said that the two acted like they were delivering a report in high school.
Ano to Highschool Reporting https://t.co/zMS3tTkbpI

— GaiaPoly (@_GaiaPoly) September 1, 2022
When Rizal said kabataan ang pag-asa ng bayan, he probably didn't mean this… https://t.co/bmpISlQVwm

— Jai Cabajar (@jaicabajar) September 1, 2022
Sya pala to!! Can somebody pls share that video, photo lang nakita ko! The Congress is their playground!! 😏 ~ctto~ pic.twitter.com/ycX7CGdcJZ

— bella (@isabelmerana) September 1, 2022
Aniela is the daughter of former Deputy Speaker Abraham "Bambol" Tolentino and niece of Senator Francis Tolentino.