POCO recently unveiled two smartphones, the POCO M5 and the POCO M5s. What's weird, though, is that they have plenty of similarities and are priced close to each other. So, if you're presented with both devices, which one are you going to pick? Let us help you with that.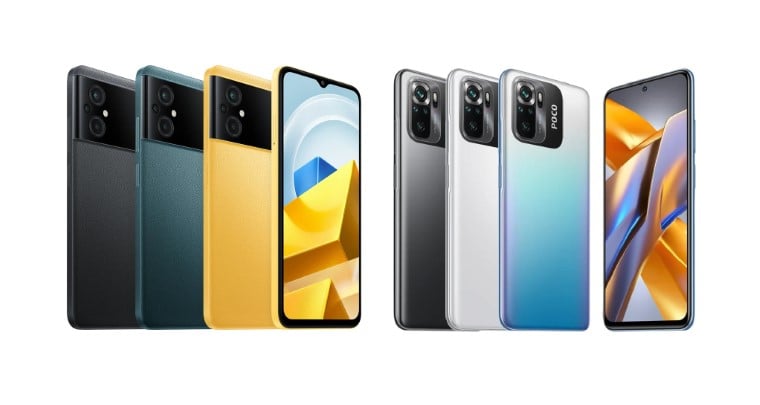 Summary of advantages
POCO M5:
• Slightly larger screen
• 90Hz refresh rate
• Newer 6nm chipset
• Newer Bluetooth 5.3
• Slightly lower price
POCO M5s:
• Higher resolution main camera
• Ultra-wide camera
• Higher front camera resolution
• Stereo speakers
• IP53 rating
• Faster charging
Display
The POCO M5 has a slightly larger screen at 6.58-inch compared to the POCO M5s's 6.43-inch. It's a 0.15-inch difference, though, and won't be noticeable. The M5s, however, has a slightly higher pixel count but only an 8ppi difference. Again, negligible and won't be noticed in daily use. Both also use Gorilla Glass 3 for protection.
What people will notice, though, is the panel used. The M5 has an IPS panel which produces natural colors, while the M5s has an AMOLED panel which produces punchier colors and deep blacks, which is an advantage when watching videos.
Chipset
The two devices use chipsets from MediaTek but with different models. The M5 uses a newer 6nm Helio G99 with a 2.2GHz octa-core CPU and Mali-G57 MC2 GPU, while the M5s uses an older 12nm Helio G95 with a 2.05GHz octa-core CPU and Mali-G76 MC4 GPU.
We'll know the difference in performance once we have both units in for review.

Memory and Storage
The M5 and M5s sport the same RAM and storage configuration. They're both available in 4GB + 64GB and 6GB + 128GB. Both use UFS 2.2 as storage types and have dedicated microSD card slots.
Cameras
In this aspect, the M5s shines. It has more cameras with a higher main camera resolution and the addition of the ultra-wide camera, which the M5 lacks. This makes the M5s the more versatile shooter. Selfie-wise, offers a sharper sensor with 13MP, versus the 5MP on the M5.
If you like taking photos, the M5s looks like the better option.
Connectivity and Features
Both devices support dual-SIM with 4G LTE, WiFi 5, NFC, GPS, IR blaster, 3.5mm headphone jack, USB-C, and side-mounted fingerprint scanners. In terms of Bluetooth capabilities, the M5 has the newer Bluetooth 5.3 compared to the M5s's 5.0. However, the M5s offers stereo speakers, which are great for watching videos and playing games, and IP53 dust and water resistance, allowing it to withstand splashes of liquids.
Battery
The M5 and M5s sport the same 5,000mAh capacity. However, they vary in charging rates as the M5s has 33W compared to the M5s's 18W. This means that the former will be able to charge its battery faster for shorter waiting times.
Price
This is the part where things get tricky. The POCO M5 4GB+64GB is priced at PHP 9,499, while the 6GB+128GB is at PHP 10,499.
The POCO M5s 4GB+64GB is priced at PHP 9,999, while the 6GB+128GB is at PHP 10,899.
That's a PHP 500 or PHP 400 difference based on their respective configurations.
So, which one to get? Suggesting one over the other in terms of budget since the differences in prices are small. Because of that, we can now look at their respective merits. If you need a smooth 90Hz refresh rate, a newer chipset, upgraded Bluetooth, and if you really want to save a few bucks, the M5 is a good choice.
But if you like taking photos and selfies, want those deep blacks and punchy colors when watching videos, immersive speakers, IP53 rating, and fast charging, get the M5s. Shelling an extra PHP 400 or PHP 500 is worth it.