The Beginner's Guide to Chicken Noodles at Home
There's nothing more comforting than a simple bowl of chicken noodle soup. It's your mother's secret weapon when you're down with a cold. While there's no actual evidence that the soup cures a common cold, it's enough to make you feel better for a while. Chicken noodle soup just isn't the same when you make it yourself, but at least we can make it as close to the real thing as possible.
How to Make Your Own Chicken Broth
What's the key to the best chicken noodle soup? The broth. The stock has to be rich and deep in flavor, and you can get those flavors when you make it from scratch.
Many might think that making your own chicken stock takes a lot of effort, and they're right– but it's definitely worth the effort. It's better to make this in large quantities so that you can just store and reach for it when the time comes. You can also use the broth in so many recipes, not just for soups and stews. You can use chicken broth as a cooking liquid for rice and grains, or to braise chicken for tons of flavor.
What You'll Need:
1 kg of chicken bones, scrabs, meat, skin
2 tbsp olive oil
1 carrot
1 stick of celery
4 cloves of garlic
6 spring onion stalks
Enough Water to cover + 3 inches
Place chicken parts over a roasting tray and drizzle with olive oil. Roast in the oven for 45 minutes at 200C. Set aside.
Roughly chop your vegetable and combine in a stock pot. Place roasted chicken over the vegetables and submerge in boiling water. The water should cover at least 3 inches above the chicken. Bring to a boil.
Once boiling, lower the heat and gently simmer for at least 3 hours. From time to time, skim off any scum that forms at the surface.
Strain and let it cool before placing in the freezer.
Tips for the Best Chicken Broth
Don't stir! Just simmer. Stirring agitates the proteins and causes the finished stock to turn out cloudy. Same goes for boiling. You want the broth to cook as gently as possible so that it comes out crystal clear.
Be careful not to add the organs. While we don't want to put anything to waste, adding the organs will cause the broth to become bitter.
Raw vs Roasted Chicken? You can definitely make broth with raw chicken, but roasting your chicken beforehand yields better flavor.
Watch the video below for the step-by-step process. You can also see what recipes you can make with the chicken broth!
Recipes to Make with Chicken Broth
Chicken Noodle Soup

Ingredients:
1 serving of Udon Noodles
3 cups of broth
1/3 cup of diced celery
1/3 cup of diced onions
1/3 cup of diced carrots
Bunch of parsley and sage, placed in a cheesecloth
Salt, pepper, chili oil, sliced spring onions
Boneless chicken thighs
6 slices of ginger
1 cup of chicken broth
Instructions
On medium-low, cook chicken thighs skin side down. Flip once seared, about 8 minutes. Add sliced ginger and submerge the chicken halfway with the broth. Simmer gently for 10 minutes. Remove chicken from heat and store braising liquid in a container.
In the same pan, add olive oil and saute diced vegetables for 5 minutes. Add a few tablespoons of chicken broth and let simmer. Add in bag of herbs and continue to simmer.
Add in udon noodles. Once done, season to taste. Plate and drizzle with chili sesame oil and chopped spring onions.
Chicken Ramen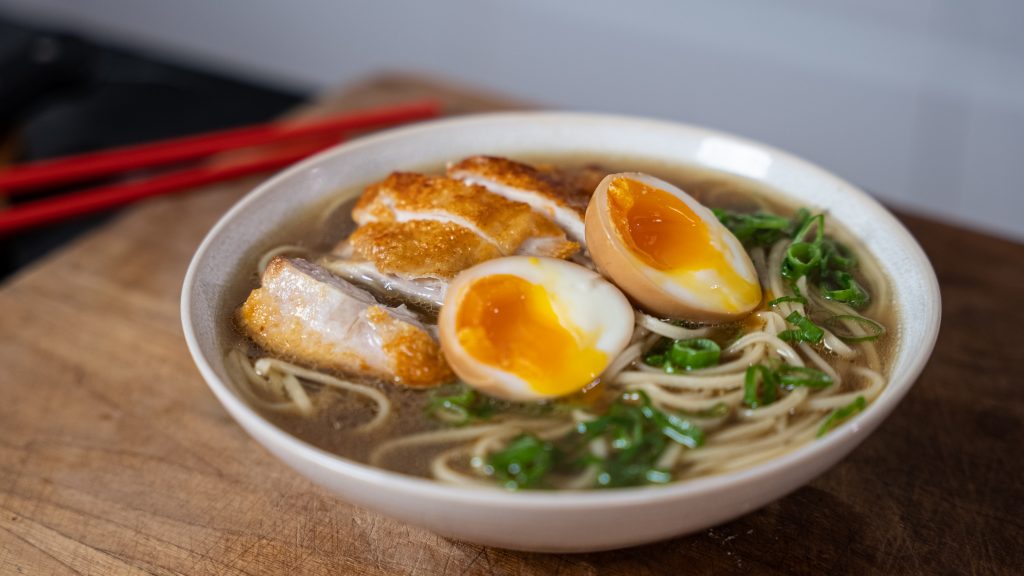 Ingredients:
Ramen Egg
2 boiled eggs
¼ cup mirin
¼ cup soy sauce
¼ cup water
Soup
1 ½ cup mushroom broth (water + dried shitake mushrooms)
1 serving dry ramen noodles
1 ½ cup of chicken broth
1 tbsp soy sauce
2 tsps. sake
2 tsps. pork lard
Optional: spring onions, chili oil
Instructions
Place dried shiitake mushrooms in a jar and completely submerge in cold water. Place in the fridge overnight. The next day, squeeze out liquid from mushrooms. Save the liquid for later.
Prepare the ramen egg by boiling egg for 6 minutes and 15 seconds. Immediately place in an ice bath and let it cool for 5 minutes.
In a jar, combine mirin, soy sauce, and water. Place egg in the jar and refrigerate overnight or at least 4 hours.
Bring chicken broth to a boil. Add equal parts of mushroom broth and bring to a gentle simmer. Season with soy sauce and sake.
In a separate pot, cook ramen noodles. Strain well.
To prep: add a tsp of pork lard at the base of the bowl. Add in cooked noodles and broth. Top off with sliced chicken thighs, spring onion, and ramen egg.