Queen of All Media Kris Aquino slammed a basher and said that she could not stand an attack by someone with bad grammar.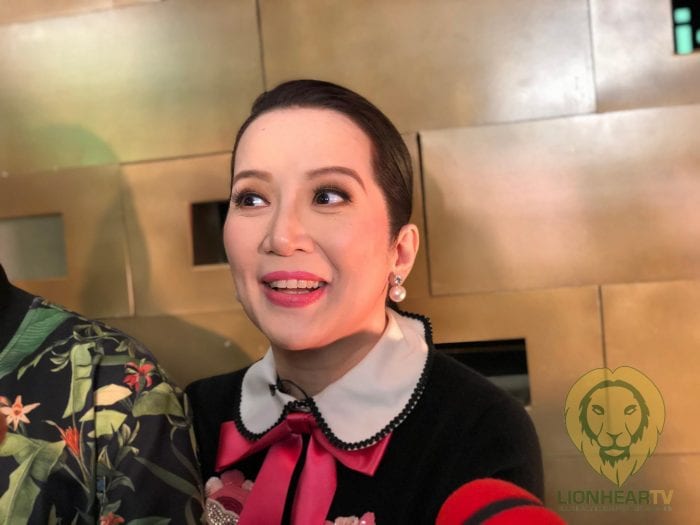 In one Instagram post of Kris Aquino, a netizen commented that the TV host plotted with Senator Bong Go to silence Mocha Uson, but wrong it grammatically incorrect.
The netizen even blamed Aquino's parents for the Filipinos' suffering.
"U ARE USING YOU EVIL MECHANISM TO BONG GO TO SILENT MOCHA RIGHT??? ALAM NA NG MGA TAO ANG UGALI MO…STOP PLAYING INNOCENT AS IF U DONT KNOW WHAT YOUR PARENTS DID KAYA NAGHIRAP ANG PILIPINAS!!! #stupidbrat," wrote the basher.
Aquino noticed the comment and chose to correct the basher's grammar instead.
The TV host showed that she is not bothered by the netizen's criticisms toward her. 
"Sweetheart, may I just correct your first sentence. It really bothers me to be attacked with wrong grammar. You are using your evil machinations (not mechanism) with (not to) Bong Go to silence (not silent) Mocha, right? There you go. Now be proper and thank me for correcting your deficiencies," Aquino wrote.
The basher seemed to have deleted the comment on Aquino's Instagram and even deactivated his account. Netizens were able to screenshot the said exchange between Aquino and her basher.
Bardagulan. The Kris Aquino way. pic.twitter.com/0u1lSqsHJa

— 'chael_ (@mjrmscbrl) June 27, 2021
Netizens reminded bashers to check their grammar before they have the guts to attack Aquino.
If you are brave enough to have a very meaningful 'BARDAGULAN' with Ms. Kris Aquino, mga beks – be very ready to know your grammar well or else, you will be peeled. 😘🤣😛 https://t.co/JVRAzBQJh4

— 🌸leonor.rivera🌸 (@itsleonorrivera) June 28, 2021
When you criticize Kris Aquino , please consult your grammar teacher first .. lmaooo… GO KRISSY ! SLAY

— Kate🇵🇭 B&G are getting MARRIED 💍 (@forgwenandblake) June 28, 2021
Yung bobo ka pero matalino kausap mo. Nakita mo yung pagitan ng utak nyong dalawa. 😆😆😆😆😆

Trolls are the perfect example of "KABOBOHAN".

— Francis Medina (@francis_medina_) June 28, 2021
The fact Kris actually used the opportunity as a #teachablemoment, took time to correct the grammar and teach good values at the same time 😂 walang kalaban-laban ung pobreng troll 😭

— Gin.BinJin🛒💕💍💒🍼 (@CoffeeBeanGal1)
Kris catching all your bullets, turning them into a beautiful pie before smashing it back on your face. Take that! 💪😍😂 pic.twitter.com/JBMbODk9lv

— UNPLUGGED 🔌 (@KOMPYUTER2003) June 28, 2021
Iba talaga ang lakas ng mga trolls ng gobyerno ngayon they're everywhere pero kung may matinong pag iisip ang tao di sya papadala sa mga birada nito. Ang dami nila swear! Bayad kasi eh.

— yudeymon (@yudeymon1) June 28, 2021
Maigi pang magtagalog pag alam mong matalino yung kaka banggain mo… yung alam mong ipapahiya mo yung sarili mo pero inilaban mo pa din hahahaha.

— halfbloodprince (@halfblood0914) June 28, 2021
Kris Aquino graduated from the Ateneo de Manila University with a Bachelor of Arts in English Literature. It explains why the former TV host is irked with grammar lapses.
Recently, she slammed a basher, who called her "ugly" when she has no make-up.