Opensignal recognized that 5G connectivity gives the mobile experience of Filipinos a big boost in speeds, improves video streaming and the multiplayer mobile gaming experience.
A recent report by Opensignal shows the differences between the mobile experience of Filipino users when they are on 3G, 4G or 5G connections in terms of their average download and upload speeds, their experience when streaming video and the quality of their mobile gaming experience.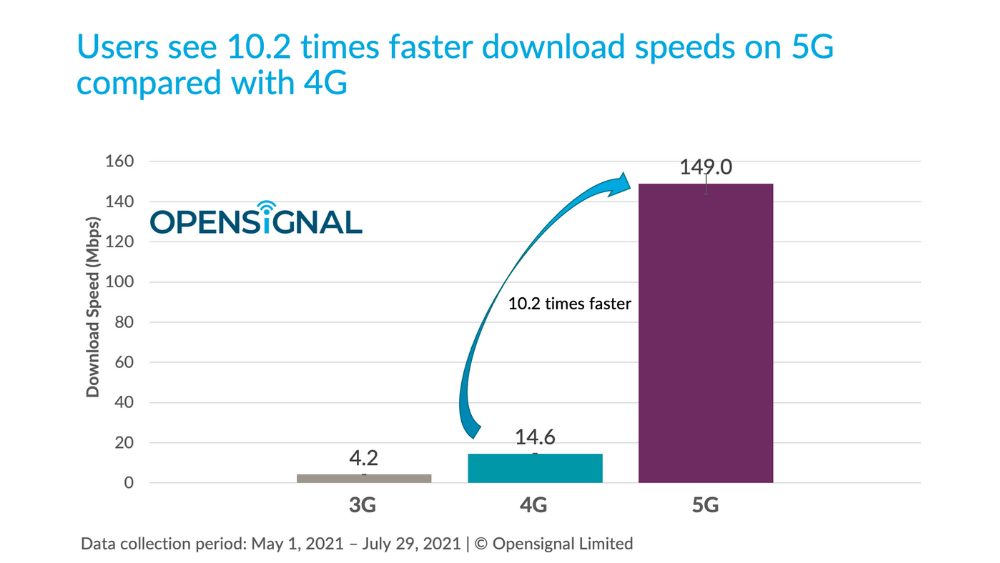 Starting with average download speeds, users get 149 Mbps when connected to 5G which is 10.2 times faster than the 14.6 Mbps seen on 4G. Moreover, the speed gap between 3G and 4G was smaller with 4G speeds a much lower 3.5 times faster than 3G speeds.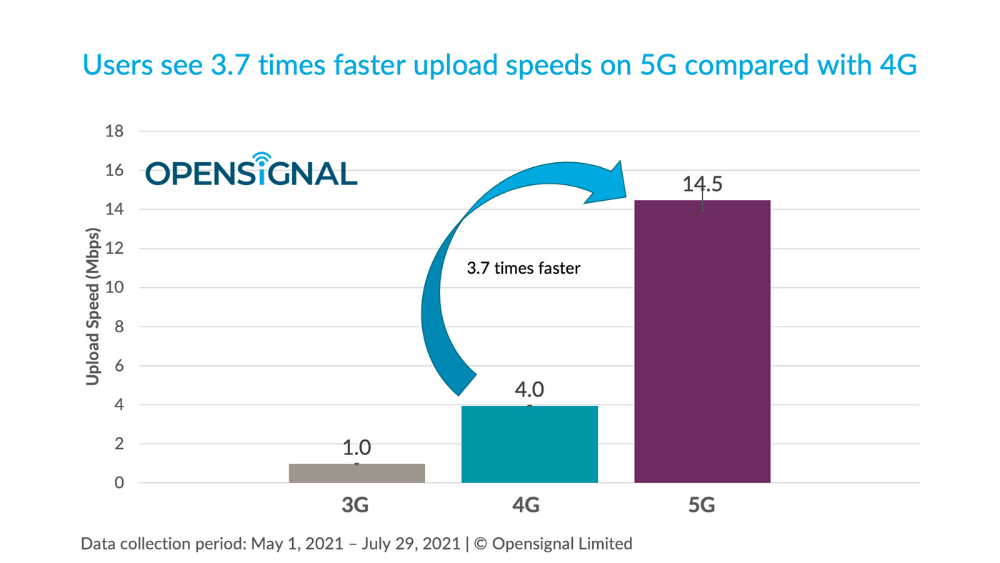 On the other hand, Opensignal's users saw average upload speeds of 14.5 Mbps when connected to 5G or 10.5 Mbps higher than those seen on 4G. However, the ratio between 5G and 4G is lower than that between 4G and 3G: 5G upload speeds were 3.7 times faster than 4G, while average 4G upload speeds were four times faster than those seen when connected to 3G.
As per Opensignal, this indicates that currently, the 4G/5G uplift on average upload speeds is less in percentage terms than the difference seen when moving from 3G to 4G. Hence, the boost that 5G delivers is likely to make a noticeable difference to their users.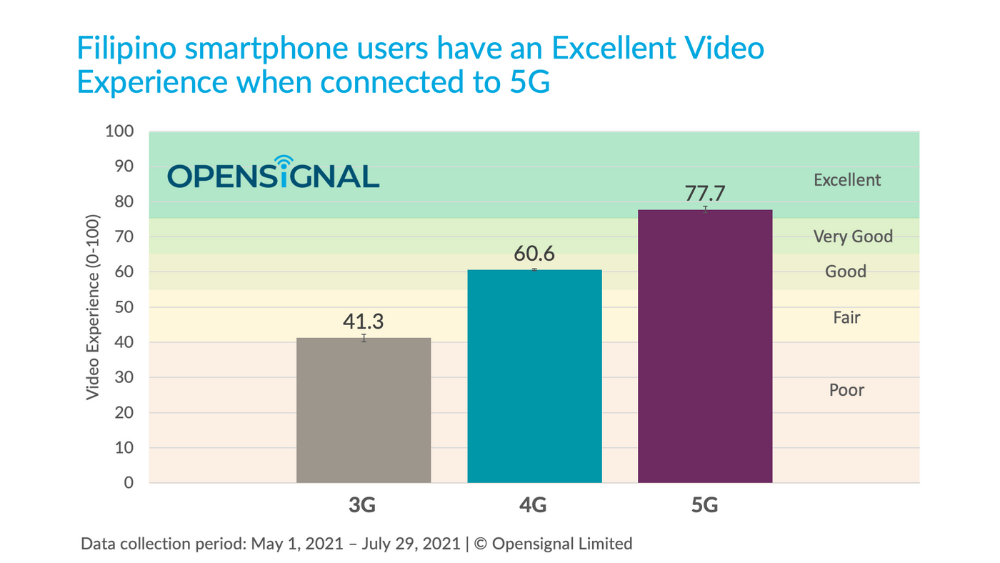 Meanwhile, checking out the experience of their smartphone users when streaming video over mobile connections, they found that their users enjoyed an Excellent video experience when connected to 5G with a score of 77.7  points, instead of the Good video experience seen when connected to 4G (60.6 points). On the flip side, with 3G they had a Fair video experience with a score of 41.3 points.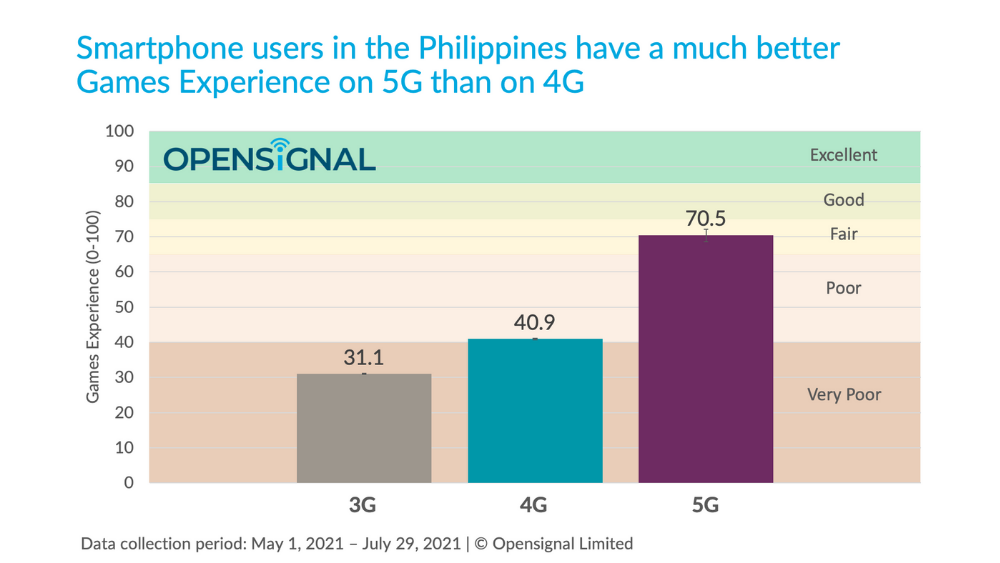 Furthermore, while the 5G Video Experience was 17.1 points (28.1%) higher than the 4G Video Experience, the video experience observed by their users when connected to 4G was 19.3 points (46.8%) higher than that seen when they were on 3G.
Moving forward, Opensignal's Games Experience measures how mobile users experience real-time multiplayer mobile gaming on an operator's network. Measured on a scale of 0-100, the metric analyzes how the multiplayer mobile Games Experience is affected by mobile network conditions including latency, packet loss and jitter to determine the impact on multiplayer gameplay.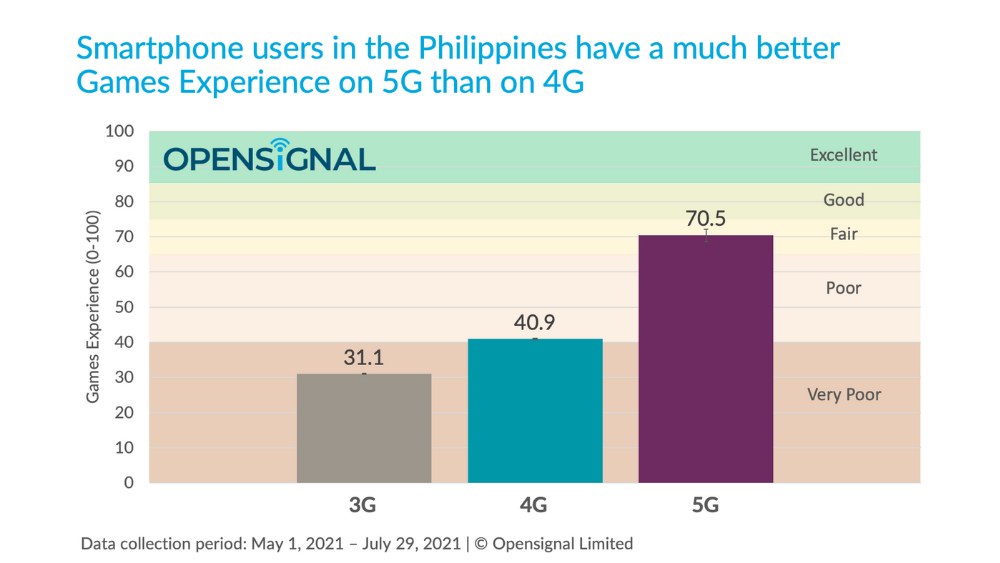 Opensignal mentioned that Filipino users had a Fair (65-75) games experience when connected to 5G. The 5G score was 29.6 points, which is 1.7 times higher than the score for 4G Games Experience. The games experience observed on 4G and 3G connections was Poor (40-65) and Very Poor (under 40), respectively.
To wrap it up, the platform has seen that 5G already delivers significant improvements to Filipino users' mobile experience for video, multiplayer gaming and for speed. Opensignal, however, noted that unlike 4G, 5G is not yet a mature technology, indicating that the gap will likely widen between 4G and 5G in future.