Believe it or not, there are still a lot of people that use feature phones today. They may be less capable than your iPhones or Galaxy phones, yet some still prefer using them since it is less distracting and still serves its very purpose: being a 'dumb' phone that only does calls and texts (and perhaps, some web surfing on the side).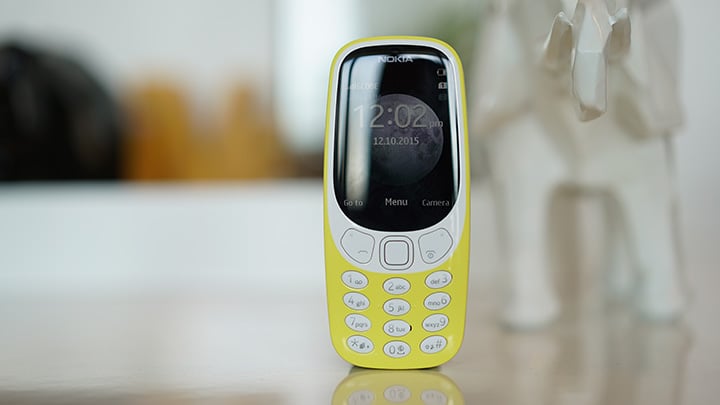 In some cases, they are used as a secondary phone which is especially useful with Metro Manila commute if you don't want to flash your expensive smartphone, away from the eyes of a snatcher.
Going back to the topic, Nokia is one of the brands that still make feature phones, including the 2017 revival of the classic Nokia 3310 and the newly launched Nokia 5710 Xpress Audio with built-in TWS earbuds inside.
As expected, they get ripped offs everywhere else, and I have seen them on the road (blatantly displayed on the ground), on some alley stores, and even from stalls inside mini-malls.
So how do you actually distinguish authentic Nokia feature phones from the fake ones? Well, Nokia got us covered. This week, the brand posted some graphics for simple steps to check whether a unit is genuine, and we're going to discuss that.
How to Spot the Fake Nokia Feature Phones?
Text and Logo Prints
Most of the indicators lie on the information printed on the device itself. First is on the insides of the back panel, where the fake one has a trash bin logo (below) and an NTC sticker up top. Whereas the original does not have a trash bin logo and the NTC logo is on the lower part.
Second is on the charging brick: the fake one has a lighter font typeface and mostly unclear wordings and icons. The original, of course prints it clear and bright.
The third indicator is on the battery: at the front, the fake one has a Nokia connecting hands logo sticker while the original does not have it and only has the translucent moniker logo. At the back the only difference is that the original one has a thicker typeface.
The manuals might be the most ignored inclusion in every phone retail box, but a fake Nokia feature phone has a quick guide manual with only five (5) folds or pages. The original Nokia quick guide has six (6) folds.
Type Approval Number with a lighter black tone and narrow font spacing.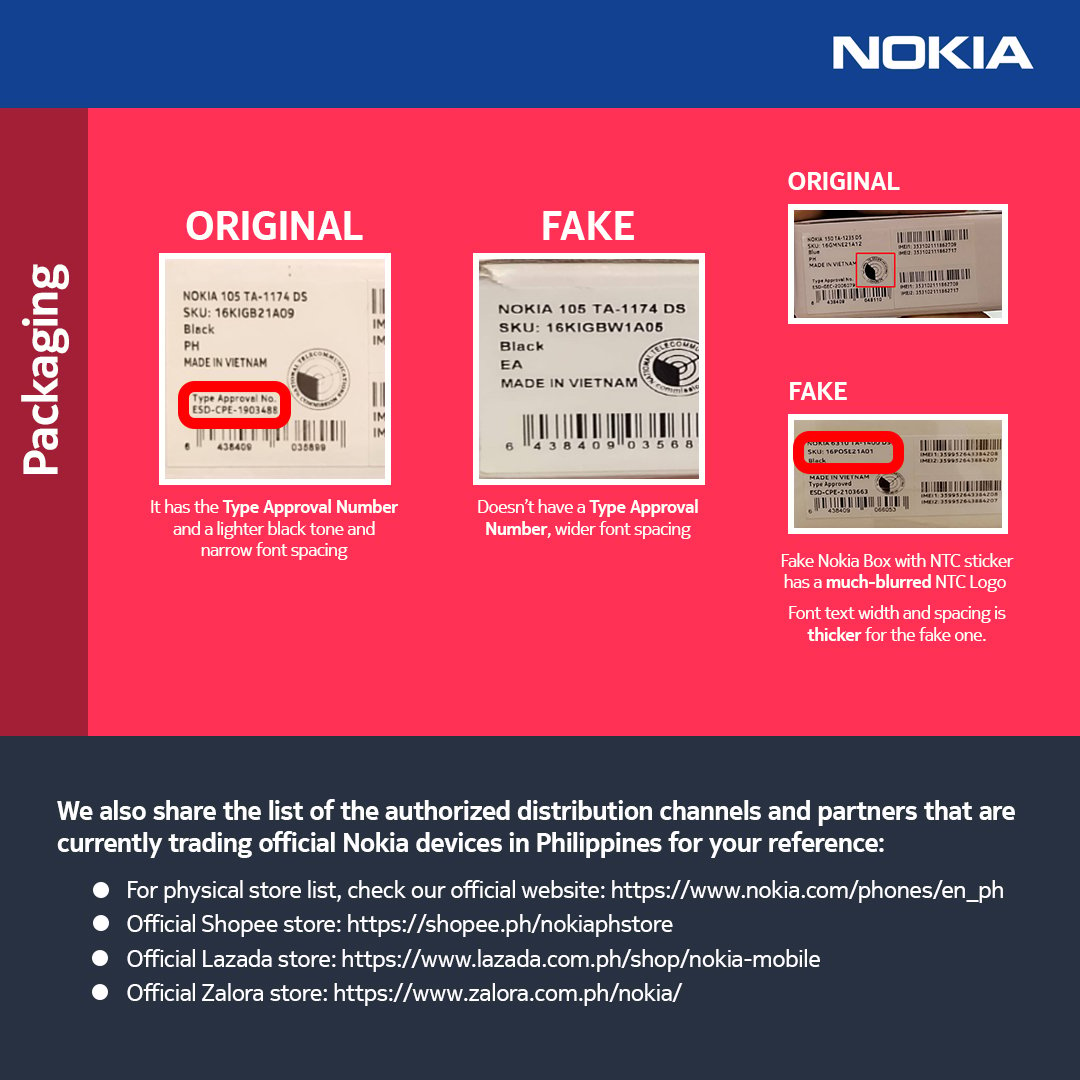 The fake one does not have the Type Approval Number, has a wider font spacing and thicker typeface, and has a much-blurred NTC logo.
Additional: Software and User Interface
This one is not included with Nokia's tips, but I suppose it is a significant part to tackle. Turning on the phone itself tells it right away for me as an avid fan of tech, since I am familiarized with different operating systems (OS).
Nokia feature phones previously ran on Symbian OS — the brand's proprietary OS back in the days — and now recent units already run Series 30+ which kinda looks the same as Symbian did (only its flat design differ) in my opinion.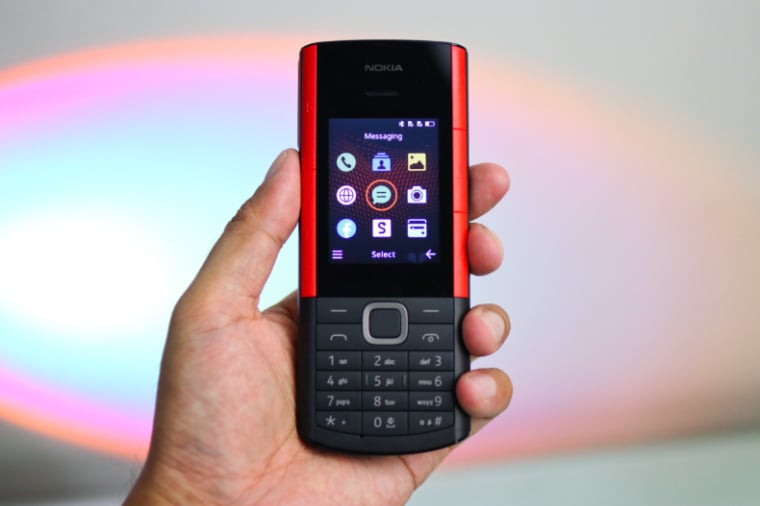 Like the photo above, an original Nokia feature phone has a cleaner look. Whereas the fake one is an abomination to look at, and usually uses a generic candybar OS.
Here's another photo, aside from the display size, the user interface (UI) on the fake one has awful texts as compared to the original. Not to mention, the hideous display quality.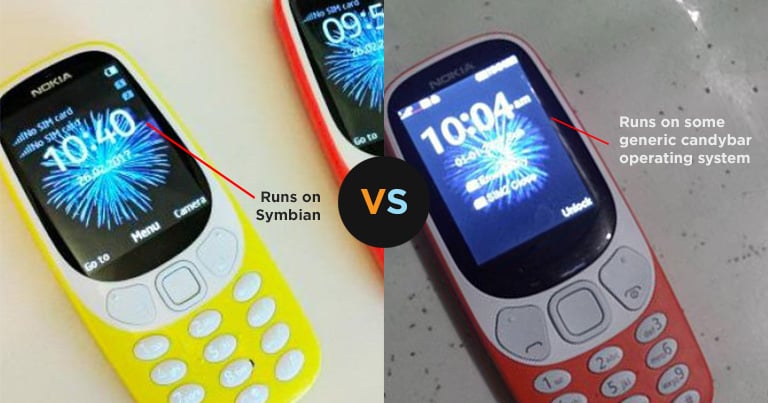 The icons on the upper part of the screen are also different on the fake one. While the original uses flat, white icons to display the network and battery statuses, just like in the photo below.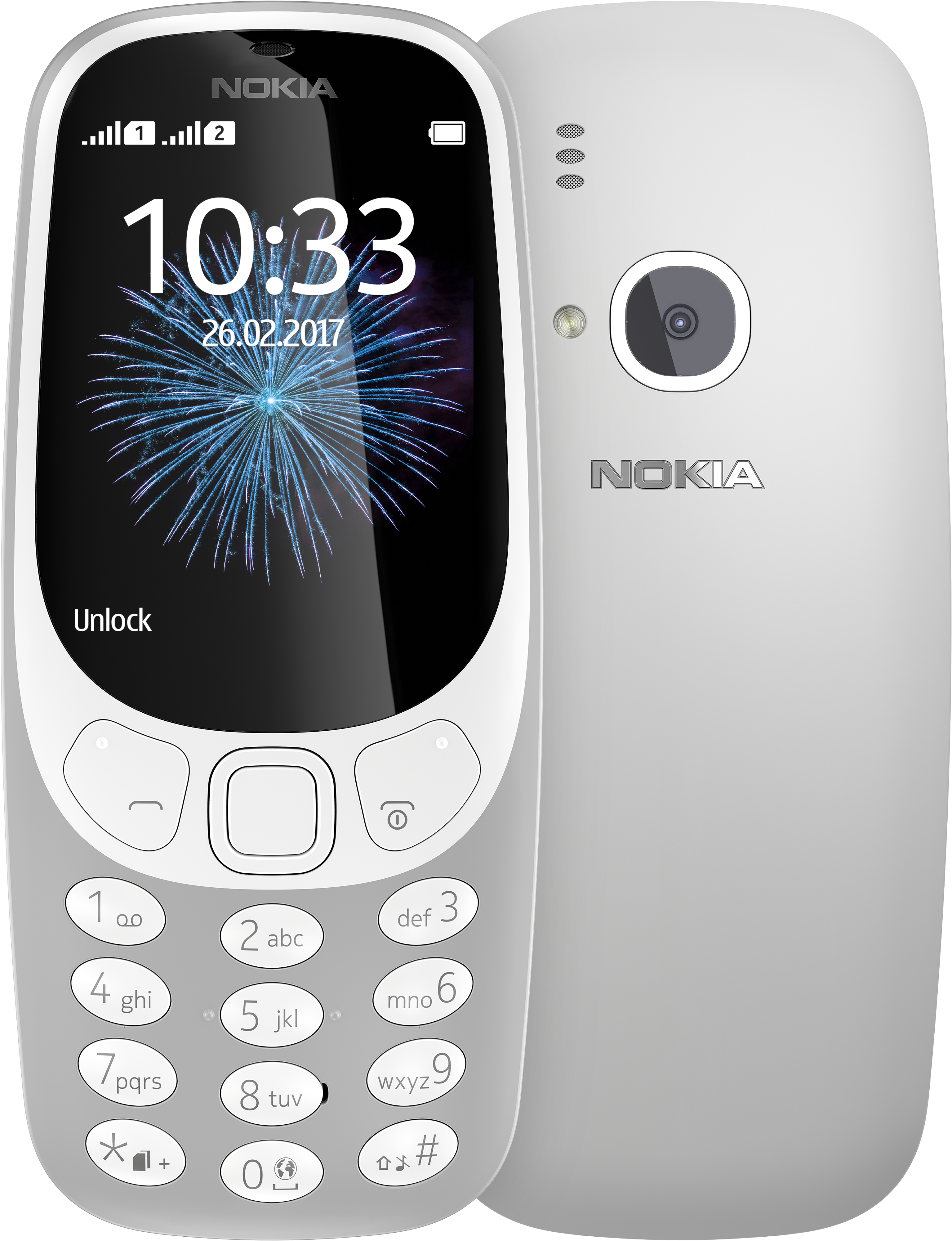 Nokia 3310 (2017) in gray colorway
There you have it folks. These are some indicators to check whether a Nokia feature phone is genuine or not. There's sure to be other indicators to consider that may arise on a case-to-case basis. Therefore, the comment section below is open for your notes on what else to look into when buying some phones.
Authentic Nokia Phones Come from Authentic Sources
We wouldn't get scammed in the first place if we're looking at the right sources, would we? Thus, you may also refer to Nokia's list of official pages and authorized online stores below:
Zalora:https://www.zalora.com.ph/nokia
Memoxpress online:https://mxmemoxpress.com/nokia-official-store-2/
Nokia mobile Website:https://www.nokia.com/phones/en_ph
Official Nokia mobile Facebook page:https://www.facebook.com/NokiamobilePH/
Of course, it is always a good practice to make purchases through official stores. So, always keep tabs for indicators that tell if a store or an item you're viewing is fake or genuine, not just with Nokia phones, but for every other product there is.