YouTube Shorts will now adopt a revenue-sharing model for ads starting February 1, 2023.

According to a new post from Google's Youtube Help Center, monetizing partners will be able to earn money from ads that are viewed between videos in the Shorts Feed through a new revenue-sharing model that will replace the YouTube Shorts Fund.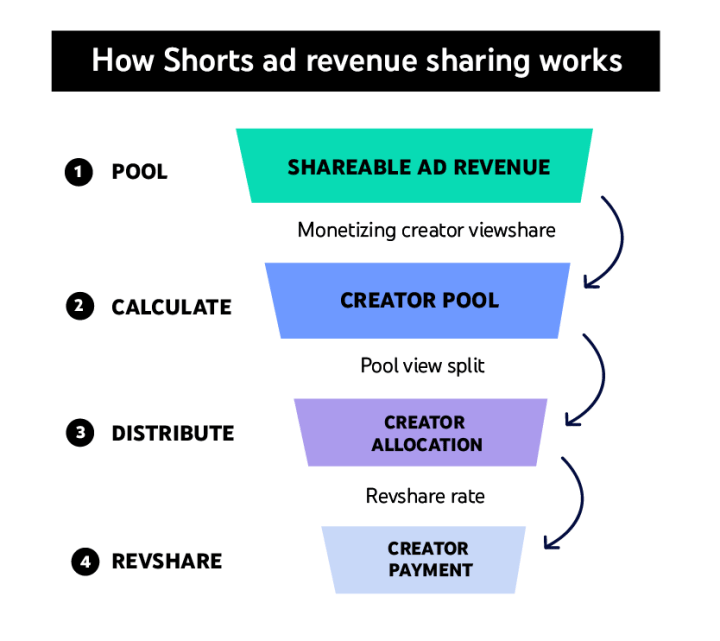 Youtube Shorts Revenue-Sharing Graph

In essence, the revenue-sharing model will undergo 4 steps:
1) The ad revenue from the YouTube Shorts feed will be pooled;
2) The Create Pool is calculated based on views and music usage across monetizing creators;
3) From the overall amount in the Creator Pool, revenue is distributed to monetizing creators based on their share of total views from monetizing creators' Shorts in each country;
4) The revenue-sharing model will be applied, meaning monetizing creators will keep 45% of their allocated revenue (regardless if music was used or not).
The new revenue-sharing model is a stark change from YouTube Shorts' previous mode of monetization through the YouTube Shorts Fund. The Youtube Shorts Fund is a "[USD] $100M-fund to reward creators for their dedication to making creative, original Shorts that delight the YouTube community."