To be able to call a laptop an ultrabook these days, a laptop has to be thin and light first and foremost but also be able to have the oomph to power through day to day tasks. People aren't settling for thin and light laptops that lack the power to do at least some photo and video editing, people expect so much more from their ultrabooks.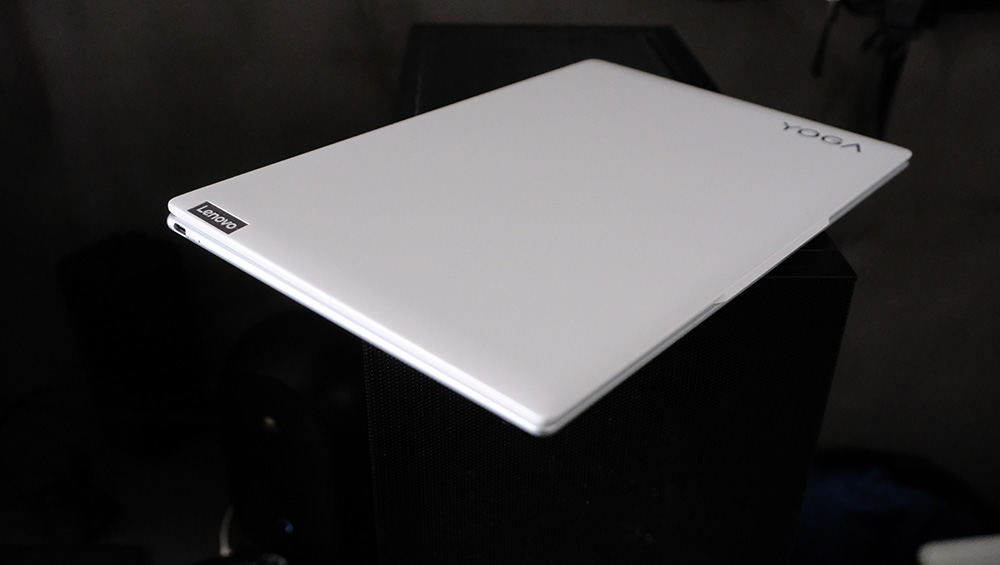 Here we have another challenger, the Lenovo Yoga Slim 7i Carbon, it's a premium ultra-light laptop that the company says features an all-day battery and a carbon-fibre construct for added durability. Does all of this hold true? Let's find out!
Design and Construction
The Yoga Slim 7i Carbon features a body that is made of reinforced carbon-fibre, which at first, feels plastic but is actually not and feels much more solid and durable. This makes the laptop very durable but at the same time very light. It weighs under 1kg, which is a technical marvel if you ask me. The marketing jargon holds up its end here, the laptop is probably the lightest laptop I've used, period.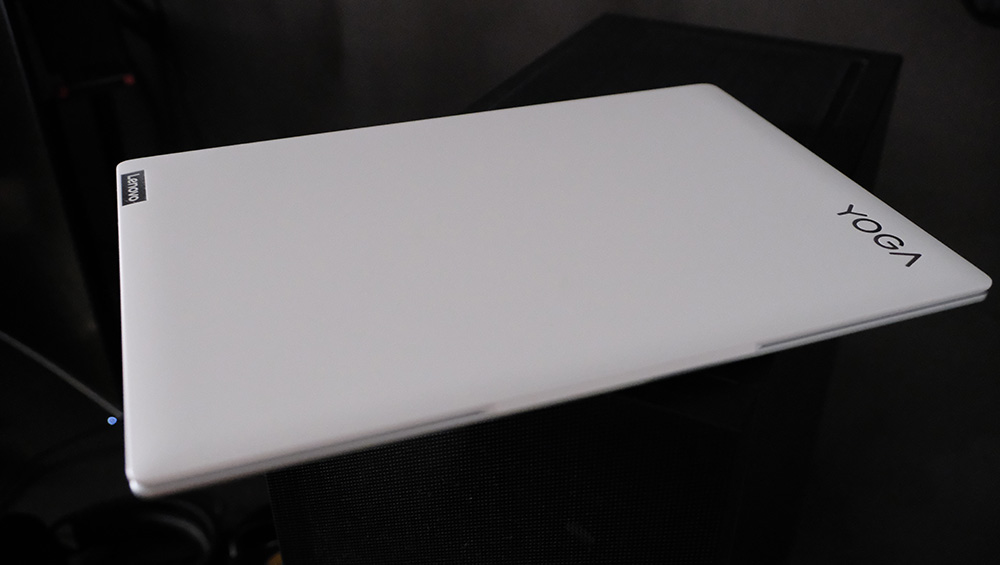 The great thing about the construction though is that it gives you confidence. It feels like one solid piece of hardware that's not bound to break in case you drop it once. Lenovo claims to have tested it to MIL-STD 810H standards and I wouldn't doubt that in this case.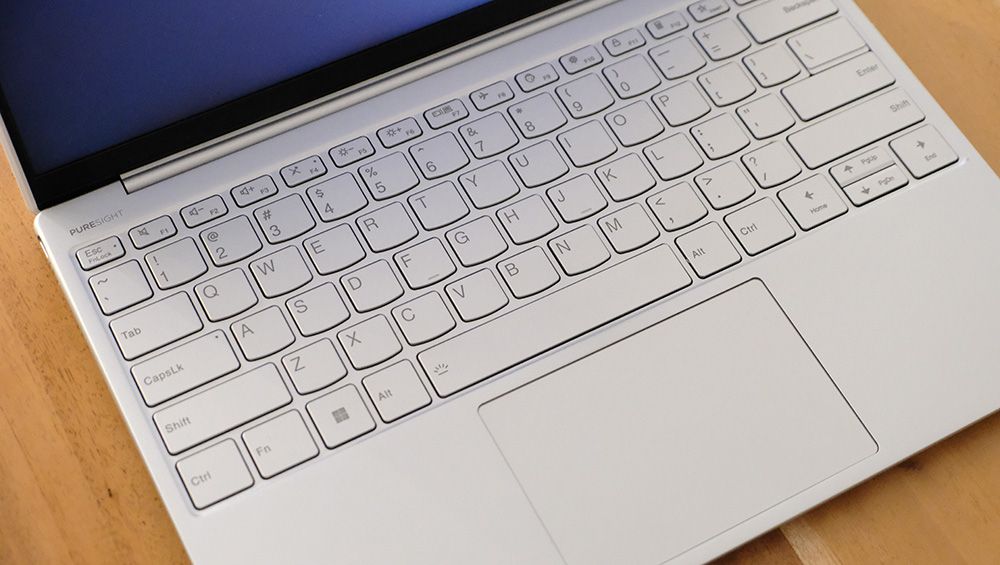 The keyboard has decent travel, and I like the feel of the keys here. They're a bit on the mushy side but I never had problems when it came to typing this review. What is great is the two stage backlight that comes with the keyboard, it's very bright even when used when the sun is out.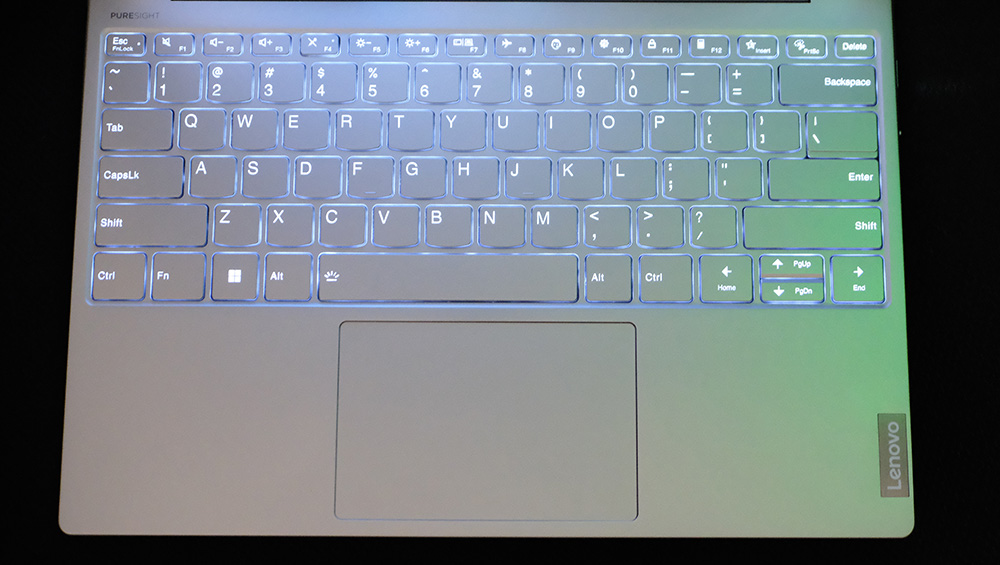 That super smooth glass touchpad is certainly one of the best ones you could use on a Windows laptop. It's just the right size for this laptop, and clicking on it is very solid.
On the right side of the device is the power button as well as a Thunderbolt 4 USB Type-C. The camera shutter is also here.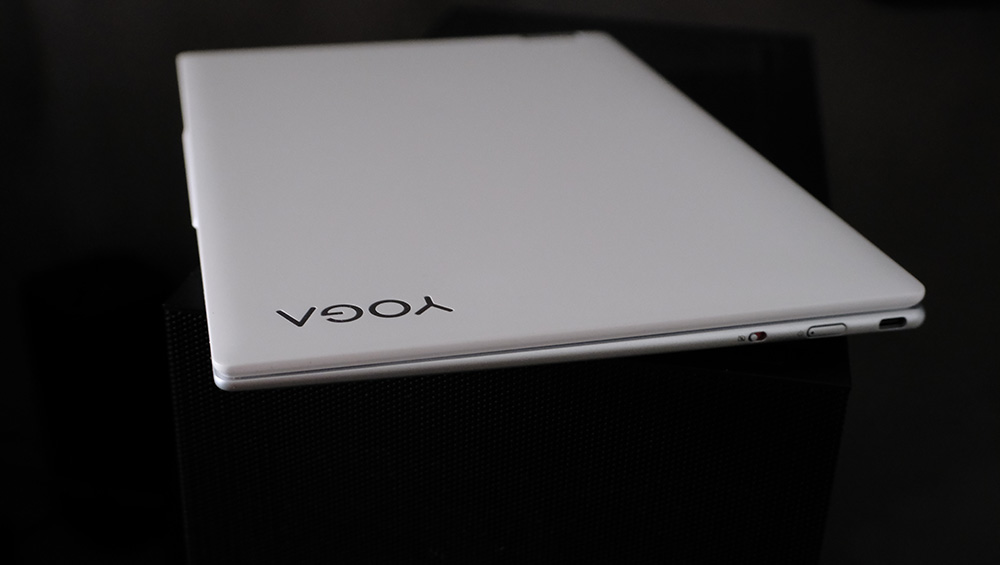 On the left side is a single USB Type-C capable of Thunderbolt 4 which also serves as your power input.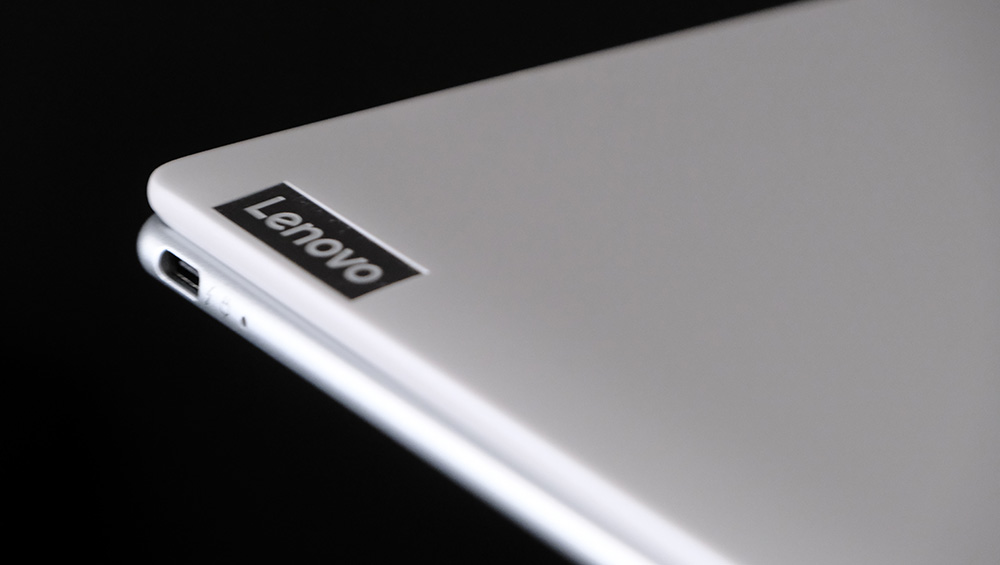 Display and Multimedia
The matte display on the Yoga Slim 7i Carbon is decent, it's not the best but the color accuracy is there. My only issue here would be that it doesn't get too bright, but the laptop is still usable in direct sunlight or outdoors. It only goes up to 326nits of brightness, which is okay, but not the highest I've seen in an ultrabook and definitely can't go up against OLED laptops.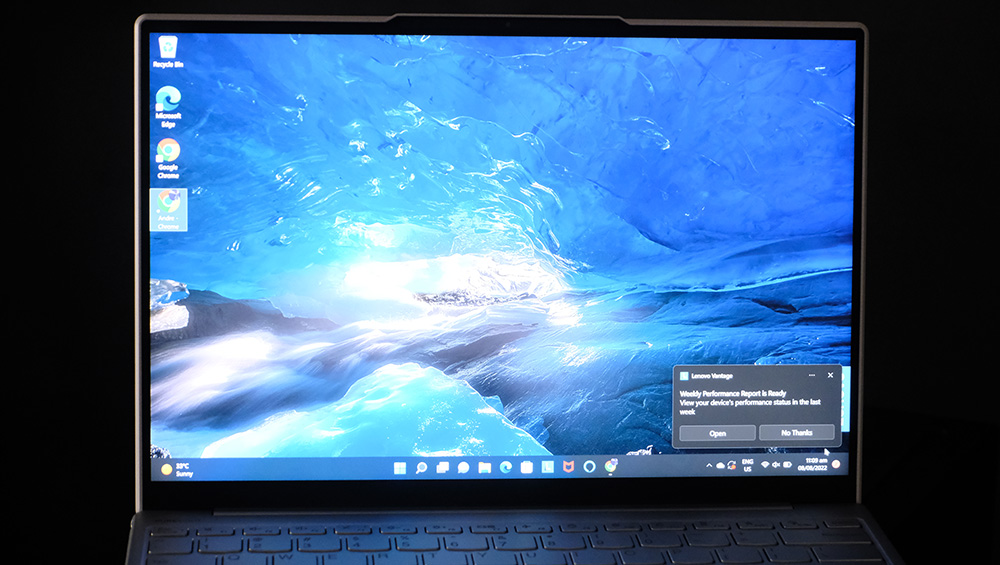 Some good things to note is that the screen is a 13.3-inch 16:10 display, so you actually get a bit more screen real estate when using the laptop for browsing or productivity. It also has a 2.5K screen resolution so you get things a bit sharper when compared with a 1080p screen and it is pretty obvious. You also get a bit more screen real estate to work with as well. It is also an IPS display so colors are decent, and even the contrast is not that bad considering that it is an IPS display. It covers around 99.8% of the sRGB color space, 84.5% of DCI-P3 and 78.2% of AdobeRGB.
The Yoga Slim 7i has a 91% screen-to-body ratio which gives it such a small footprint. The bezels around the screen are thin enough and on top is the Windows Hello IR HD camera for easy logins to your computer. The laptop also has a 90Hz screen refresh rate, while I would've preferred a 144hz or at least a 120Hz panel here, the 90Hz does add overall smoothness to the device. The device is also Dolby Vision HDR Certified, so you can watch your Netflix shows the way the director wanted it to be seen on this display (As long as you suscribe to the 4K and higher tier).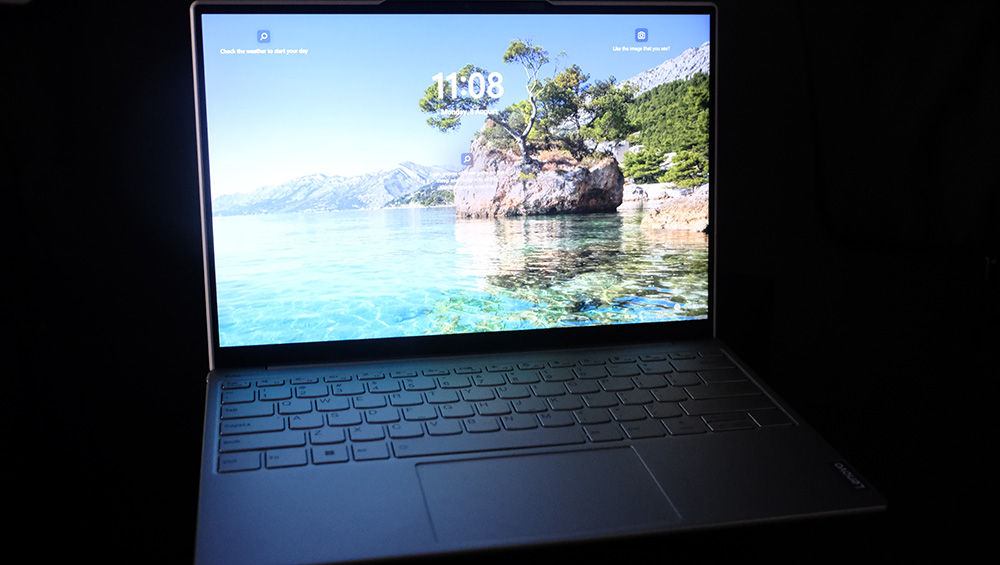 In the audio department, the Yoga Slim 7i has bottom firing speakers which don't get too loud, but in a pinch it's decent. If you want a bit more immersive listening then you have to have a dedicated headphone or earphone.
Performance and Benchmarks
The Lenovo Yoga Slim 7i Carbon really doesn't disappoint when it comes to performance. This comes with a 12th Gen Intel Core P-series processor. Ours came with an Intel Core i7 1260P processor which has 4 performance cores and 8 efficiency cores which just means that you have more power than ever in these small and light laptops. It also comes with 16GB of LPDDR5-4800 and 1TB of hard disk space. Here are some of our benchmark results.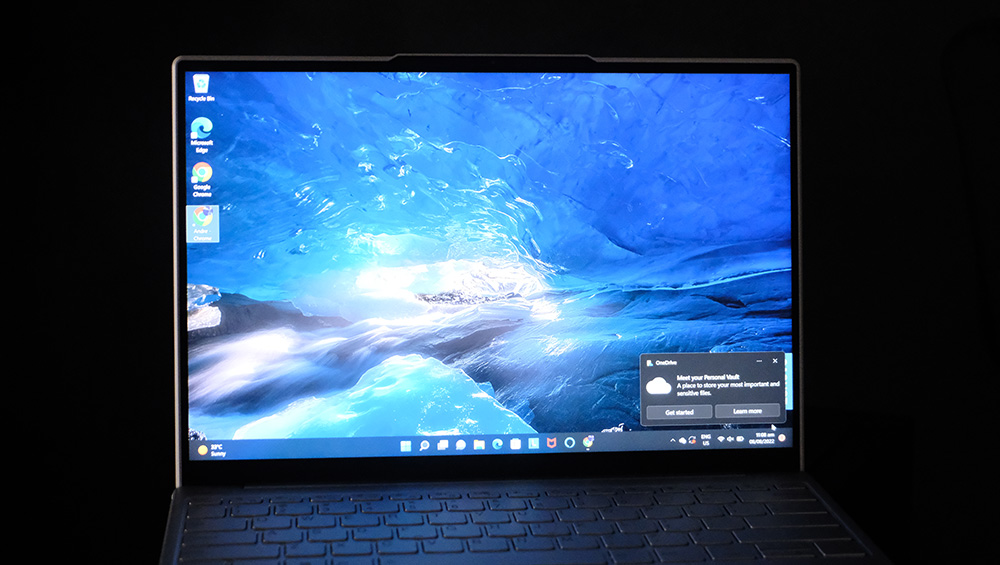 Cinebench R20
Single-Core: 623
Multi-Core: 3809
Cinebench R23
Single-Core: 1643
Multi-Core: 10312
3D Mark
Time Spy: 1537
Fire Strike: 4212
Geekbench 5
Single-Core: 1442
Multi-Core: 9078
So as you can see, these are some decent scores from a thin and light laptop like this one. You can use this for some photo editing and some light video work. I wouldn't recommend gaming here unless you're playing the lightest of esports titles.
Battery Life
I wasn't disappointed with the battery of the Lenovo Slim 7i Carbon at all. I averaged around 9 hours and 33 minutes in using this laptop in various settings. I was using brightness at around 50% so you could get a bit more if you push it. In the short time I had this device, I think I charged it around 2 times, one was after benchmarking the laptop and the other after leaving it on playing a video throughout the night. Results were similar at under 10 hours at similar settings, so you're really going to be able to bring this laptop around a lot without a charger.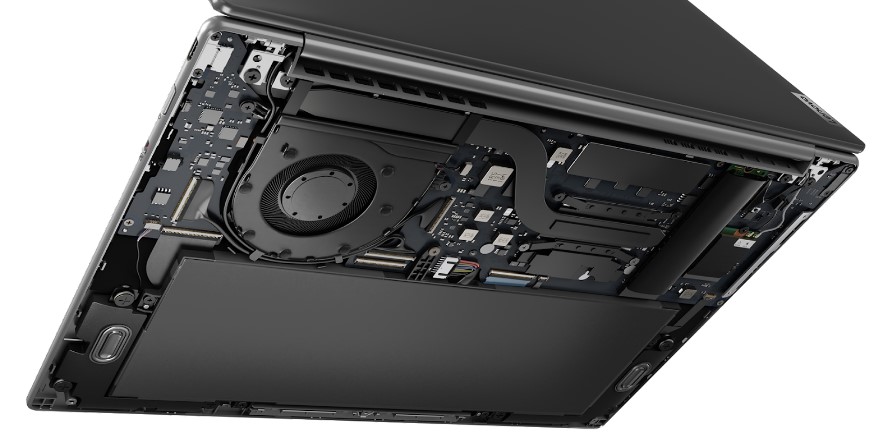 Speaking of chargers, it comes with a 50Whr battery that can charge the device really fast. The proprietary Rapid Charge Express charges the device at 15 minutes for 3 hours of usage.
Conclusion
The Lenovo Slim 7i Carbon is probably one of the most impressive ultralight laptops I've tried so far. It comes in a very solid, and durable package that is the lightest laptop I've ever reviewed. It offers solid performance for the size and has a decent screen that you would not disappoint anybody who looked at it. Lastly, the battery just goes on and on and you barely have to charge the device. The Lenovo Slim 7i Carbon does everything that it is made to do very well and I can recommend it to anyone looking for a stylish and solid ultrabook.