Presidential Spokesperson Harry Roque's claim as he still insisted that the country has managed to contain the spread of Covid-19.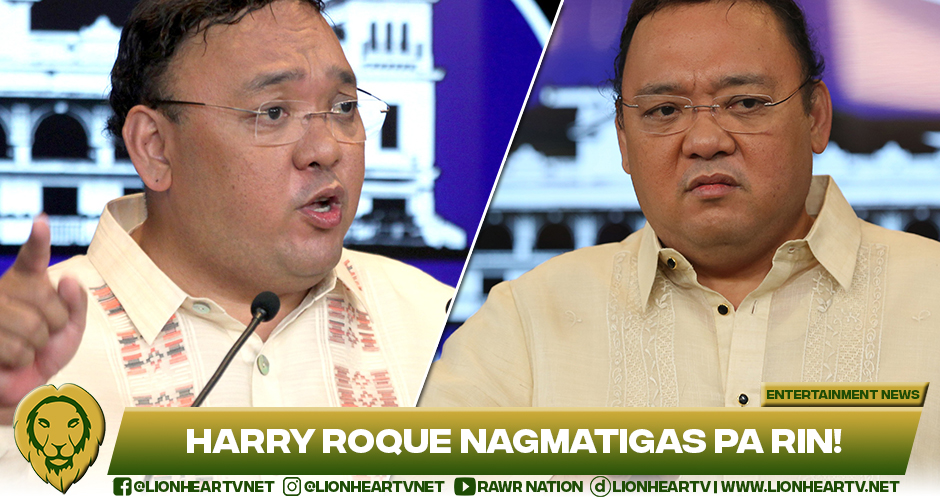 Earlier, he compared the number of cases in the Philippines to countries such as the United States, India, Brazil, Russia, and the United Kingdom–all have large populations.
However, personalities and Netizens do not believe this claim of Roque.
Given the total number of cases nearing the 600,000-mark, twitter personality Jai Cabajar is irked at Roque. He found him insensitive to the people who not just lost their jobs, but also their loved ones.
This is just so insensitive to people who lost their jobs and family members. Wag na tayong maglokohan. https://t.co/CesckvU3Bc

— Jai Cabajar (@jaicabajar) March 9, 2021
Women's advocate Samira Gutoc also did not accept the statement of Roque. Gutoc said that being lined with Ghana as a recipient of donated vaccines from China does not constitute excellent leadership when it clearly showed that the country relies on China in acquiring Covid-19 vaccines.
Excellent? We're being lined with Ghana as a recipient of covax donated vaccines. I don't think excellent leadership is reliant on others when it could've utilized resources more efficiently and effectively. https://t.co/R2a0HtfzlJ

— Samira Gutoc (@GutocSamira) March 9, 2021
A Netizen even shared the news that showed how incompetent the Philippines is in its Covid-19 efforts. Roque insisted that the Philippines did an excellent job when the country ranked in the bottom for being one of the worst countries to respond against the pandemic.
Talaga ba? pic.twitter.com/dQadyQF8bi

— No Longer Silent (@AlisinAngTakot) March 9, 2021
Netizen TJ Cipriano pointed out the style of the current administration. He said that the government urged the public not to compare the Philippines to other countries with different health systems. However, whenever something is not in their favor, they tend to make comparisons.
This administration loves to tell the public not to compare countries since we have different health systems.

But when the narrative favors them, they love to make such comparisons.

So, who is cherry picking now? As my former students usually say, make it make sense. LOL. 🤷‍♂️ https://t.co/sdBVzrtYOy

— TJ Cipriano 🌏 (@bigbrotherteej) March 9, 2021
A Netizen even called out Roque for his claim, stating that what the Secretary said were lies.
Lies,
Pack of Lies
Shamelessly peddled for whaaaat??? https://t.co/XLmvKBdUwn

— Wilbert Sy🇵🇭🇺🇸 (@ProfessorUno) March 9, 2021
A Netizen was even mad about Roque's claims while his area is [once again] placed in lockdown after a year of being put under heavy restrictions.
Excellent? Gago!!! Lockdown ulit dto samin, after 1 year. Inutil!!! https://t.co/mB5cqcEGAl

— Apung (@RenKSaFra) March 9, 2021
Pediatric neurosurgeon Ron Baticulon ridiculed Roque's statement since it is the opposite. According to him, the Philippine General Hospital (PGH) is back to the pandemic's early months.
Excellent? Controlled? We just cancelled charity elective surgeries, pulled out medical clerks and interns, and the outpatient clinic is closed again for walk-in patients… in *say it slowly* Philippine. General. Hospital. 🤷🏻‍♂️ https://t.co/ywE7zSgplp

— Ron Baticulon (@ronibats) March 8, 2021
On Roque's audacity to insisting that the country is doing an excellent job, another Netizen poked fun at the statement. Sarcastically, he pointed out via an alternative tweet–the Secretary claimed that the Philippines is doing better than largely-populated countries.
Alternate Tweet: Pres'l Spox Harry Roque insists Philippines handled COVID-19 pandemic excellently by comparing PH's COVID-19 cases and deaths to countries that have larger populations and/or have done more tests. https://t.co/C1vTdK9AGz

— leo (@JamWithLeo) March 9, 2021
Meanwhile, journalist Barnaby Lo reiterated the statement of the World Health Organization (WHO). The Philippines never flattened the curve.
O ayan, WHO na ang nagsabi na we never flattened the curve. https://t.co/rs3jAmAqdW

— Barnaby Lo (@barnabychuck) March 9, 2021
But with government officials such as Roque being in denial that the Philippines has failed in its pandemic response, senator Ping Lacson blamed Roque and his allies for believing that the country managed to contain the virus.
The problem with Malacañang's claim of excellence in the handling of the COVID-19 pandemic is if they actually believe it.

— PING LACSON (@iampinglacson) March 9, 2021
As of this writing, the Philippines now has 603,308 confirmed cases, with 12,545 deaths, and 546, 293 recoveries.