TV broadcaster Ramon Tulfo was blasted by netizens after belittling a delivery boy who criticized him for defending Department of Justice Secretary Boying Remulla as it relates to his son's illegal drug case.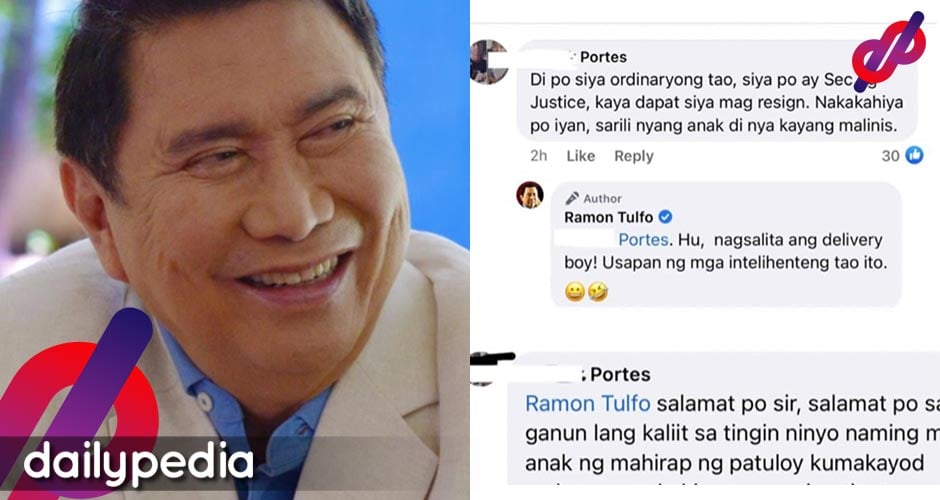 Remulla, a Duterte ally who said he was in favor of giving drug dealers the death penalty, is currently in conflict with his stance after his son, Juanito Jose Diaz Remulla III, was arrested for possession of PHP1.3 million worth of kush.
Remulla said he wouldn't intervene in his son's case while Filipinos have called for his resignation. However, his allies have defended him including Tulfo, the brother of social welfare secretary Erwin Tulfo and Senator Raffy Tulfo.
On Facebook, Tulfo said Remulla shouldn't be blamed for the crime his son committed since "parents can only do so much to guide our children on the right path."
"Let's not blame Justice Secretary Crispin "Boying" Remulla for his son Juanito's offense. Juanito is 36 and no longer a child. If he made a mistake, that's not his father's fault. What father in his right mind would push his child to violate the law? Especially if that father is the justice secretary. Whatever discipline or lesson a parent imparts on his child can only go so far when that child grows up. We parents can only do so much to guide our children on the right path. It's no longer the parents' fault if our children take a crooked path," he wrote.
One netizen argued, saying that since Remulla is a public official, he should resign. "[Remulla] is not an ordinary citizen. He is the secretary of justice, that's why he needs to resign. It's embarrassing that he cannot clean up his own backyard."
Tulfo replied by belittling the netizen's job as a "delivery boy."
"Hu, the delivery boy spoke! This conversation is for intelligent people only," Tulfo commented.
Social media users didn't take kindly to Tulfo's reply and slammed him.
When a delivery boy knows the word delicadeza more than mga intelihenteng tao like Justice Secretary, PBBM, and Mon Tulfo as he claimed to be. Whatever ur position or profession is, never attack the person when ur in an argument. Senator pa naman kapatid mo ang kalat mo online. pic.twitter.com/9aplhtL4q1

— @TheShepherd (@AngManunupa) October 14, 2022
Naku wag na wag kayong makikipag-usap kay Mon Tulfo, mapagkakamalan niya kayong delivery boy! And feeling niya intelligent siya at ang iba ay hindi. pic.twitter.com/KMHeIha9xS

— DAVAOMIGRANT (@nabunturanguy) October 14, 2022
Grabe nmn maka delivery boy tong si Mon Tulfo. Napaka judgemental. Malay mo nmn ngpapanggap lng yan na delivery boy pero sa totoong buhay delivery girl yan!
(SS not mine.) pic.twitter.com/8J8Uf49r0H

— Registered Voter 🍥 (@RegVoterPH) October 14, 2022
Hoy, Mon Tulfo, yung isang kapatid mo senador na ang pokus ay ang mga manggagawa tulad ni Ginoong Portes. Yung isang kapatid mo naman, DSWD secretary.

Ikaw, binugbog ni Raymart hahahaha intelihente ampota, mas may sense pa yung sinabi nung tinawag mong delivery boy. Laos! https://t.co/h5rmMiQ2S6

— Gerard Arcamo (@GerardArmoca) October 14, 2022
Yung mga DELIVERY BOY na bumoto sa KAPATID ni Mon Tulfo, INTELIHENTE ba kayo? ✌️👊✌️😆

— imonpeter (@imonpedro) October 15, 2022
Mas gugustuhin ko ng maging delivery boy kesa maging Mon Tulfo!

— Belle (@EddieBelly81) October 14, 2022
The Tulfo siblings were previously involved in a PHP120-million advertisement deal (US$2.03 million) with PTV network officials and their sister, the former tourism secretary Wanda Tulfo-Teo.
The delivery boy didn't back down, either.
"Thank you sir for showing that this is how you view us who were born into poverty, who continue to grind just to rise above our circumstances. we put up a fair fight, unlike the Justice Secretary's son," he said.