With Elon Musk now acting as Twitter's CEO and previously firing top directors and executives, Musk is now working on charging USD 8 per month for Twitter Blue with previous plans of charging it for USD 20 a month.
Twitter Blue will include the highly sought "Verified" badge on one's profile and a secondary tag found below the name of a public figure
Furthermore, Musk expounded on his Twitter thread saying those who subscribe to Twitter Blue will get half as many ads, the ability to post long video & audio, and have priority in replies, mentions, & searches.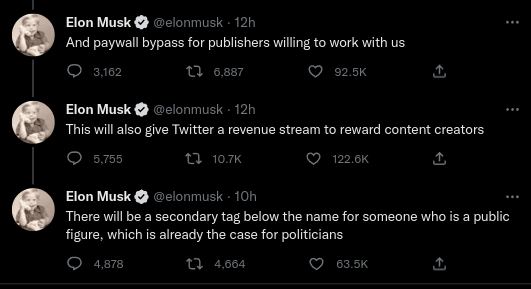 Musk also clarified that the USD 8 will be adjusted depending on the country and that a paywall bypass will be available for publishers willing to work with Twitter.
Musk explained that this will help give Twitter a revenue stream to reward content creators.
— Elon Musk (@elonmusk) November 1, 2022

Twitter Blue had actually been previously launched last year, and for the most part, had remained a different type of service.
Previously its main features were the ability to change themes and app icons, read ad-free articles, undo or edit tweets, and customize one's navigation bar.
We need to pay the bills somehow! Twitter cannot rely entirely on advertisers. How about $8?

— Elon Musk (@elonmusk) November 1, 2022
This has also drawn some criticism, most notably from author Stephen King who had criticized that USD 20 was too much with Musk later replying that Twitter cannot solely rely on advertisers and that it will only cost USD 8.
— Elon Musk (@elonmusk) November 2, 2022