Filipinos condemned the assassination of radio broadcaster Percy Lapid who was critical of the previous and current Administration until his demise.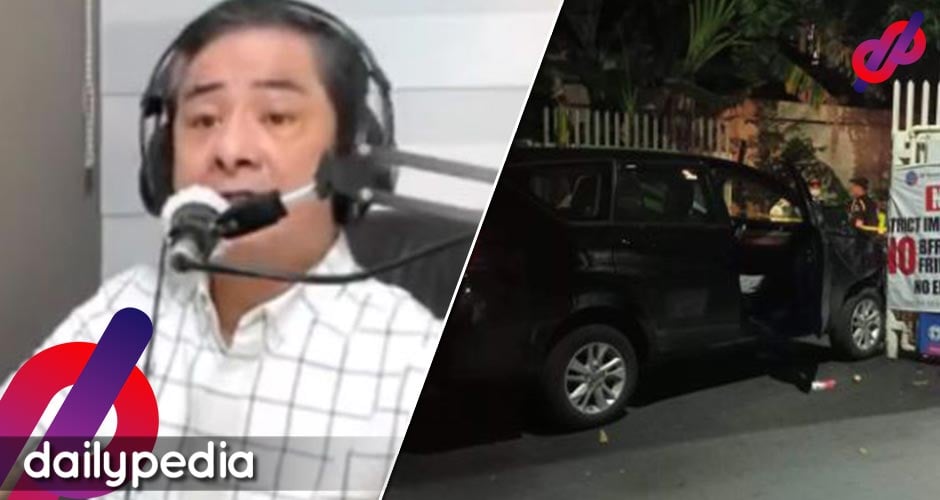 Lapid's family said he received death threats before he was gunned down. The deceased broadcaster usually discussed pressing issues, including alleged corruption activities by [certain] political figures.
"Medyo challenging din po 'yong magiging imbestigasyon pero from the looks of it, batay doon sa topics na kanyang tinalakay, ay malamang po work-related ito," National Union of Journalists of the Philippines (NUJP) Secretary General Ronalyn Olea told CNN Philippines.
Join us in condemning another murder of a journalist.

Justice for Percy Lapid! pic.twitter.com/prytGWY2cO

— NUJP (@nujp) October 4, 2022
According to the Las Piñas City Police, Lapid was at the gate of a subdivision along Aria St., Barangay Talon Dos when he was fatally shot. One of the suspects rode a motorcycle while another was inside a white Toyota Fortuner.
"We are deeply saddened and angered by the brutal and brazen killing of fearless broadcaster, father and husband, brother and friend, Percy Lapid," a statement of Lapid's family posted on Facebook said.
"We strongly condemn this deplorable crime; it was committed not only against Percy, his family, and his profession, but against our country, his beloved Philippines, and the truth," added the statement posted by Lapid's younger brother, journalist and former National Press Club president Roy Mabasa.
Netizens believed that the Marcos administration had something to do with Lapid's death.
Let the killing of Percy Lapid ring around the world. #DefendPressFreedomhttps://t.co/YKsP7UJ6mS

— JC Punongbayan, PhD (@jcpunongbayan) October 4, 2022
Nothing but rage for the killing of Percy Lapid. A journalist critical of the government slain within the first 100 days of the Marcos administration. Sobrang nakakagalit.

— Mark Famatigan (@markyscrackling) October 3, 2022
May Percy Lapid's death embolden journalists to push back. The chilling effect is real, but if nobody else will stand with the press…we will never know the truth.

Rest in power, sir.

— Kevin Manalo (@kevinmanalo_) October 3, 2022
Maraming salamat sa pagtutok. Iniaalay ko ang aming broadcast ngayong araw kay #PercyLapid . Maraming salamat sa walang takot na pamamahayag. https://t.co/w5o89qRAGw

— Karmina Constantino-Torres (@ConstantKC) October 4, 2022
No one should get killed for criticizing the government, or anyone for that matter.

Free marketplace of ideas, not bullets.#stopthekillings

— Mike Navallo (@mikenavallo) October 3, 2022
It is unbelievable that another journalist died. In my country. Stop the bloodlust. Stop the killings.

— Lian Buan (@lianbuan) October 3, 2022
One of Percy Lapid's final topics on his program "Lapid Fire" was talking about Rodrigo Duterte and Lorraine Badoy's continuous redtagging of individuals.

Just a few hours ago, Ka Percy was murdered.

Justice for Percy Lapid! ✊🏼#DefendPressFreedom#StopTheKillingsPH pic.twitter.com/Wob3tMR29o

— Carlo #DefendPressFreedom (@socid777) October 3, 2022
The NUJP noted that Lapid, is the second journalist to get murdered under the Marcos regime. The first was radio broadcaster Rey Blanco, who got fatally stabbed in Negros Oriental in September. Lapid is also the 196th journalist to be killed since 1986.
Meanwhile, the PNP is now investigating the incident. The Commission on Human Rights (CHR) also criticized the murder of Lapid, citing journalists' role in "upholding democracy and demanding accountability in any society."
"Any threat or attack to press freedom is a direct threat to people's right to truth and information," it said in a statement.
Senior Deputy Executive Secretary Hubert Guevarra will meet with the Presidential Task Force on Media Security and the Southern Police District to ensure the conduct of the investigation "proceeds without any problem and submit to us, report to us hopefully within the next seven days."