A social media influencer attempted to get a free stay at a luxury hotel in Tagaytay but failed.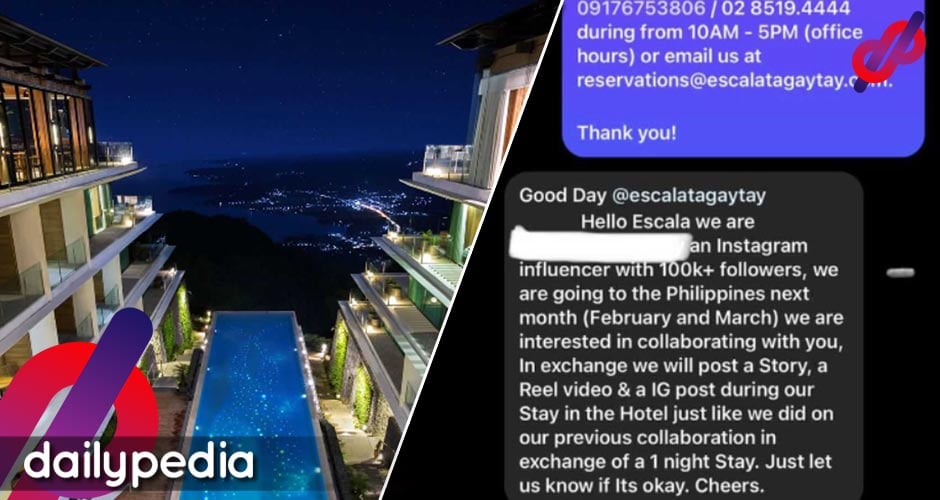 Since the rise of social media influencers, there have been numerous reports of these new-generation promoters trying to trade their influence and popularity for free items such as products, hotel stays, and the like.
Sometimes these collaborations are successful and both parties are pleased, but other times they are not. According to Starngage.com, a platform that monitors over 17,000 influencers in the Philippines, ranging from those with just 1,000 to more than 10 million followers, the top three on the list are celebrity stars Anne Curtis, Liza Soberano, and Kathryn Bernando, each with over 16 million followers.
A recent post by a motoring journalist and marketing consultant for luxury hotel Escala Tagaytay, Botchi Santos, detailed an encounter with one of these social media influencers.
Santos wrote, "Unfortunately before we could come up with an appropriate response, (with the approval of the right person/manager who is different from the person manning our social media channels) you brushed us off really quickly…we are sorry if our timeline does not meet your expectations. We did give you the option to call us with our working schedule & contact details if you felt it to be very urgent and could not wait."
In a screenshot, the influencer's message to the hotel, asking for a complimentary stay, is seen as unprofessional, writing "Thanks for the seen zone".
It is not unreasonable to request a one-night stay and the influencer did provide a range of two months (February to March) for the hotel to choose a date. However, the timing of the message, sent around midnight on a Sunday, and expecting an immediate response, illustrates that the influencer still has much to learn about professional communication.