Filipinos love going to the mall, whether to shop or just hang out. However, it's difficult to do so given the current situation. But thanks to the internet and mobile application, you can window shop and purchase items from SM Cyberzone straight from your smartphone and have them delivered to your home. Here's how to do it.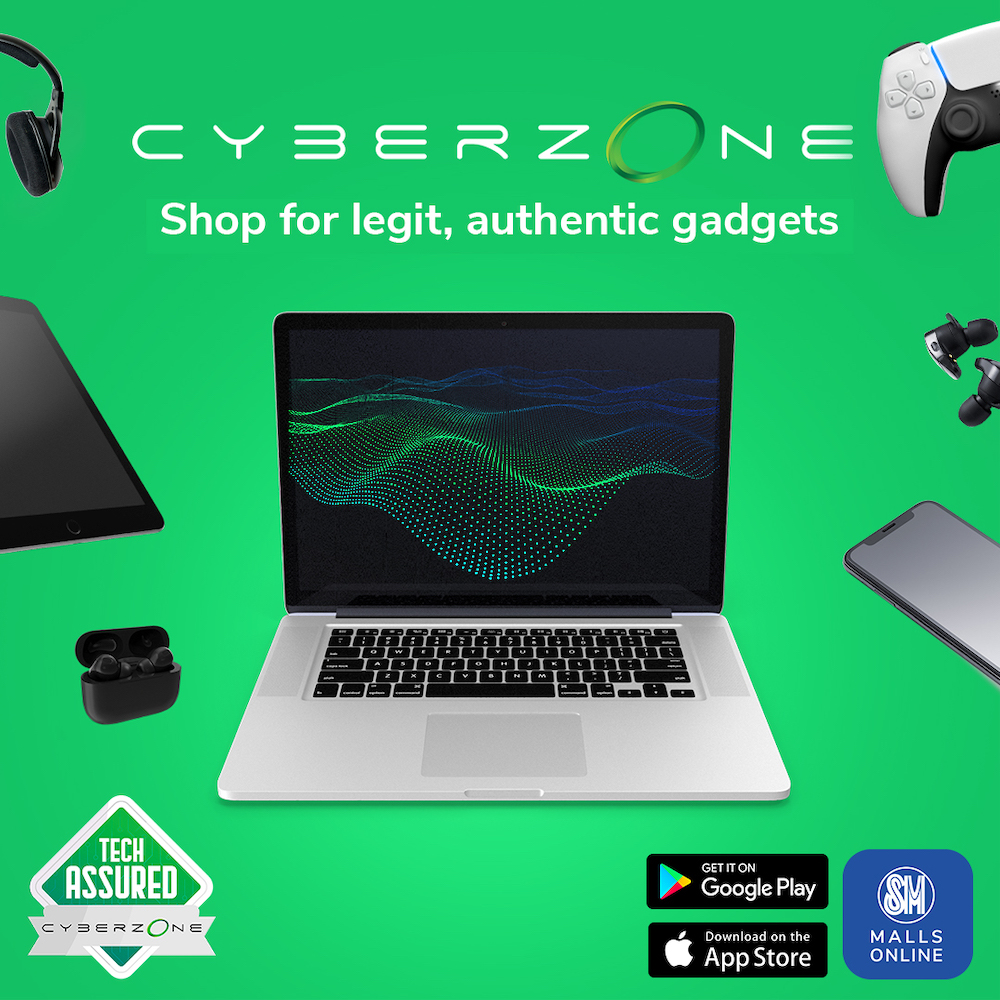 What we're talking about is the new SM Malls Online app, which is available as a free download on the Google Play Store and Apple App Store.
What's in the app?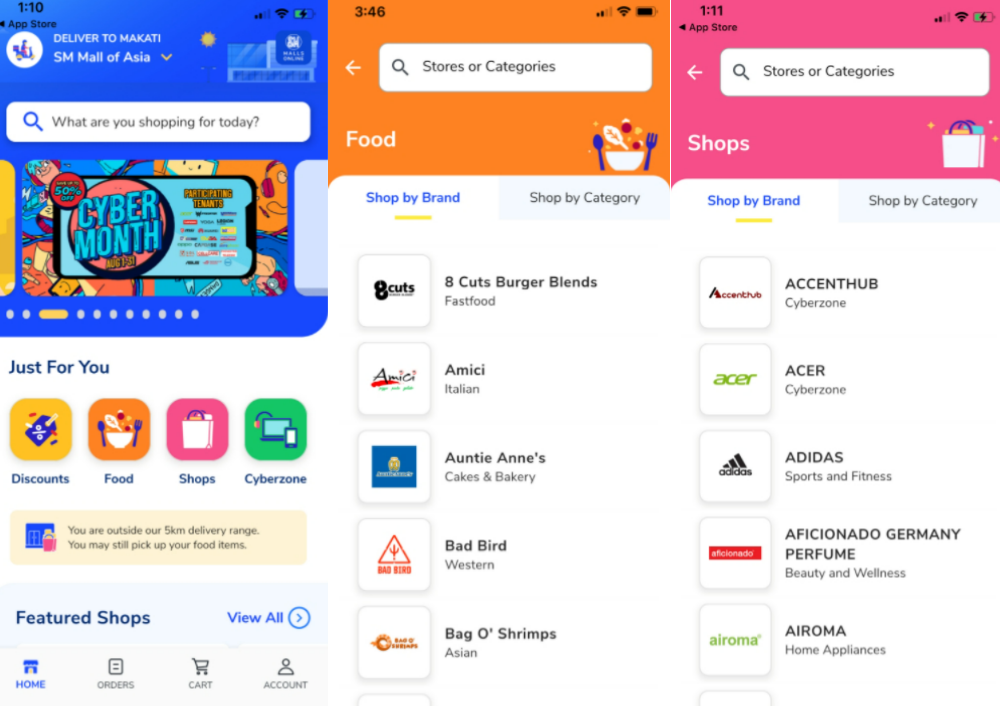 It's an app that gives you access to trusted mall brands. Think of going to the mall and seeing the shops, brands, and restaurants you're familiar with like Watsons, Adidas, Miniso, Power Mac Center, Breadtalk, Fully Booked, etc. Only this time, you're doing it from the app from the comforts of your home, and you'll have access to ongoing sales and promos. But what we're going to focus on is SM Cyberzone, which is basically where you can satisfy your gadget needs.
Shopping at SM Cyberzone
Gadgets are in demand nowadays, especially laptops. People flock malls to scout for the best deals and see the devices personally at SM Cyberzone. You can bring most of that experience online through the SM Malls Online app, and you may find it easier to spot deals. If you have a specific item in mind, you can just type it in the search box, but if you want to just browse around, there's an option to sort the items by price from high to low and vice versa or filter it by price if you have a budget in mind.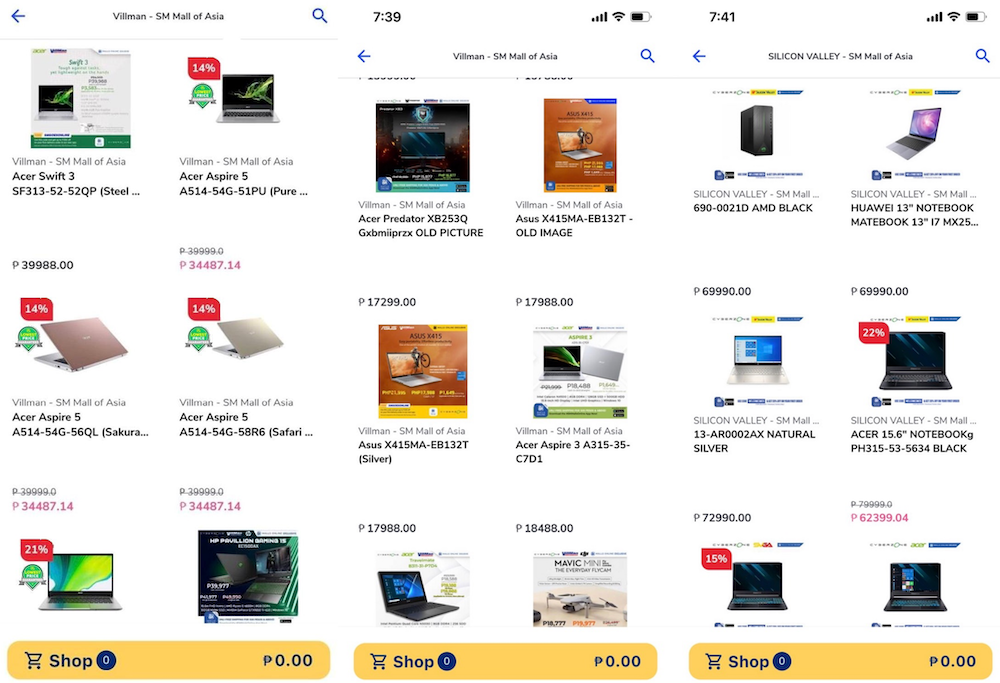 If you have a particular gadget shop in mind, you can easily browse the shops by brand. Official concept stores like Acer, Cherry Mobile, Huawei, Dell, HP, JBL, Lenovo, OPPO, and Xiaomi, are here. Stores like MemoXpress, Villman, Asianic, Compink, PC Express, and PC Worx are also here. Basically, the whole SM Cyberzone is at the palm of your hands.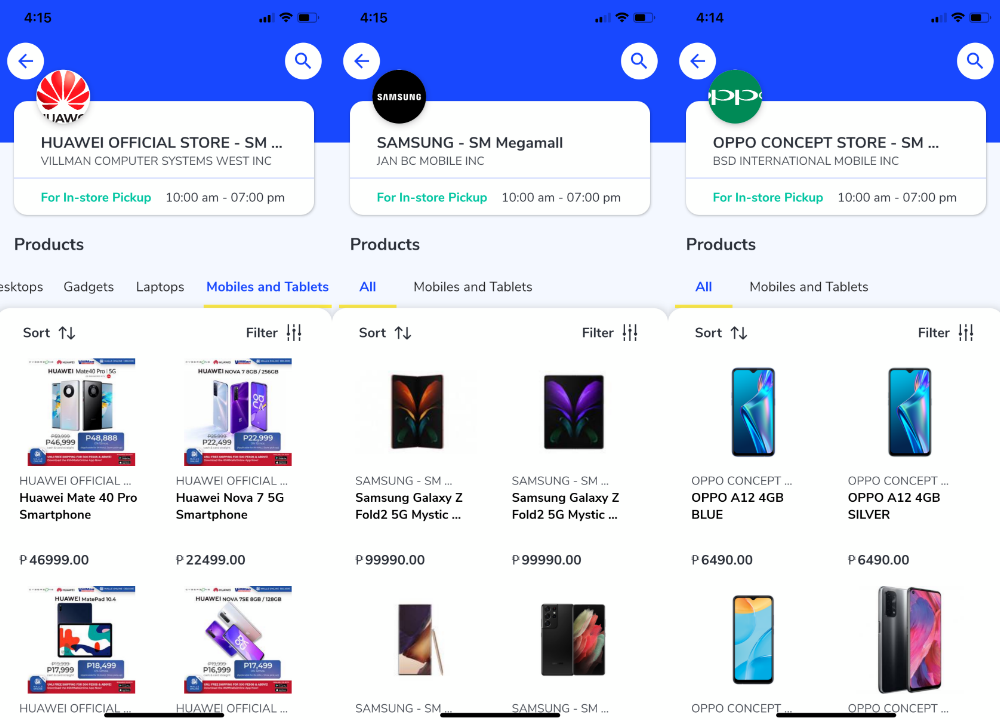 As mentioned, smartphones are also available, and if you noticed, the prices are updated and are already offered at the lowest price guaranteed. So, compared to shopping in person, where you have to ask for the lowest price, you don't have to in the SM Malls Online app. All you need to do is search for a specific brand or model, and the best deals will be displayed.
How to shop?
The first thing you need to do is download the app from the app stores mentioned above. Upon launching the app, you can sign in as a guest or create your own account.
It will ask your permission to access your location services to help determine the closest mall that can accommodate deliveries to your area.
Next is to specify your location. You can also choose the serving mall you prefer. Right now, there's SM City North EDSA, SM Megamall, SM Mall of Asia, and SM Fairview.
Once you've found the product you want to purchase, all you need to do is add it to your cart. There are two carts available, one is for Food, and the other is for Shop.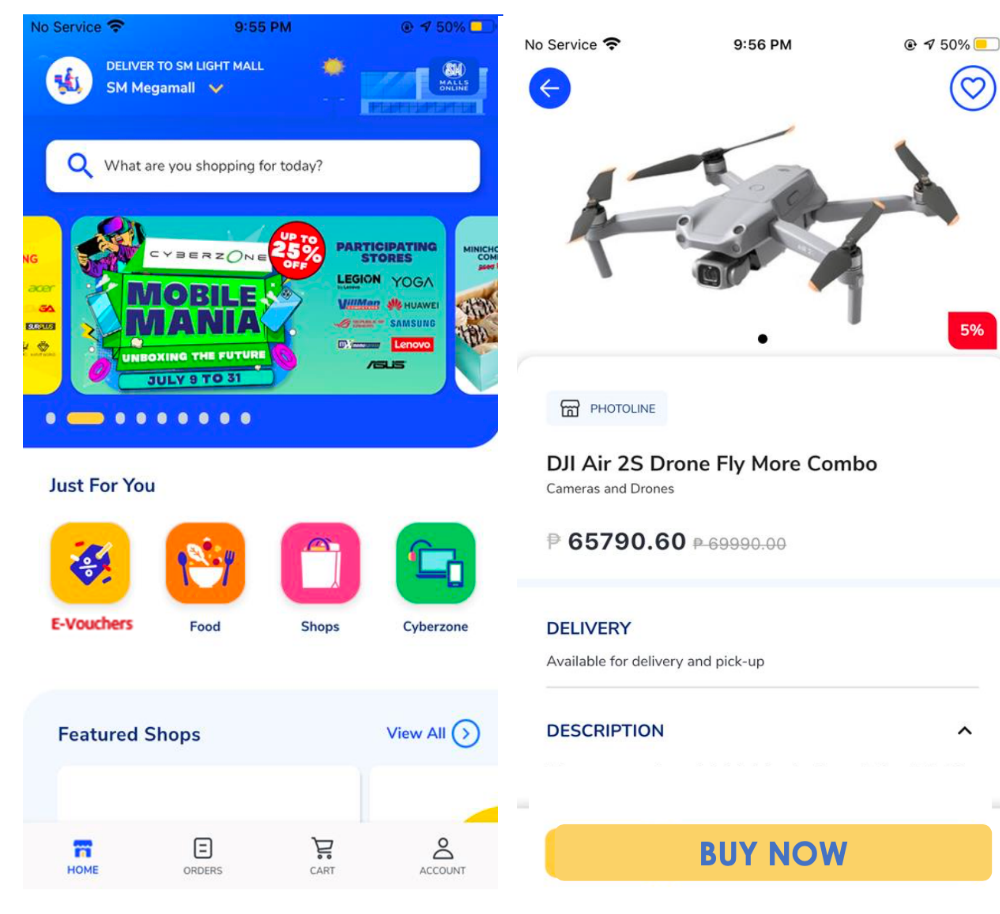 Once you're ready to purchase, just tap on Checkout. You can now add your complete delivery details, choose between In Store Pick up or Next Day Delivery, and add SM Vouchers if you have any.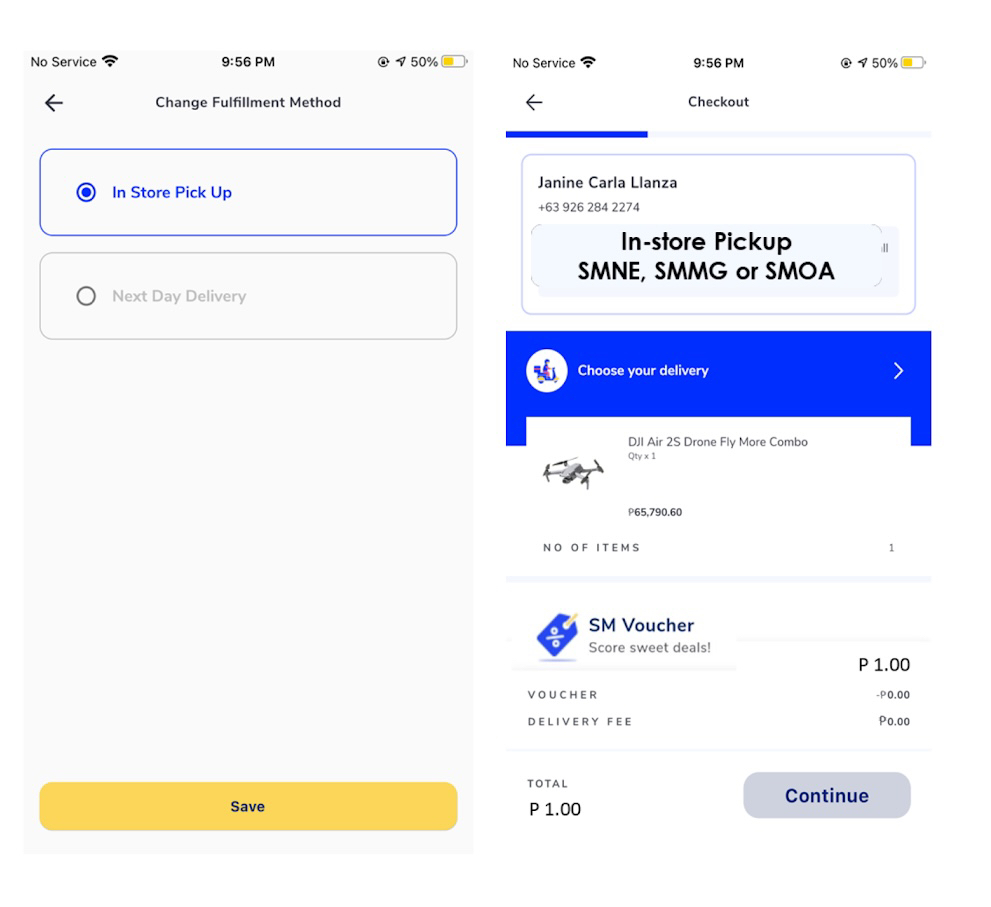 You can pay for your purchase using a credit/debit card or cash. Once payment is confirmed, you'll receive a confirmation in the app and in your registered email address.
Registered users can order via delivery method within 10km distance (Non-Food) and 5km distance (Food & Beverage) from the chosen mall. If you are outside geolocation limitations, pickup services are currently available. SM Malls is working on having more SM Malls available and nationwide shipping soon.
Standard Shipping fees are as follows, with a maximum limit of up to 20Kg. For Food: PHP 59. For Non-Food: PHP 69.
How's the overall experience?
The experience is quite enjoyable as you're able to browse shops and brands you're familiar with, as well as discover other stores that are currently not available at your nearest SM Mall. The app is also easy to use, and it's a great place to scout for the lowest price and discounted items. You also don't have to worry about fake items as the products offered come from trusted and authentic brands.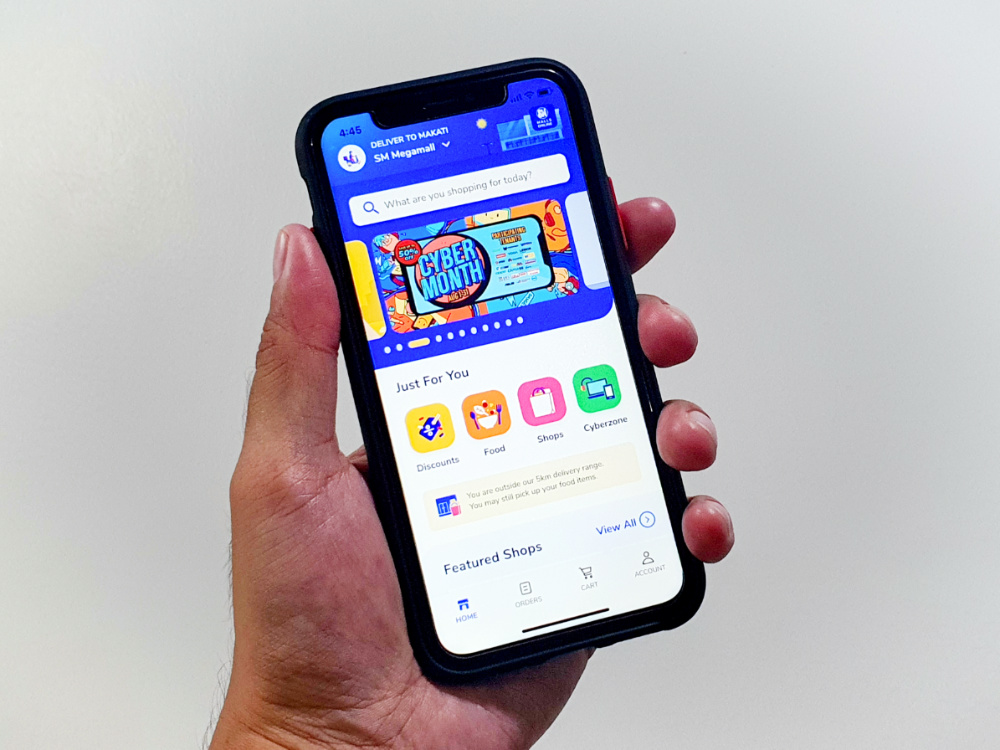 Even if you have no plans of purchasing items, it's a great app to scout for products available at SM Malls, just like window shopping. When you find something interesting, just add it to your cart and check it out later.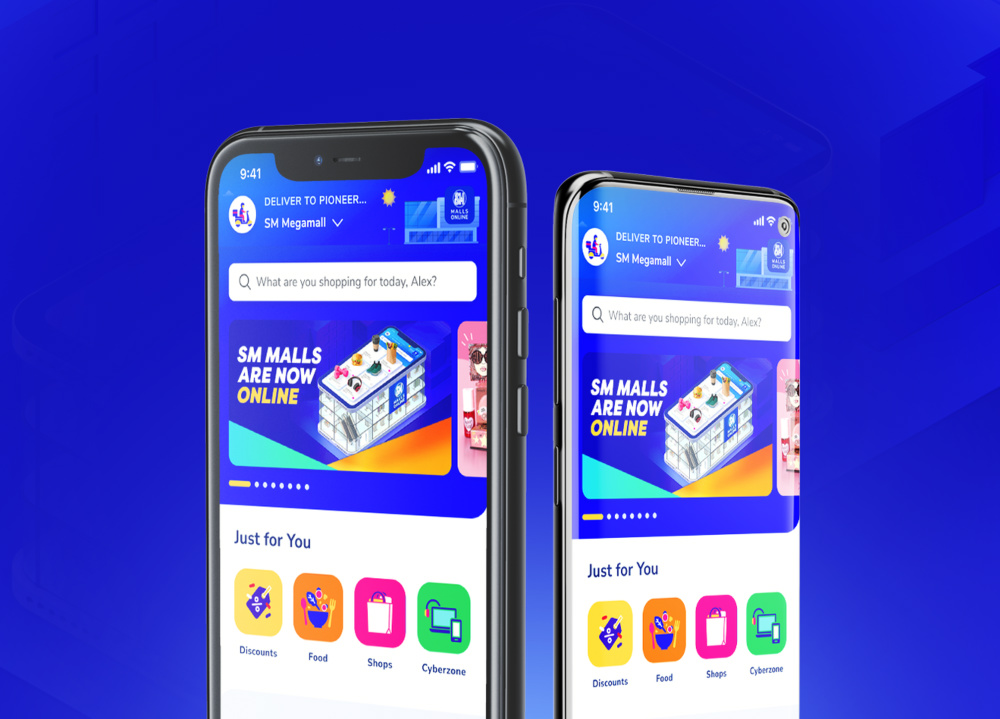 Give it a try with these vouchers
SM Malls is offering these vouchers if you want to try the app:
• SMGOESONLINE – Get up to PHP 200 off on your first order
• 2orMORE – Get free shipping by shopping from 2 or more brands with a minimum spend of PHP 750
And there you have it. If you want to learn more about the SM Malls Online app or want to download the app, just click this link — https://gosm.link/LPGxYugatech.