Photo credit: DefinetlyMaybeM, MIKASACKERMANBF, and softiirene/Twitter
After more than a decade of devoting our hearts to the Attack on Titan franchise, the manga series has finally reached its inevitable conclusion. (Huhu!) Even though the official release date is on April 9, Chapter 139 leaks are already out online. (Because the Internet always finds a way!) While there's a faction of AOT fans who want to remain spoiler-free until it drops, the impatient ones have already started scrolling the #AOT139spoilers tag on Twitter.
So what did the Attack on Titan fandom think about the ending? Well...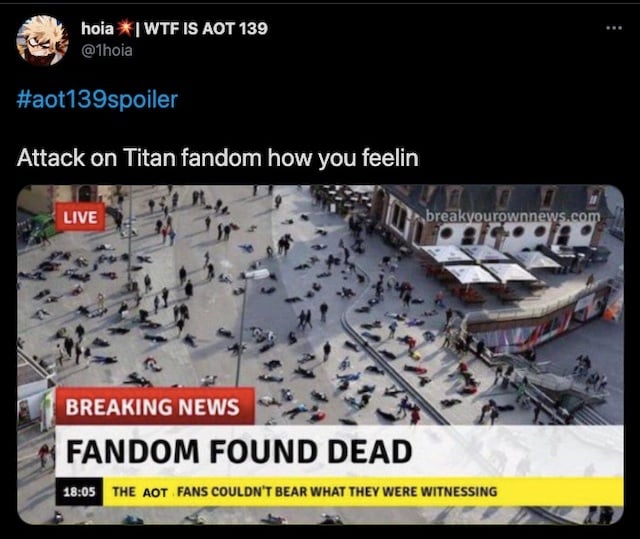 Photo credit: 1hoia/Twitter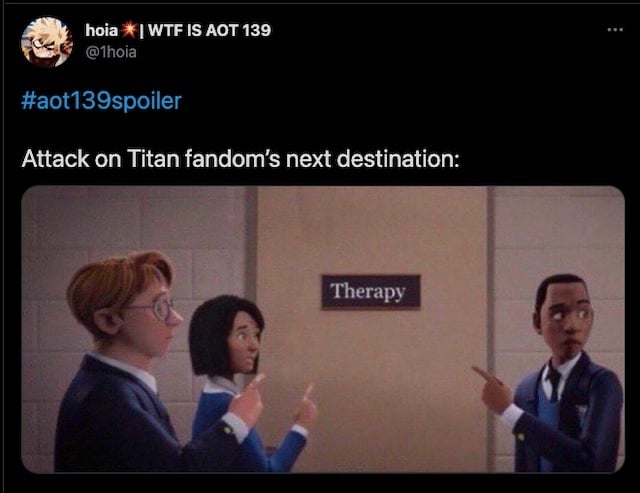 Photo credit: 1hoia/Twitter
Admittedly, Attack on Titan has always been on the more serious/anxiety-inducing and thrilling end of the shounen manga spectrum. However, the deconstructed take on the "chosen one's" adventure drew lots of fans who wanted more thought-provoking moments in their anime. It's realistic, tragic, and sheds light on both sides of the so-called "good vs. evil" battle.
The story at times can be a bit of a downer but amusingly enough, the fandom itself is known to be a cheerful bunch. This is proven by all the light-hearted memes they've churned out for the latest chapter. (Beware, spoilers ahead!)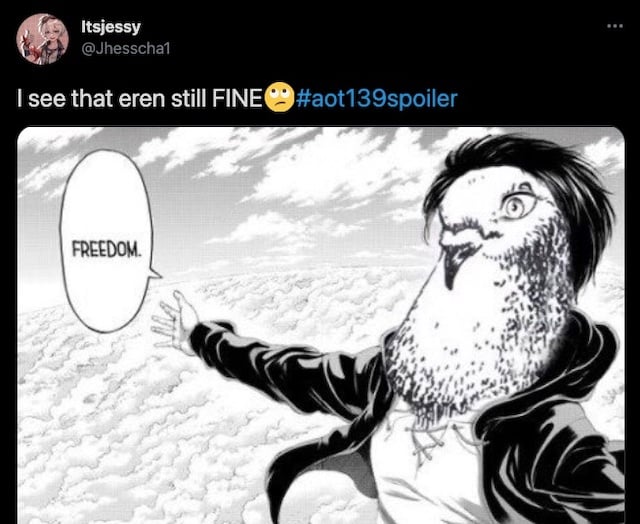 Photo credit: Jhesscha1/Twitter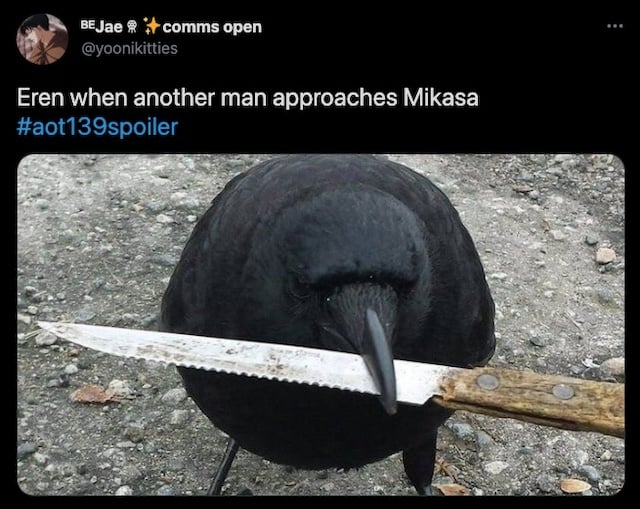 Photo credit: yoonikitties/Twitter
Wait, why is Eren depicted as a bird?! We'll just have to read the entire chapter to find out.
Here are a few more heartfelt spoilery posts with a lot of context. (Again, spoiler alert!)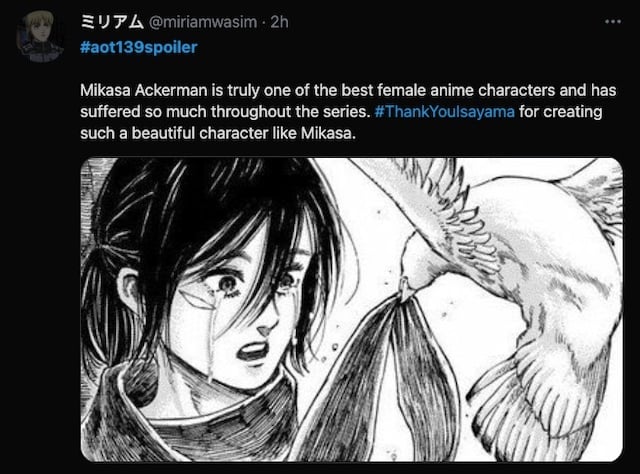 Photo credit: miriamwasim/Twitter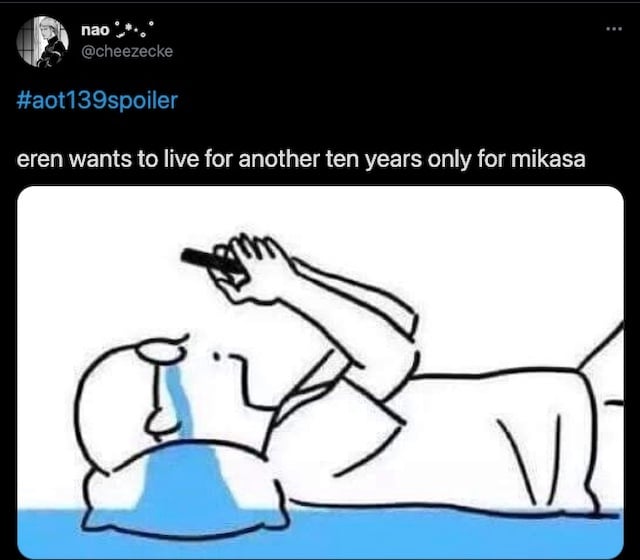 Photo credit: cheezecke Twitter page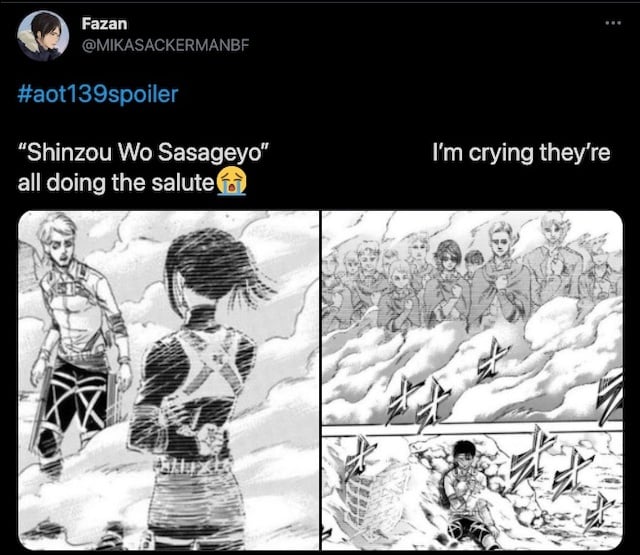 Photo credit: MIKASACKERMANBF/Twitter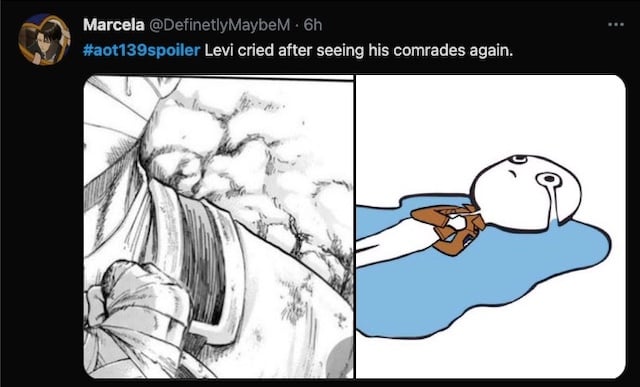 Photo credit: DefinetlyMaybeM/Twitter
Based on these posts, it looks like we're going to need a box of tissues, a gallon of ice cream, and a fluffy blanket to get through all the emotional wreckage. Eremika (Eren x Mikasa) stans, especially, may need to get ready for a lot of feels. Due to the amount of stress readers and viewers experience when consuming (not in the literal Titan manner of devouring, mind you) AOT content, there's been a running joke of the fandom's love-hate relationship with creator Hajime Isayama.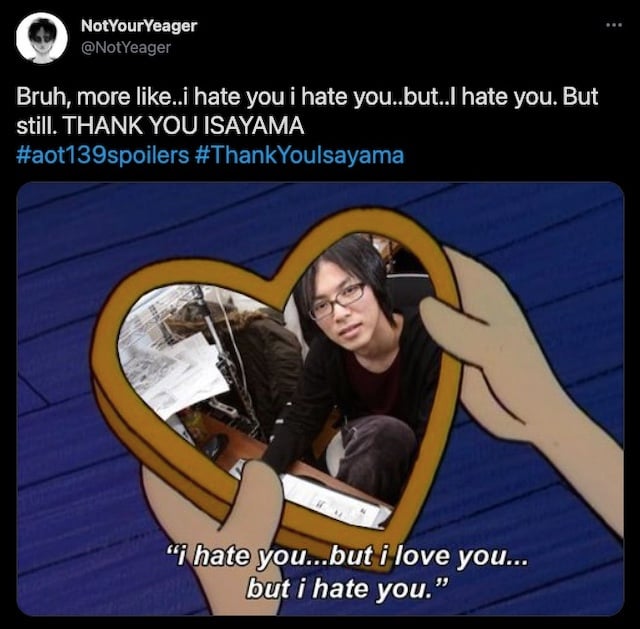 Photo credit: NotYeager/Twitter
Regardless of how fans feel about the story's conclusion, we can't deny the sheer brilliance of an author who kept everyone on their toes for a generous chunk of their otaku lives. With every chapter release, wild speculations and theories would come out that would then be immediately debunked by Isayama himself.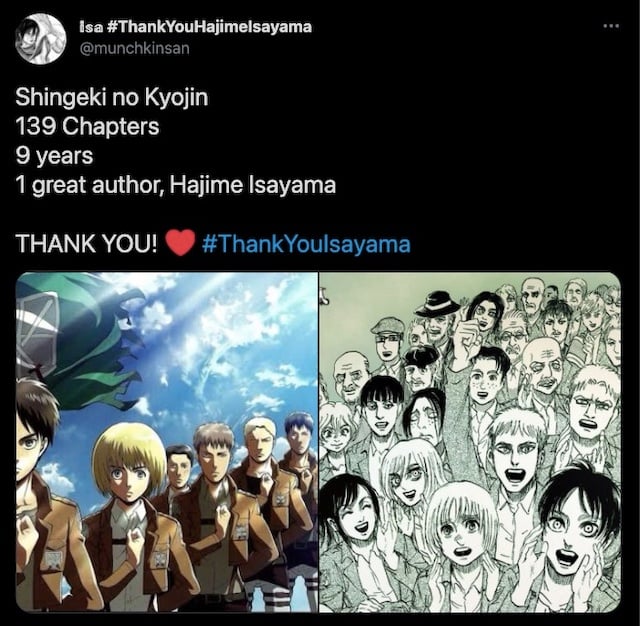 Photo credit: munchkinsan/Twitter
Real talk though, fans would not be sorting through this mixed bag of feels if they weren't emotionally invested in Attack on Titan from the very beginning.
But chin up, otakus! At least we have the final arc's animated adaptation coming up next year. Regardless of what else is in store for the series, the story, the characters, and the philosophical ideas will always live on in our hearts.
Shinzou wo sasageyo! (Dedicate your heart!)
What did you think about the ending? Which character deserves their own series? How can we rally around getting Levi Ackerman his own tea shop spin-off series?