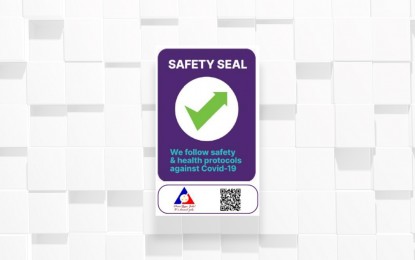 MANILA – A total of 21,676 safety seal certifications were issued by government agencies, Department of Trade and Industry (DTI) Undersecretary Ireneo Vizmonte said.
In the Department of Health's virtual Kapihan session on Tuesday, Vizmonte said DTI has approved 3,169 applications for safety seal.
Local government units (LGUs) in Metro Manila alone issued 12,898 safety seals; the Department of the Interior and Local Government (DILG) with 4,578 certifications; the Department of Tourism (DOT), with 780; and Department of Labor and Employment (DOLE), with 251.
The government launched the safety seal, a certification program for business establishments that comply with the minimum public health protocol.
"More than boosting the consumer confidence, we want to engage (the) government and private sector in order for establishments to commit to the implementation and enforcement of minimum public health protocol or prevent transmission of Covid-19 (coronavirus disease 2019)," Vizmonte said.
Establishments with safety seals may add 10-percent capacity in their operations on top of the allowed capacity.
Vizmonte said there were also denied safety seal applications as some establishments have not met the prescribed health standards in safe opening of businesses.
But they can reapply for the safety seal once they have complied with the standards, the DTI official added.
The DTI is the safety seal issuing agency for groceries, supermarkets, membership shopping clubs, convenience stores, construction supply and hardware stores, outlets of logistics service providers, barbershops and salons, and service and repair shops.
The DOT issues certificates for tourism-related establishments like hotels, resorts, apartment hotels, other accredited accommodation establishments, travel and tours services, meetings, incentives, conferences, and events (MICE) venues and facilities, and restaurants inside hotels and resorts.
DOLE, on the other hand, is responsible for manufacturing, construction sites, utilities, information and communication companies, and warehouses.
LGUs cover malls, wet markets, other retail stores, restaurants outside hotels and resorts, fast food, eateries, coffee shops, banks, money changers, pawnshops, remittance centers, car wash, laundry service centers, art galleries, libraries, museums, zoo, sports centers, tutorial, testing, review centers, gyms, spas, cinemas, arcades, and all other private establishments.
The DILG also issues safety seals to government offices.
To get and maintain a good housekeeping badge, an establishment should strictly implement minimum public health standards, such as the proper wearing of face shields and face masks, good ventilation, disinfection, and using the contact tracing system of StaySafe.ph.