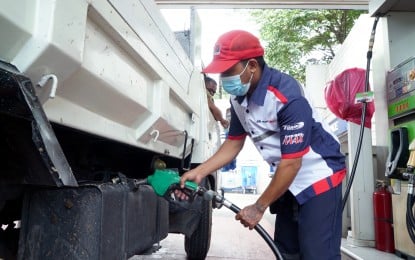 MANILA – After a big-time increase in fuel prices last week, oil companies will slash prices of gasoline, diesel, and kerosene on Tuesday.
In separate advisories, Caltex, Cleanfuel, Jetti, Petro Gazz, PTT Philippines, Seaoil, and Shell said they will roll back gasoline prices by PHP2.60 per liter and diesel prices by PHP1.55 per liter.
Caltex, Seaoil, and Shell will also reduce kerosene prices by PHP1.60 per liter.
According to industry sources, the latest slump in oil prices in the world market is mainly due to concerns on demand as China tries to further curb its coronavirus disease 2019 (Covid-19) cases.
However, on Monday, oil prices improved ahead of the meeting of the Organization of Petroleum Exporting Countries and its allies (OPEC+).
As of writing, Brent crude increased by 2.32 percent to USD95.18 per barrel while West Texas Intermediate price went up by 2.08 percent USD88.68 per barrel.
Dubai crude, on the other hand, was at USD92.60 per barrel as of September 2.
Since the start of the year, gasoline prices in the country have already increased by PHP29.50 per liter, PHP45 per liter for diesel, and PHP39.25 per liter for kerosene.(PNA)