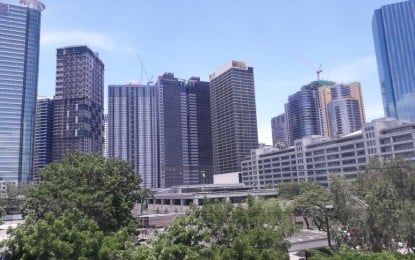 MANILA – Improvement in the employment situation is expected to make the country's second-quarter economic growth "pretty good", Finance Secretary Carlos Dominguez III said.
In an interview over Bloomberg TV on Wednesday, Dominguez declined to give specific figures, saying he is "not big on predictions" but cited the drop in unemployment and underemployment last May.
"The fact that we've created about two and a half million new jobs over the last year seems to be good signs for us," he said.
Philippine Statistics Authority (PSA) data show that the labor force participation rate last May improved to 64.6 percent from the previous month's 63.2 percent.
Employment rate increased to 92.3 percent in May from last April's 91.3 percent, while the underemployment rate declined to 12.3 percent from 17.2 percent.
Unemployment rate thus went down to 7.7 percent from 8.7 percent.
Authorities have attributed the increase in employment rate to the continued re-opening of the economy which allows more workers to land a job.
The second-quarter gross domestic product (GDP) report is scheduled to be released on August 10.
In the first three months of 2021, the country's GDP posted a contraction of 4.2 percent, better than the -8.3 percent in the previous quarter.
Economic managers' growth target for this year ranges between 6 percent to 7 percent, while it is 7 percent to 9 percent for next year and 6 percent to 7 percent for 2023-2024.
With the pandemic still expected to linger, Dominguez said it is important to continue to remain "fiscally responsible."
"We want to make sure that we have enough resources to tackle any problems in the future, such as surges in the pandemic. We also want to make sure that we have enough money to protect our citizens and that is providing them with enough vaccines," he said.
Dominguez said the government's USD3-trillion borrowing program for this year, same as last year, would remain to be primarily sourced domestically at around 75 percent.
The balance would be tapped overseas "depending on the situation in the market", he said.
"We're keeping ourselves open to financing from domestic or international sources. And essentially it's going to be the same amount," he added.
To date, the government has issued around PHP150 billion (USD3 billion) worth of dual tranche, 10.5-year and 25-year US dollar-denominated bond; EUR2.1-billion multi-tranche, 4-year, 12-year, and 20-year global bonds; and JPY55 billion three-year zero-coupon fixed-rate yen-denominated Samurai bond.
Dominguez said these borrowings help finance government programs this year, including the procurement of vaccines against the coronavirus disease 2019 (Covid-19).
He said nearly 30 million doses of vaccines have arrived in the country as of July 21 while around 70 million doses are expected in the third quarter and around 55 million doses in the last quarter.
"That's certainly enough to vaccinate 100 percent of our adult population," he said, adding the vaccination program is the government's primary method of fighting the virus. (PNA)