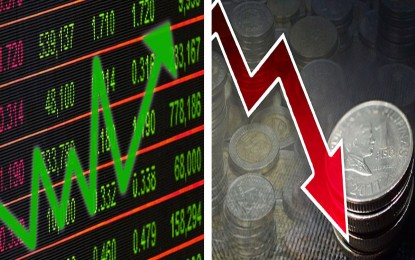 MANILA – The Philippine Stock Exchange index gained on Thursday on risk-on sentiments following recent slides, but the peso weakened against the US dollar and even touched the 50-level.
The main equities index rose by 1.28 percent, or 88.23 points, to 6,968.43 points.
All Shares followed with an increase of 1.07 percent, or 45.90 points, to 4,323.53 points.
All the sectoral counters also tracked the main index, led by the Services which jumped by 2.41 percent.
The Property index also inched up by 2.20 percent; Industrial, 1.49 percent; Financials, 0.62 percent; Holding Firms, 0.58 percent; and Mining and Oil, 0.07 percent.
Volume reached 1.07 billion shares amounting to PHP7.37 billion.
Gainers surpassed losers at 103 to 90, while 47 shares were unchanged.
Luis Limlingan, Regina Capital Development Corporation head of sales, said the local equities index's performance is in line with its counterparts in the region and is a change from the negative closes in recent days "that had left the market primed for bargain hunting."
"Surging energy stocks contributed to the upbeat performance both here and abroad, while investors remain fixated on next week's Federal Reserve meeting," he added.
Meanwhile, the peso depreciated against the greenback after it closed the trade at 49.97 from 49.79 a day ago.
It opened the day at 49.72 and traded between 49.7 and 50.02.
Average level for the day stood at 49.852.