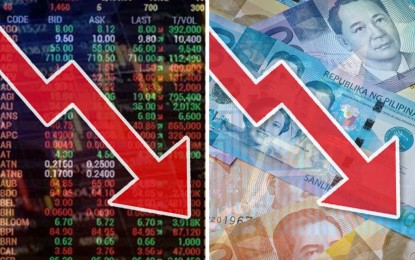 MANILA – Risk-off sentiments ahead of the release of the United States June 2022 inflation report weakened both the local stock barometer and the peso which closed to its nearly 18-year low on Tuesday.
The Philippine Stock Exchange index (PSEi) shed 0.61 percent, or 38.7 points, to 6,349.94 points.
All Shares dipped by 0.35 percent, or 11.87 points, to 3,409.91 points.
Half of the sectoral gauges tracked the main index namely Holding Firms, 1.49 percent; Services, 1.03 percent; and Property, 0.28 percent.
On the other hand, Mining and Oil rose by 0.96 percent, Financials by 0.75 percent; and Industrial by 0.31 percent.
Volume was thin at 955.85 million shares amounting to PHP4.2 billion.
Decliners led advancers at 105 to 82, while 49 shares were unchanged.
Luis Limlingan, Regina Capital Development Corporation (RCDC) head of sales, said headline inflation in the US was projected to have risen to around 8.8 percent last June from the four-decade high of 8.5 percent in the previous month.
Limlingan said market players are also readying for the second-quarter earnings report season.
"Market participants will watch for downside risk to earnings forecasts as companies grapple with rising interest rates and greater inflationary pressures, and as the street debates the likelihood of a recession," he said.
Meanwhile, the peso depreciated to 56.37 against the US dollar, which Rizal Commercial Banking Corporation (RCBC) chief economist Michael Ricafort said was the weakest since Nov. 5, 2004 when it closed at 56.375.
It finished Monday's trade at 55.979.
The local currency registered an early showing after opening the day at 56.13 from 55.84 in the previous session.
Its opening level was the unit's strongest for the day after it weakened to 56.45 earlier in the session, which was the weakest since Oct. 13, 2004.
The average level for the day stood at 56.318.
Volume reached USD1.39 billion, a jump from day-ago's USD804.6 million.
Ricafort traced the peso's depreciation to a "record trade deficit on a monthly basis at -USD5.679 billion and the stronger US dollar."
He said the scheduled release of the US June 2022 consumer price index (CPI) on Wednesday, along with expectations for further hikes in the Federal Reserve's key rates, also contributed to the risk-off sentiments.
These factors are, however, countered by the rise in local coronavirus disease 2019 (Covid-19) infections and the drop in oil prices in the international market as well as US Treasury yields, Ricafort said.
"It is interesting to note that back in 2004-2005, the high was capped/limited at 56.40 levels for about two years," he added.