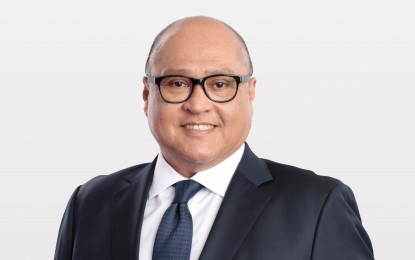 MANILA – With 36 years of banking experience under his belt, Jose Arnulfo "Wick" Veloso has been elected president and general manager of the Government Service Insurance System (GSIS) by its Board of Trustees during a special board meeting Thursday.
"After three decades of working in banks, it's now time for me to use what I have learned in international finance and banking to contribute to nation building," Veloso said. "I now carry the responsibility of making sure that the retirement benefits of government employees are well managed."
During the turnover ceremony held at the GSIS headquarters in Pasay City, Veloso was warmly welcomed by outgoing GSIS chief Rolando Ledesma Macasaet, GSIS executives, and employees.
Under the law (Section 18 of the GOCC Governance Act of 2011 or Republic Act 10149), "the CEO (chief executive officer) or the highest-ranking officer provided in the charters of the government-owned or controlled corporations (GOCCs), shall be elected annually by the members of the board among its ranks."
Veloso was the president and CEO of the Philippine National Bank (PNB) prior to his appointment to GSIS. During his watch, PNB was recognized by the Asian Banker as the "Best Managed Bank" for demonstrating excellence in its response to  the coronavirus disease 2019 (Covid-19) pandemic in 2020.
At the same time, he was adjudged as the  "Best CEO" during the Asian Banker's annual Leadership Achievement Awards.
Prior to working for PNB, Veloso was an international banker where he had built a wide network in international finance, especially in Global Banking and Markets.
In 2012, Veloso was appointed as the first Filipino CEO at HSBC Philippines until he transferred as CEO of PNB in 2018.
Veloso has worked directly with Filipino and multinational customers –especially large corporates and industry captains– for many years.
Part of Veloso's work at the British multinational universal bank and financial services holding company HSBC was to regularly build relationships with institutional funds and investors with businesses and interests in the Philippines.
Throughout the Covid-19 pandemic, Veloso has been directly working with leaders in the government and the banking industry to help support the overall economy.
Veloso was elected president of the influential Bankers Association of the Philippines (BAP) until  March this year and has been a director at BAP since 2015.
At BAP, he helped frame rules and regulations together with the Bangko Sentral ng Pilipinas as well as legislators from the Senate and Congress with the view of helping enhance the  efficiency and the effectiveness of banks and banking services –and their contribution to the overall economy.
Veloso also became PCI Bank's domestic treasury head, as well as PCI Capital's treasurer, from 1993 to 1994.
He also worked as Citibank's fixed income portfolio manager between 1989 and 1993. His stint in Citibank has reportedly helped him further polish his treasury and trading skills, which eventually led to his rise as the "alpha male in the Philippine treasury market."
Veloso earned his bachelor's degree in commerce, major in marketing management, from the De La Salle University Manila, in 1986. (PR)