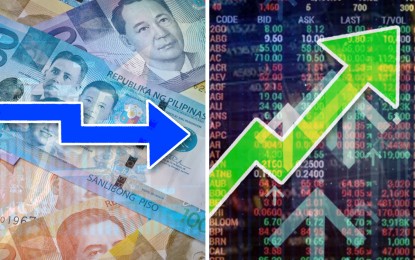 MANILA – Local shares improved while the Philippine peso slipped at end of the week's trading.
The Philippine Stock Exchange index (PSEi) finished Friday trading by gaining 0.91 percent or 62.47 points to 6,897.13.
This is the third straight week that the local index increased, Rizal Commercial Banking Corporation chief economist Michael Ricafort said.
All shares improved by 0.70 percent or 29.58 points to 4,261.69.
This day's gainers include the sectors of Holding Firms, up by 2.29 percent or 156.19 points to 6,974.89; Industrial, up by 0.62 percent or 62.28 points to 10,137.96; Financials, up by 0.62 percent or 8.94 points to 1,450.61 points; and Property, up by 0.26 percent or 7.84 points to 3,075.91.
Shares of Services declined by 0.63 percent or 11.31 points to 1,768.72 while Mining and Oil shares slipped by 0.05 percent or 4.88 points to 9,486.22 points.
"The PSEi already gained by 13.4 percent since the immediate low of 6,080.94 posted on May 14, 2021, or about 3.5 months ago. Since the start of 2021, the PSEi's losses have been trimmed to -3.4 percent versus 7,139.71 in end-2020," Ricafort added.
Market activities will also depend on how the government manages the more contagious Covid-19 Delta variant, future restrictions, and the rollout of the Covid-19 vaccination program.
Meanwhile, the Philippine peso ended sideways at 49.84 to a dollar on Friday.
It slipped 0.01 from previous day's closing of 49.83 to the greenback.
The local currency opened the day at 49.72, and traded between a low of 49.64 and a high of 49.91.
Volume of trade declined to USD924.2 million from Thursday's trade of USD1.15 billion. (PNA)