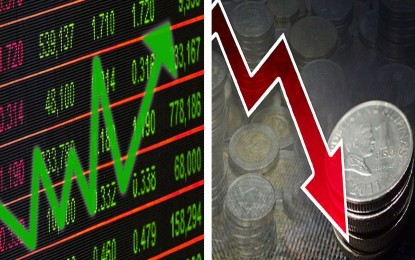 MANILA – The main stocks index recovered on Thursday partly on easing oil prices but the peso registered another record-low against the United States dollar.
The Philippine Stock Exchange index (PSEi) increased by 0.61 percent, or 39.66 points, to 6,593.74 points.
All Shares followed with a jump of 0.43 percent, or 15.13 points, to 3,505.20 points.
Most of the sectoral counters also gained during the day, namely Property, 1.04 percent; Industrial, 1 percent; Holding Firms, 0.45 percent; and Financials, 0.36 percent.
On the other hand, Mining and Oil slipped by 0.52 percent and Services by 0.35 percent.
Volume remained thin at 674.59 million shares amounting to PHP5.25 billion.
Decliners led advancers at 99 to 88, while 48 shares were unchanged.
"Philippine shares rebounded on easing rates and oil prices, which eclipsed the concerns about rising inflation," said Luis Limlingan, Regina Capital Development Corporation (RCDC) head of sales.
Limlingan said oil prices slipped to their seven-month lows, with Brent crude oil futures down by 5.2 percent to USD88 per barrel and West Texas Intermediate (WTI) by 5.69 percent to USD81.94 per barrel.
He said the Federal Reserve's summary of current economic conditions, which is included in what is called the Beige Book, "showed that economic activity was little changed in many regions across the US."
Meanwhile, the local currency weakened to its new all-time low against the US dollar even as it finished the day sideways at 57.18 from 57.135 on Wednesday.
It opened the day at 57.07 and traded between 57.22 and 57.06. The average level for the day stood at 57.14.
Volume went down to USD1.15 billion from day-ago's USD1.23 billion.
Rizal Commercial Banking Corporation (RCBC) chief economist Michael Ricafort said the local unit slipped for the sixth consecutive day following the release of the August 2022 gross international reserves (GIR) data, which registered its two-year low of USD98.97 billion.
Ricafort said continued weakness of the peso is expected to result in higher inflation rate and sustained hikes in the Bangko Sentral ng Pilipinas' (BSP) "to help stabilize both the peso exchange rate and overall inflation."
He said expectations for a similar trend in the Federal Reserve's key rates to address the four-decade high consumer price index (CPI) is also seen in higher US Treasury yields.
Ricafort said US' 10-year Treasury yield is still at its 2.5-month high at 3.26 percent and this "also supported sentiment on the US currency in terms of higher US interest rate income recently."
Hawkish signals from Federal Reserve officials and information from the Beige Book "signaling high prices and tight labor markets weighing on US economic prospects over the next year, but noted that inflation showed signs of decelerating" also factored in during the day, he added.