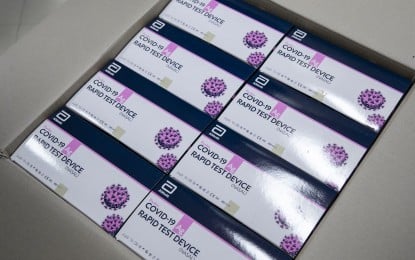 MANILA – Rapid test kits should be available at home as the country moves toward the 'new normal', the top trade official said Wednesday.
"Our SOP -- standard operating procedure -- should be that each person has an antigen test (kits) on your own," Department of Trade and Industry (DTI) Secretary Ramon Lopez said in Filipino during an interview with Radyo Pilipinas.
Lopez said this has been done in countries, such as the United Kingdom and the United States, so individuals are able to test themselves if they have a viral infection, especially if they are attending gatherings wherein a number of people could contract the virus.
"But that is going to the new normal, which you can test on your own," he added.
To date, the Food and Drug Administration (FDA) has not yet approved any self-administered test kits, but the agency has already reached out to the Department of Health (DOH) to get its opinion about at-home test kits.
Individuals have to go to clinics or testing centers for the coronavirus disease 2019 (Covid-19) screening through reverse transcription-polymerase chain reaction (RT-PCR) test, which is the gold standard for diagnosing coronavirus.
Early this month, DFA director general Eric Domingo said his office is waiting for the response from the DOH if they think that self-administered testing will be useful to the government's strategies to fight Covid-19.(PNA)