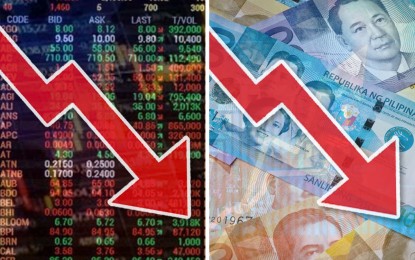 MANILA — Fears on the impact of the Federal Reserve's tightening moves again hurt the local bourse on Wednesday, resulting in the negative close of the main index and the further weakening of the peso.
The Philippine Stock Exchange index (PSEi) slid by 2.32 percent, or 155.52 points, to 6,554.08 points.
All Shares followed after it declined by 1.71 percent, or 60.88 points, to 3,490.07 points.
Holding Firms posted the biggest drop among the sectoral indices after it fell 3.18 percent.
It was trailed by Financials, 2.38 percent; Mining and Oil, 2.29 percent; Property, 1.72 percent; Services, 1.46 percent; and Industrial, 0.95 percent.
Volume reached 916.47 million shares amounting to PHP4.85 billion.
Decliners led advancers at 115 to 59, while 50 shares were unchanged.
Luis Limlingan, Regina Capital Development Corporation (RCDC) head of sales, said local shares took a plunge with the resumption of regular trading in the US following the Labor Day holiday on Tuesday.
Wall Street fell Tuesday night, which Limlingan traced to investors trying "to make a narrative on how tight the Fed's (Federal Reserve) tightening campaign would be given the strong economic data and surging bond yield."
He said US' 10-year Treasury yield registered its highest level since last June at 3.347 percent and the 30-year paper posted its highest rate since 2014 to 3.493 percent.
He added investors will also be monitoring the speeches of several Fed Presidents and will be monitoring the summary of current economic conditions in the US, based on the Fed's Beige Book that will be released later in the day.
Limlingan said oil prices fell after a two-day rise following the output target cut announcement by OPEC+, the first since 2020.
He said the price of Brent crude oil declined by 3 percent to USD92.83 per barrel.
Meanwhile, the local currency registered another all-time low against the US dollar at 57.135 from 57 on Tuesday.
It opened the day at 57.00, a depreciation from its 56.888 start in the previous session.
It traded between 57.33 and 57.00, resulting in an average of 57.216.