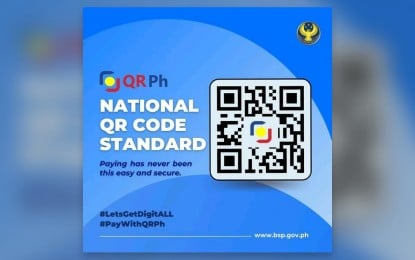 MANILA – A bank executive has cited the Bangko Sentral ng Pilipinas' (BSP) payment system using the quick response (QR) code as a catalyst to further boost digital payments in the country.
In a virtual briefing on Wednesday, Asia United Bank (AUB) executive vice president Wilfredo Rodriguez Jr. said the interoperability of the codes under the QR PH program, which uses QR technology in financial transactions, provides great potential for electronic payments.
He said the bank's app-based digital prepaid bank account product, Hello Money, will greatly benefit from the QR PH program, especially with the increase in the merchants that account holders can easily do transactions with.
"We really see a lot of potential for these QR payments. We have onboarded a lot of merchants and definitely, coupled with the QR PH interoperable QR PH QR codes, we definitely see more digital payments." he added.
QR PH is among the programs of the central bank eyed to increase the share of digital payments in the total financial transactions in the country.
The BSP recently launched the QR PH person-to-merchant (P2M) payment facility, an electronic payment system that allows buyers to pay even small value transactions such as jeepney or tricycle fares and payments of goods and services to micro, small and medium enterprises (MSMEs) at no cost to the buyer.
This payment system works with the buyer scanning the QR code of the seller or service provider to pay for an item or a service.
The central bank aims to increase the share of digital payments to about 20 percent of total financial transactions in the country by 2020, which the BSP said has been slightly exceeded and to account for around 50 percent of the total by 2023.
Rodriguez said they have heeded the central bank's call for this by introducing Hello Money in the fourth quarter of 2019 and to date has nearly 2 million users.
Hello Money users can do account viewing, virtual fund transfer, bills payment, conduct electronic load, and pay via QR code, among others.(PNA)