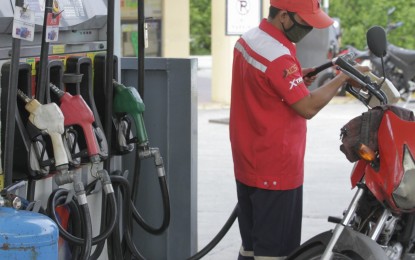 MANILA – Oil companies have announced they will bring down petroleum prices starting 12:01 a.m. Tuesday.
In separate advisories, Caltex, Cleanfuel, Jetti, Petro Gazz, PTT Philippines, Seaoil, and Shell said they will reduce gasoline prices by PHP0.45 per liter and PHP1.45 per liter for diesel.
Caltex, Seaoil, and Shell will also cut kerosene prices by PHP1.70 per liter.
Other oil companies are expected to follow suit.
This is the second week that industry players slashed oil prices.
With the price adjustments last week, petroleum had a net increase in prices for this year of PHP26.90 per liter for gasoline, PHP43.55 per liter for diesel, and PHP37.65 per liter for kerosene.
Dubai crude ended trade last week gaining 2.89 percent, selling at USD92.78 per barrel, but local prices still fell.
Oil prices in the world market remain volatile amid demand worries, China's restrictions to curb coronavirus disease 2019 (Covid-19) numbers, and growing fears over a recession.
On the other hand, threat made by Russian President Vladimir Putin to cut oil and gas exports to Europe has triggered increases in fuel prices. (PNA)