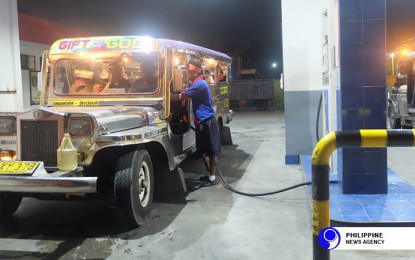 MANILA – Oil firms will roll back prices of diesel and kerosene starting Tuesday morning.
In separate advisories, Caltex, Cleanfuel, Petro Gazz, PTT Philippines, Seaoil, and Shell will cut diesel prices by PHP0.30 per liter.
Caltex, Seaoil, and Shell will also reduce kerosene prices by PHP0.40 per liter.
There will be no movement in the prices of gasoline this week.
This is the second week that oil firms are implementing price rollback.
"These resulted to the year-to-date adjustments to stand at a total net increase of PHP13.25 per liter for gasoline, PHP10.40 per liter for diesel, and PHP8.70 per liter for kerosene," the Department of Energy (DOE) oil monitor bulletin said.
It added Dubai crude declined week-on-week by USD1.80 per barrel during trading days from Aug. 2 to 6.
Means of Platts Singapore (MOPS) gasoline price also declined by USD1.90 per barrel, while MOPS diesel decreased by USD1.60 per barrel.(PNA)