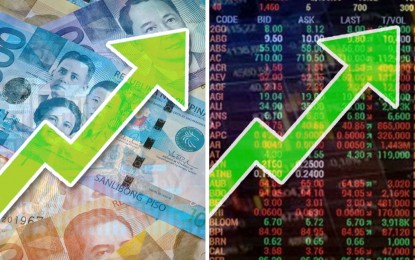 MANILA – The Philippine Stock Exchange index (PSEi) rose partly on investors' end-of-the quarter positioning while the peso was lifted by the government's USD3-billion global bond issuance.
The main equities index rose by 0.27 percent, or 18.69 points, to 6,956.65 points.
All Shares increased by 0.42 percent, or 17.76 points, to 4,262.37 points.
Most of the sectoral gauges tracked the main index -- Financials, 1.50 percent; Holding Firms, 0.61 percent; Services, 0.35 percent; and Mining and Oil, 0.06 percent.
On the other hand, the Property index lost by 0.68 percent and Industrial by 0.11 percent.
Volume reached 1.82 billion shares amounting to PHP5.21 billion.
Losers led gainers at 113 to 96, while 41 shares were unchanged.
"Philippine shares continued to rotate with funds focused on quarter-end positioning as the month winds to an end," Luis Limlingan, Regina Capital Development Corp. head of sales, said, citing similar results for US stocks.
Meanwhile, the peso ended the day at 48.50 from the previous day's 48.645.
It opened the trade at 48.64 and ranged from 48.67 to 48.46.
The average level for the day stood at 48.544.
Volume reached USD763.08 million, lower than the previous session's USD999.3 million.
Rizal Commercial Banking Corp. (RCBC) chief economist Michael Ricafort traced the peso's close partly to the "downward correction in US dollar worldwide."
"The peso exchange rate (is) stronger today vs. the US dollar after the latest USD3 billion global (ROP) bond sale of the government, the US dollar proceeds of which would be added to the country's balance of payments and GIR (gross international reserves)," he said.
Another factor for the local currency's strength during the day is the unchanged quarantine classification in the National Capital Region at general community quarantine (GCQ) with some restrictions, which will be in place until July 15, he said.
For Wednesday, Ricafort forecast the peso to trade between 48.60 and 48.70. (PNA)