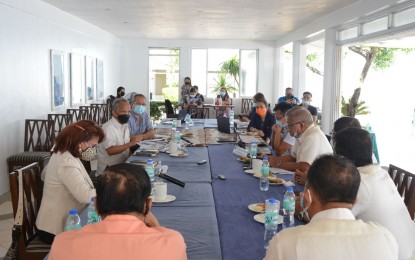 MANILA – Department of Energy (DOE) Secretary Alfonso Cusi went to Mindoro and met with energy stakeholders to resolve the power crisis in the area.
Mindoro Island has been experiencing rotational brownouts due to power shortage.
"The NPC ([National Power Corp.] needs) to provide the 25 (megawatts), and they have to find ways to provide this 25 MW as a temporary measure," he said during his meeting with energy stakeholders on Friday.
Cusi met with officials of the NPC, National Electrification Administration (NEA), and National Transmission Corp. (Transco) to address the power supply in the franchise areas of the Oriental Mindoro Electric Cooperative (Ormeco), Occidental Mindoro Electric Cooperative (Omeco), and Lubang Electric Cooperative (Lubeco).
The energy chief has directed energy stakeholders to deliver the needed power supply by the end of September.
"Mindoro can expect an improved power service by September 30," he said.
Cusi said the NPC would help provide power supply to the province while Ormeco is conducting its own process of contracting with the help of NEA.
"We are ensuring that household electrification is expedited. That's why we are visiting provinces in off-grid areas. We are making sure the commitment of this administration is met when our term ends in June (2022)," he added.(PNA)