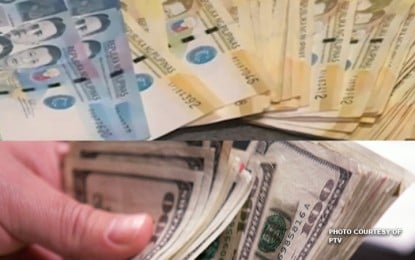 MANILA – The Philippines main equities index recovered on Tuesday amid concerns on the global growth, but the peso weakened against the greenback.
The Philippine Stock Exchange index gained 0.41 percent, or 26.41 points, to 6,429.65 points.
All Shares followed with a jump of 0.12 percent, or 4.19 points, to 3,390.15 points.
Half of the sectoral gauges also rose, namely Financials, 0.83 percent; Property, 0.81 percent; and Holding Firms, 0.79 percent.
On the other hand, Mining and Oil fell by 1.76 percent, Services by 0.66 percent, and Industrial by 0.33 percent.
Volume reached 525.99 million shares amounting to PHP5.39 billion.
Decliners led advancers at 117 to 78 while 41 shares were unchanged.
"Philippine shares resumed their buying with volumes continuing to pick up and with investors seeking refuge against China reinstating pandemic restrictions," said Luis Limlingan, Regina Capital Development Corporation head of sales, in a statement.
Limlingan said China's report of three Covid-19 casualties during the weekend -- the first since May -- "promoted fears among investors that the country could bring back restrictions meant to slow virus spread, which would hurt business."
Fears of another hit on global growth resulted in the drop in the prices of oil in the international market, according to Limlingan, although the decline was partly addressed by a statement from Saudi Arabia which denied reports that it plans to discuss supply hike with the Organization of the Petroleum Exporting Countries.
He said Brent crude oil futures for January slipped by 17 cents to USD87.45 per barrel and the West Texas Intermediate by 35 cents to USD79.73 a barrel.
Meanwhile, the peso weakened to PHP57.375 to a US dollar from PHP57.36 a day ago.
It opened the day at PHP57.45, a depreciation from its PHP57.2 start in the previous session.
It traded between PHP57.48 and PHP57.32, resulting to an average of PHP57.394.
Volume reached USD684.4 million, higher than the USD527.82 million on Monday.
Rizal Commercial Banking Corporation chief economist Michael Ricafort traced the peso's weakness to the strengthening of the greenback, given the hawkish statements from Federal Reserve officials regarding the need for further hikes in the Fed rates.
He said US Treasury yields also eased, with the 10-year at its 1.5-month low at 3.81 percent.
He forecasts the peso to trade between PHP57.25 and PHP57.45 to a dollar on Wednesday. (PNA)