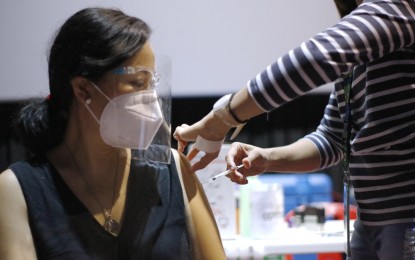 MANILA – Vaccinated individuals can be given more mobility than unvaccinated ones when the government changes protocols once the target number for coronavirus disease 2019 (Covid-19) inoculation is achieved, a member of the Inter-Agency Task Force for the Management of Emerging Infectious Diseases (IATF) said.
Department of Trade and Industry (DTI) Secretary Ramon Lopez said Tuesday the IATF will consider changing lockdown protocols once the vaccination rate increases and when the vaccine supply is higher than the demand.
"It means that those who should be vaccinated have already been vaccinated, and those who are not by that time are those who do not want to be vaccinated. Once we reach that stage, we can also suggest changing the protocol," Lopez said in Filipino during the Laging Handa briefing.
He added that future protocols can allow establishments with fully vaccinated workers to open their businesses, and fully vaccinated customers can also be allowed in these establishments.
"We could give more mobility to those vaccinated," Lopez said.
The trade chief added the principle of vaccination is to provide protection to individuals and not to get severe and critical Covid-19 conditions that will lead to hospitalization.
"So, it is important that you are vaccinated. It also means that we can relax the protocol for those who are vaccinated. And for the protection of those who are not vaccinated, during lockdown, they are probably the ones who need to be careful and should stay at home," Lopez said.