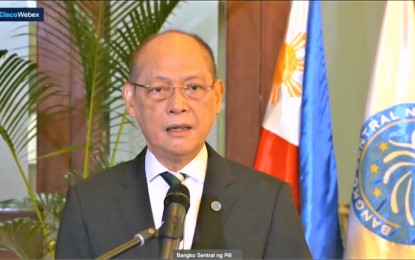 MANILA – Effective implementation of non-monetary measures is expected to further help address supply-side pressures on domestic inflation rate, Bangko Sentral ng Pilipinas (BSP) Governor Benjamin Diokno said Tuesday.
The rate of price increases last June decelerated to 4.1 percent from 4.5 percent in the previous three months primarily due to slower annual inflation rate in the transport index. Last June's inflation rate brought the six-month average to 4.4 percent, still above the government's 2-4 percent target band until 2023.
Amidst the elevated inflation rate, Diokno said last month's figure is within the central bank's forecast range of 3.9-4.7 percent and "is consistent with expectations that inflation could remain above target in the near term as meat and oil prices remain elevated."
Monetary authorities forecast this year's inflation rate to average at 4 percent.
Diokno said "price pressures are seen to abate leading to the reversion of average inflation near the midpoint of the target in 2022 to 2023."
"The effective implementation of direct non-monetary measures will be crucial in mitigating further supply-side pressures," he said, adding "risks to the inflation outlook remain broadly balanced."
The rise of commodity prices in the international market is due to "supply chain bottlenecks" and Diokno said "recovery in global demand could lend upward pressures on inflation."
These factors, however, are expected to be countered by the "emergence of new coronavirus variants which could delay the easing of lockdown measures and temper prospects for domestic growth."
"The BSP remains watchful over the evolving economic conditions and challenges brought about by the pandemic to ensure that the monetary policy stance remains consistent with its price and financial stability objectives," Diokno added. (PNA)