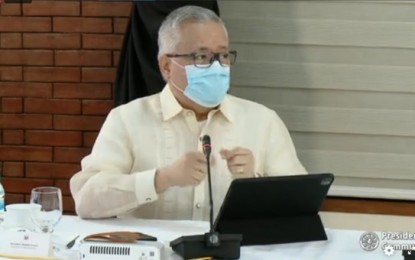 MANILA – As the government shifts to community quarantine policy in Metro Manila, Trade Secretary Ramon Lopez said the new policy aims to bring back more business activities and jobs gradually and safely amid the threats of Delta variant.
In a Palace briefing Tuesday, Lopez said about PHP180 billion per week in revenue will be restored in the economy with the new community quarantine policy.
Some 144,000 jobs from the formal sector and up to 200,000 jobs from the informal sector are also expected to return in the labor market, he said.
By Sept. 16, the Inter-Agency Task Force for the Management of Emerging Infectious Diseases (IATF) will pilot in Metro Manila the implementation of granular lockdowns and alert level systems.
There will be five alert levels in the new policy and these will be implemented by city or municipality and not by province or region.
However, Metro Manila mayors have agreed to have a uniform alert level of Alert Level 4 for the pilot testing of the new policy.
Alert Level 4 is equivalent to the current modified enhanced community quarantine (MECQ), Lopez said.
Outdoor dine-in services will be allowed at 30 percent capacity for both vaccinated and unvaccinated people, and indoor dine-in at 10 percent only for vaccinated customers.
Same classification and capacity will be applied for personal care services.
Lopez said there are over 2 million workers employed in restaurants and personal care services.