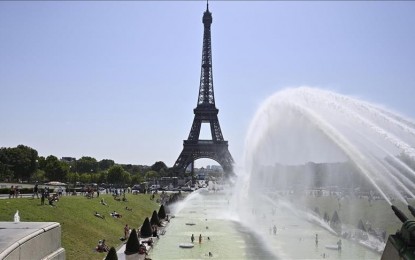 PARIS – Temperatures in Paris went above 40°C for the third time in 75 years Tuesday as France grapples with the second straight day of a heatwave, according to the official weather service, Meteo France.
Temperatures in the capital reached 40.5°C.
The two other times when the mercury soared that high were on July 25, 2019, when the highest-ever temperature was recorded at 42.6°C, and 40.4°C on July 28, 1947.
Other cities and towns recording record temperatures were 41°C in Cayeux-sur-Mer, Dieppe in Normandy at 40.4°C, 39.9°C in Calais and Le Touquet, and 39.6°C in Boulogne-sur-Mer.
The weather is expected to moderate later Tuesday with storms, hailstorms, and intense rain in the Hautes-Pyrenees and Bearn region that will move to Toulouse, Dordogne, and Limousin.
The storm is forecast to move up Wednesday in the Center Val de Loire, the Paris basin, and west of Burgundy, bringing a dip in temperatures.
(Anadolu)