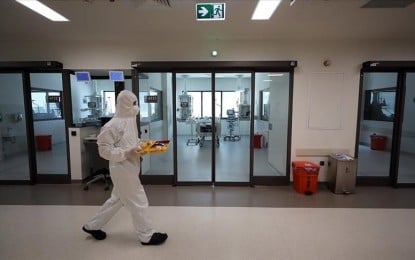 GENEVA – The number of weekly reported deaths from Covid-19 continues to decline worldwide and is now at the lowest level in almost a year, the World Health Organization chief said Wednesday.
WHO Director-General Tedros Ghebreyesus said at a coronavirus webinar that there are still three countries in the world that have not started vaccinating yet: Burundi, Eritrea and North Korea.
Tedros said despite the fall in the weekly coronavirus deaths, the toll is "still an unacceptably high level – almost 50,000 deaths a week, and the real number is certainly higher."
He said "deaths are declining in every region except Europe, where several countries face fresh waves of cases and deaths.
"And of course, deaths are highest in the countries and populations with the least access to vaccines."
The WHO chief said 56 countries that were excluded from the global vaccine marketplace could not reach the target of vaccinating 10 percent of their populations by the end of September – and most of them in Africa.
Countries at risk
"Even more countries are at risk of missing the 40 percent target by the end of this year," Tedros said. "About half of the remaining countries are constrained by supply. They have a vaccination program underway but don't have enough supply to accelerate enough to reach the target."
He made another plea to countries and companies for the control of the global vaccine supplies to prioritize supply to COVAX and AVAT.
COVAX is co-led by the Coalition for Epidemic Preparedness Innovations (CEPI), Gavi, the world vaccine alliance, and the WHO, with its delivery partner UNICEF, to accelerate the fair and equitable development and manufacture of Covid-19 vaccines.
AVAT is the African Vaccine Acquisition Trust.
"With aggressive and ambitious action, most of these countries can still reach the 40 percent target by the end of this year or be on a clear pathway to reaching it," Tedros said.
He said the WHO and its partners are working with countries to strengthen on-the-ground technical and logistical capacities to roll out vaccines.
At the same webinar, Tedros said that following a public call for experts, the WHO announced the proposed members of the WHO Scientific Advisory Group for the Origins of Novel Pathogens, or SAGO.
The 26 experts from all over the world were selected from over 700 applications.
They were chosen for their "world-class expertise and experience in a range of disciplines," as well as their geographic and gender diversity.
SAGO will advise the WHO on developing a global framework to define and guide studies into the origins of emerging and re-emerging pathogens with epidemic and pandemic potential, including the Covid-19 virus.
There will now be a two-week consultation period on the proposed SAGO members, following which the composition will be confirmed. (Anadolu)