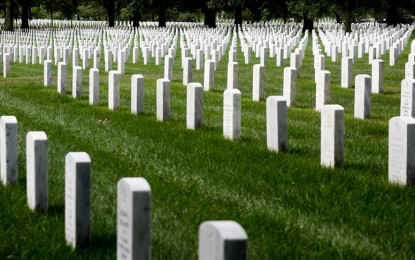 CHICAGO, United States – With the US presence in Afghanistan rapidly winding down, the costs are being added up.
A Costs of War project from the Watson Institute of International and Public Affairs at Brown University shows the US spent USD2.26 trillion for the war in Afghanistan from the fall of 2001 through the fiscal year that ends in September.
That is money spent by the Defense Department and the State Department along with estimated interest on war borrowing and care for US veterans.
The report also said 241,000 lives were lost as a direct result of the war.
In all, 2,448 US military and Defense Department civilians were killed in the conflict, as well as 1,144 allied troops. The report estimates that up to 69,000 Afghan security forces personnel died, along with 72 journalists and 444 humanitarian aid workers.
The authors noted that the number of deaths does not include deaths caused by disease, loss of access to food, water, infrastructure or other indirect consequences of war.
US freezes billions of dollars in Afghan reserves
The Biden administration froze Afghanistan government reserves held in US bank accounts as the Taliban rolled into the capital of Kabul, according to a report on Tuesday.
Two people familiar with the matter told the Washington Post that Treasury Secretary Janet Yellen, along with the Treasury's Office of Foreign Assets Control, decided to freeze the accounts on Sunday, shutting out access to the Taliban.
Government officials have not confirmed the report but an administration official told the newspaper: "Any Central Bank assets the Afghan government have in the United States will not be made available to the Taliban."
The State Department is also said to have played a part in the decision.
Afghanistan is one of the poorest countries in the world, long ravaged by war, and has relied heavily on US aid in the last 20 years.
Asked how the administration could keep its promise to provide aid to the Afghan people while not yet declaring if the US would recognize the Taliban as leaders of Afghanistan, National Security Advisor Jake Sullivan said the US provides aid to several countries, "including some very difficult or non-existent relationships with governments where we still provide aid to people."
The Post, citing the International Monetary Fund, noted that the value of Afghanistan's Central Bank in April -- about USD9.4 billion -- is about one-third of the country's yearly economic output.
A source told the Post that the majority of reserves are not kept in Afghanistan but the US, although the exact amount is not known.
The decision to freeze the assets, if confirmed, would represent the start of major decisions the US has to tackle with the sudden Taliban takeover of Kabul, and the swift exit of Afghan President Ashraf Ghani. (Anadolu)