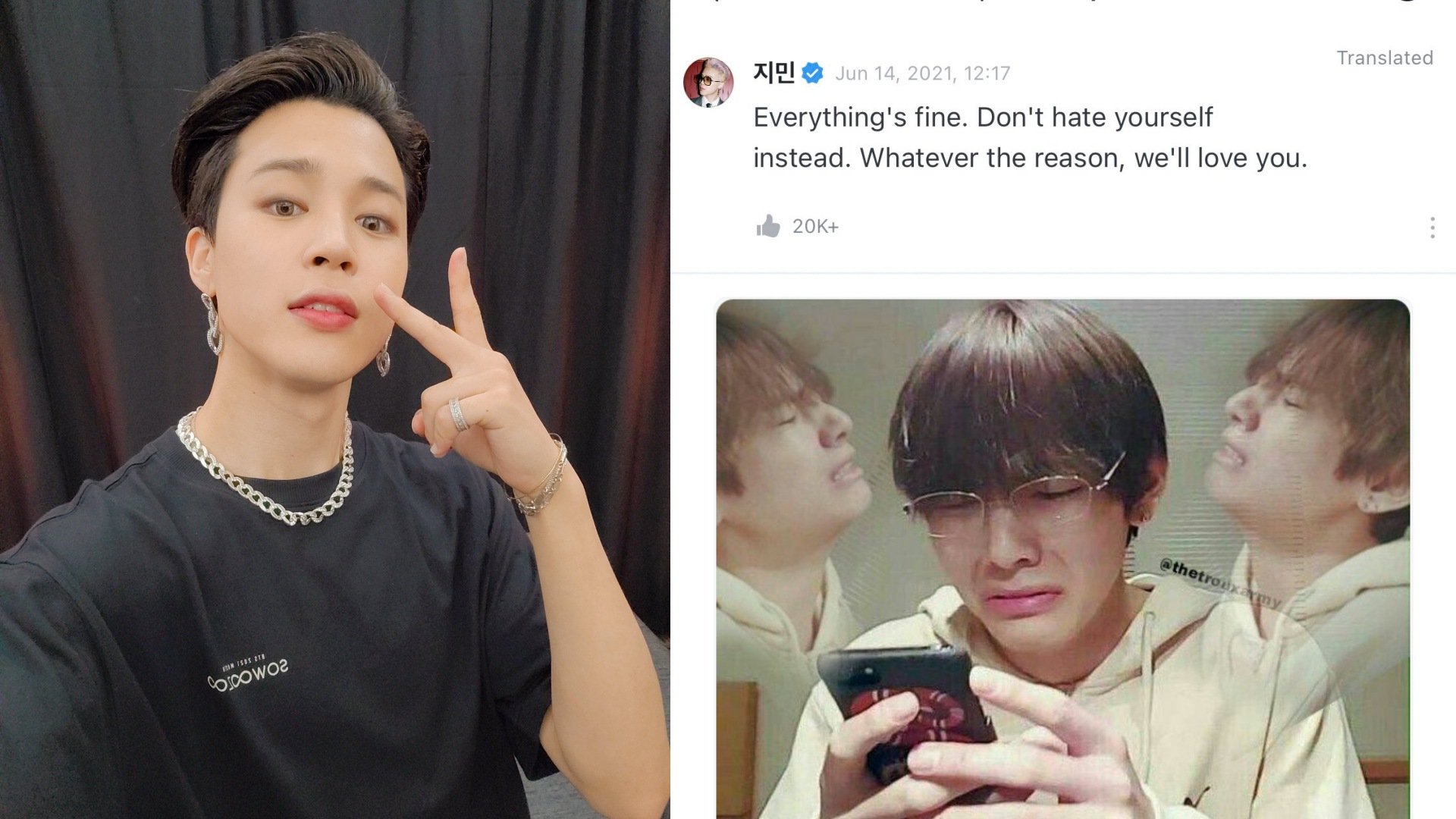 Photo credit: BTS_Twt/Twitter, yoonmnd/Twitter, bts_rafa2/Twitter
Kung boyfriend material lang ba, aba! 'Matic na Bangtan boys 'yan! The South Korean boyband, BTS, will always know how to show their appreciation and love to their ARMY.
READ: Emergency meeting! V wants to play Among Us with the BTS ARMY - TrueID
Jimin is the genuine epitome of comfort. His remarks are always uplifting and will make you feel like he is giving you a virtual hug. Jimin has been using Weverse frequently to connect to the ARMY. ICYDK: Weverse is a Korean mobile app that makes it easier for fans to be updated with the latest news about their favorite idols.
Recently, Jiminie appeared on Weverse and commented on a fan's confession post.
READ: ARMY share their BTS Confessions - TrueID
The fan shared he felt bad and despised himself for illegally watching the Muster concert.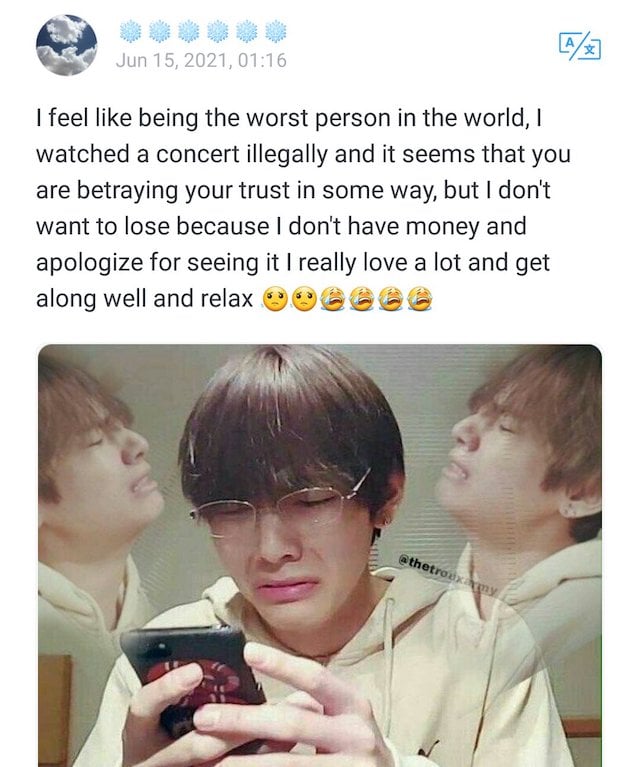 Photo credit: bts_rafa2/Twitter
Jimin replied in the post and comforted him, saying that the group will still love him no matter what happens.

Photo credit: yoonmnd/Twitter
Huhu! Mapapa-sana all ka na lang talaga!
Another fan naman wrote a letter expressing their feelings about BTS and how they were unable to follow them since their debut. Jimin once again uplifted the ARMY in his response: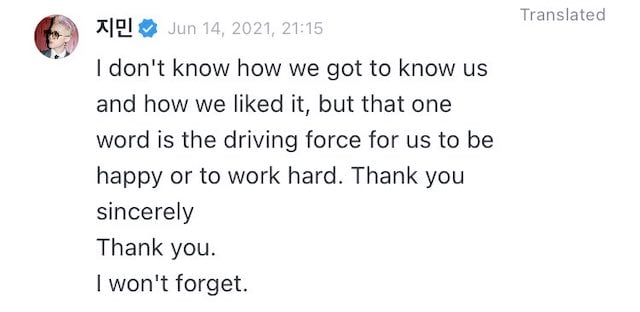 Photo credit: @alexastobit/Twitter
As if that wasn't enough to make us swoon, ChimChim even added a heartfelt message that made thousands of fans melt and stan even harder: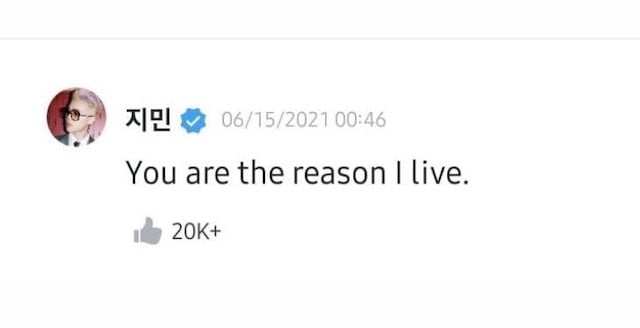 Photo credit: baepsaee_twt/Twitter
Wala na, uwian na kasi kasalan na! Iyak-tawa ang mga ARMY on Twitter after this all went down on Weverse.

Photo credit: @yellowroadpjm/Twitter
Listening to his words in their Dear Class of 2020 commencement speech, or even his remarks at the end of every BTS performance, you will definitely feel his genuine nature.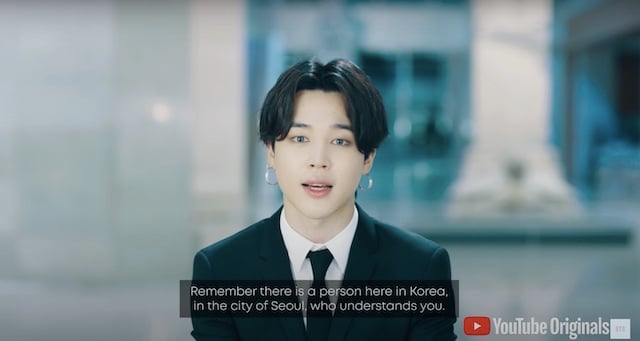 Photo credit: Bangtan TV/YouTube
In Jimin's part of the Dear Class of 2020 speech, he shared, "Remember there is a person here in Korea, in the city of Seoul, who understands you. We are all in different parts of the world, in different environments and circumstances. But at this moment, I hope we can all give each other a warm pat on the back and say, 'It's OK.'"
Grabe siya! He is constantly self-aware and appreciative of everything. Not only that, he's also generous with his love and eager to make everyone happy. We don't know about you, but Jimin really speaks the language of peace and comfort. Pa-order naman ng isang Jimin, please!
Now we know why V believes in angels because his BFF Jimin is one of them.
Ano kayang feeling ng kino-comfort ka ni Jimin? Heaven siguro 'yun noh?
What's your favorite Jimin quote? Naiyak ka rin ba sa mga sinabi ni oppa?