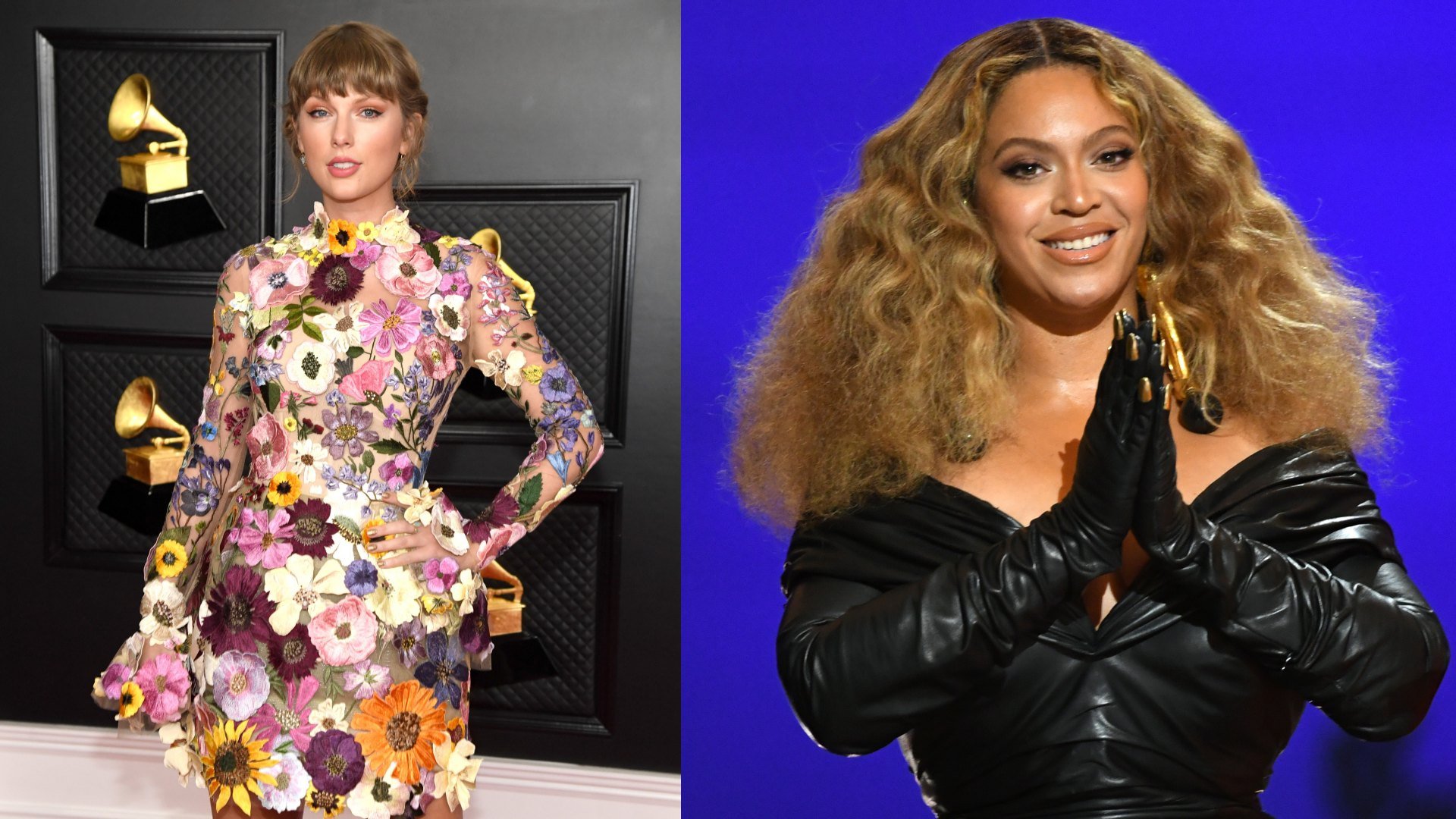 Photo credit: MTV Twitter page
To accommodate the new normal, the Grammys had to think of ways to keep artists and crew safe. Winners were announced online ahead of the Grammys ceremony plus the show also had a hybrid of live and pre-taped performances. Although the circumstances proved to be quite unique, everyone had a good time and it became a night of many firsts for its winners.
Photo credit: Taylor Swift Twitter page
Winning was thrice as nice for Tay
Taylor Swift became the first female artist to win Album of the Year three times, she won this year for her surprise quarantine album "Folklore." Tay previously won for "Fearless" in 2010 and "1989" in 2015. Swift posted a photo with her Folklore collaborators with the caption, "The fans are the reason we are floating tonight, and we'll never forget it."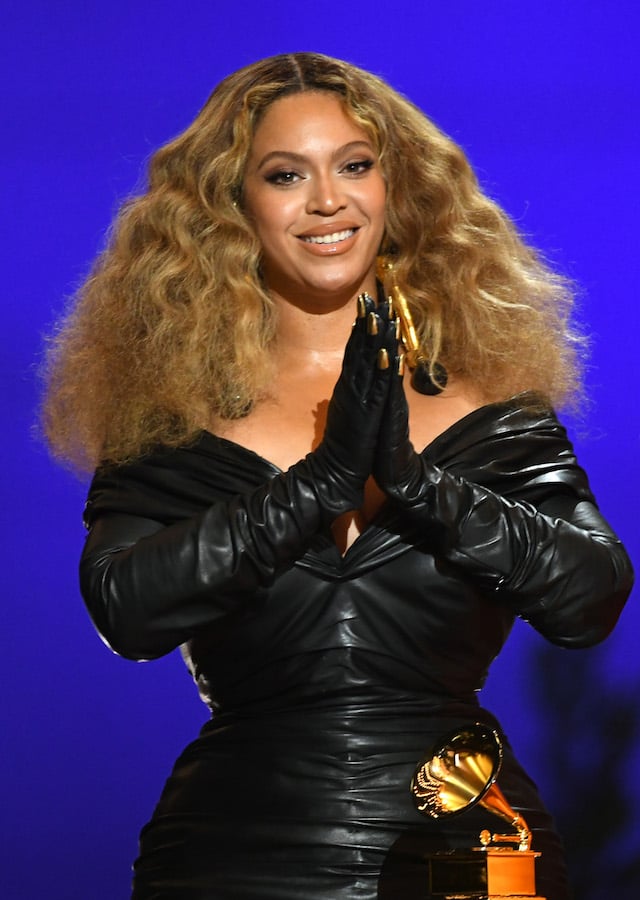 Photo credit: MTV Twitter page
Who run the world? Bey
Beyoncé also made history by earning the most Grammy wins by a female artist. Bey earned her 28th Grammy for Best R&B Performance in "Black Parade," Best Music Video for "Brown Skin Girl," and Best Rap Performance plus Best Rap Song for "Savage" in collaboration with Megan Thee Stallion.
Bey discusses the timeliness of her win, "As an artist I believe it's my job and all our jobs, to reflect time and it's been such a difficult time."
"Black Parade" was released on Juneteenth, which is also known as Freedom Day, Jubilee Day, and Liberation Day, among others. It's a holiday celebrating the emancipation from slavery and oppression in the U.S.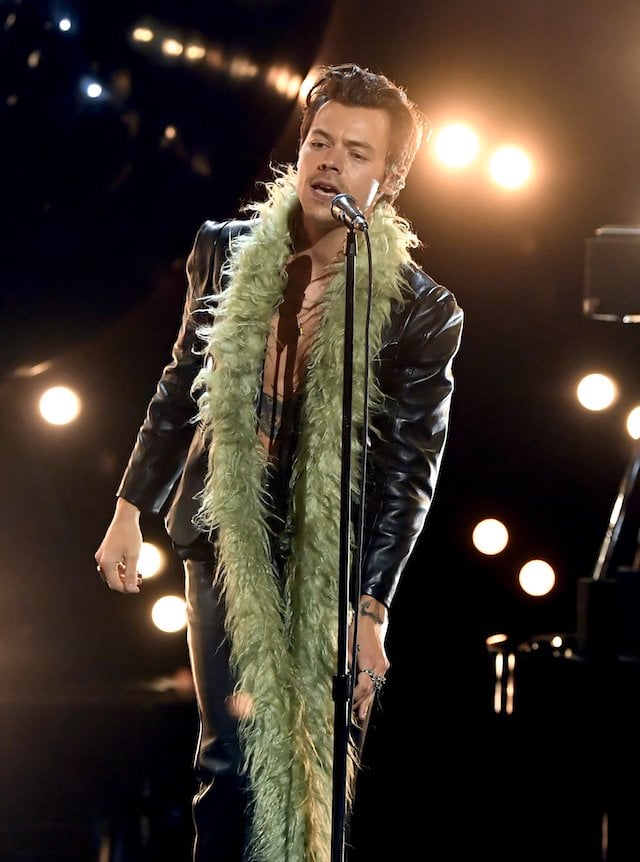 Photo credit: MTV Twitter page
Harry for the win
The Grammys also had more than its share of memorable performances with Harry Styles opening the show by singing, "Watermelon Sugar." The song went on to win Best Pop Solo Performance—the former One Direction member's first Grammy win.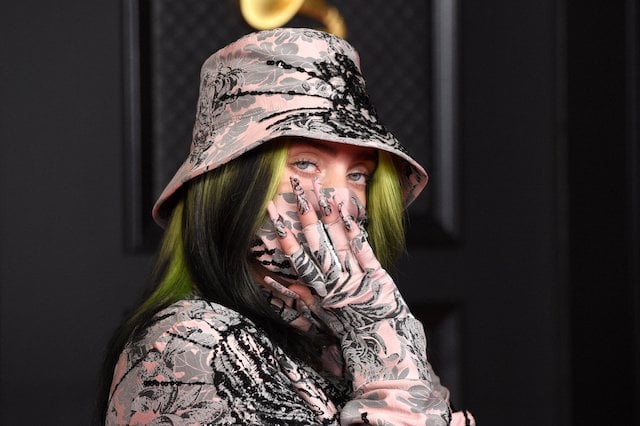 Photo credit: MTV Twitter page
Billie just being her usual boss self
Billie Eilish, who also dominated late year's awards, won for "No Time To Die" the first theme song to win that had a yet-to-be-released movie. The singer also won Record of the Year with "Everything I Wanted."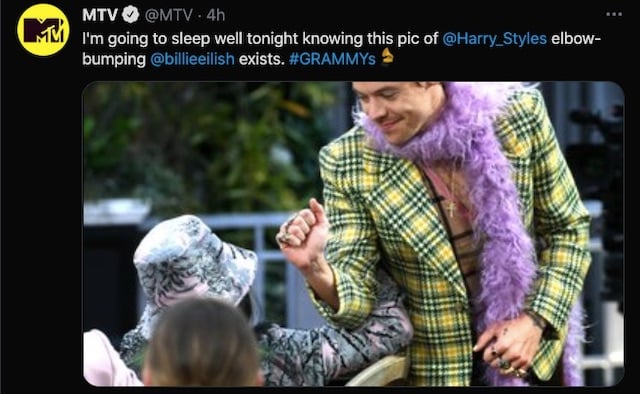 Photo credit: MTV Twitter page
Elbowing for good luck
Aside from the awards, the fashion, the actual musical performances, we also love to watch musicians interacting with their peers in the industry. Case in point: Harry Style and Billie Eilish greeting each other with an elbow tap. Responsible and iconic!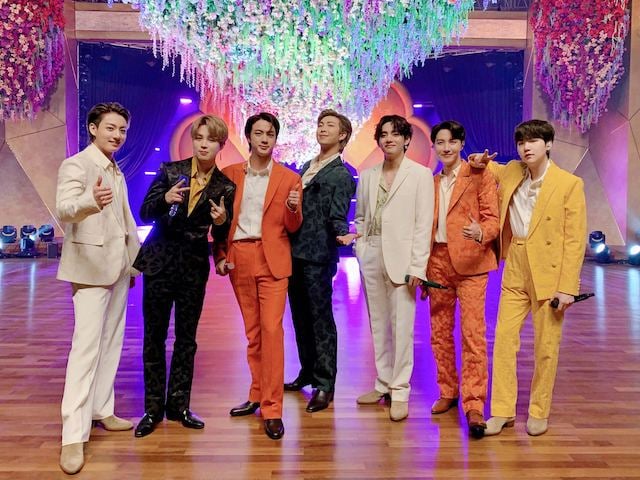 Photo credit: BTS Twitter page
BTS are still winners in our heart
And as we raved about before, BTS was one of the performers and also made history by becoming the first ever Korean act to be nominated for a Grammy. Although they lost to Lady Gaga and Ariana Grande's "Rain On Me" in the Best Pop Duo/Group Performance category, (BTS was nominated for "Dynamite"), this did nothing to rain on their parade. They started a livestream right after the Grammys to thank ARMY for their support.
Jungkook reassures fans by saying, "You guys are amazing! I was able to see the size of just how much love and support you have been giving us. Looking at the GRAMMY site, our graph was very tall. In 2021, we will be artists who return the love you have given us. You guys worked hard. Let's continue to make great and happy memories!"
Jimin adds, "We started from nothing and now we're here. We can make it happen again with you all. We should just keep trying." So chin up, K-POP stans because there's always next year.
Even if the boys didn't win, they were still lighting it up like dynamite, even showcasing the skyline of South Korea–they were literally dancing on top of the roof! Talk about going over the top!
Check out the full list of winners below:
Record of the Year
"Everything I Wanted" by Billie Eilish
Album of the Year
"Folklore" by Taylor Swift
Song of the Year
"I Can't Breathe" by Dernst Emille II and Tiara Thomas (H.E.R.)
Best New Artist
Megan Three Stallion
Best Pop Vocal Album
"Future Nostalgia" by Dua Lipa
Best R&B Performance
"Black Parade" by Beyoncé
Best Rap Song
"Savage" - Beyoncé, Shawn Carter, Brittany Hazzard, Derrick Milano, Terius Nash, Megan Pete, Bobby Session Jr., Jordan Kyle Lanier Thorpe, and Anthony White (Megan Three Stallion feat. Beyoncé)
Best Pop Solo Performance
"Watermelon Sugar" by Harry Styles
Best Melodic Rap Performance
"Lockdown" by Anderson .Paak
Best Latin Pop or Urban Pop
YHLQMDLG, Bad Bunny
Best Country Album
"Wildcard" by Miranda Lambert
Best Country Song
"Crowded Table" by Brandi Carlile, Natalie Hembry, and Lori McKenna (The Highwomen)
Best Country Duo/Group Performance
"10,000 Hours " by Dan + Shay and Justin Bieber
Best Rock Album
"The New Abnormal" by The Strokes
Best Rock Song
"Stay High" by Brittany Howards
Best Rock Performance
"Shameika" by Fiona Apple
Best Rap Album
"King's Disease" by Nas
Best Rap Performance
"Savage" by Megan Three Stallion feat. Beyoncé
Best Pop Duo/Group Performance
"Rain on Me" by Lady Gaga and Ariana Grande
Best R&B Album
"Bigger Love" by John Legend
Best Progressive R&B Album
"It Is What It Is" by Thundercat
Best R&B Song
"Better than I Imagine" by Robert Glasper, Meshell Ndegeocello, and Gabriella Wilson (Robert Glasper Feat. H.E.R. and Meshell Ndegeocello).
Best Traditional R&B Performance
"Anything For You" by Ledisi
Best Alternative Album
"Fetch the Bolt Cutters" by Fiona Apple
Best Music Video
"Brown Skin Girl" by Beyoncé
Best Contemporary Christian Music Album
"Jesus is King" by Kanye West
Best Song Written For Visual Media
"No Time To Die" (From No Time To Die), Billie Eilish O'Connell, and Finneas Baird O'Connell (Billie Eilish)
Best Score Soundtrack For Visual Media
"Joker" by Hildur Guðnadóttir
Best Compilation Soundtrack For Visual Media
Jojo Rabbit by Various Artists
Best Music Film
"Linda Ronstadt: The Sound of My Voice" by Linda Ronstadt
Best Musical Theater Album
"Jagged Little Pill" by Kathyrn Gallagher, Celia Rose Gooding, Lauren Patten, and Elizabeth Stanley, principal soloists; Neal Avron, Pete Ganbarg, Tom Kitt, Michael Parker, Craig Rosen, and Vivek J. Tiwary, producers (Glen Ballard and Alanis Morissette, lyricists) (Original Broadway Cast)
Best Comedy Album
"Black Mitzvah" Tiffany Haddish
Best Spoken Word Album (Includes Poetry, Audio Books & Storytelling)
"Blowout: Corrupted Democracy, Rogue State Russia and the Richest, Most Destructive Industry on Earth" by Rachel Maddow
Best Global Music Album
"Twice As Tall" by Burna Boy