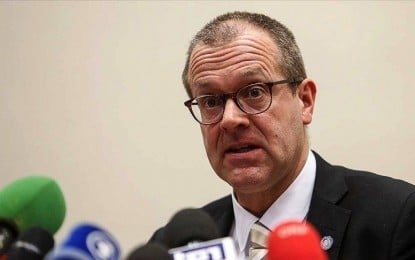 GENEVA – This winter has been "life-threatening" for millions of people in Ukraine, as half the country's energy infrastructure is damaged or destroyed due to the war with Russia, further straining its healthcare system, the regional head of the World Health Organization (WHO) in Europe said on Monday.
"The devastating energy crisis, the deepening mental health emergency, constraints on humanitarian access, and the risk of viral infections will make this winter a formidable test for the Ukrainian health system and the Ukrainian people, but also for the world and its commitment to support Ukraine," Hans Kluge said at a hybrid press conference from the capital Kyiv.
The WHO has so far verified 703 attacks on healthcare facilities in Ukraine since the Russia-Ukraine war began nine months ago, Kluge noted, underlining that such attacks breach international humanitarian law and the rules of war.
He said Ukraine is facing a "therma-crisis," referencing the dropping winter-time temperatures, "on top of a perma-crisis brought on by the war and the pandemic."
The WHO expects 2 to 3 million more people in Ukraine to leave their homes in search of warmth and safety through the winter following the start of the war on Feb. 24.

Winter about survival
"Put simply, this winter will be about survival," said Kluge, stressing that continued attacks on health and energy infrastructure mean hundreds of hospitals and healthcare facilities are no longer fully operational, lacking fuel, water, and electricity to meet basic needs.
He said this was his fourth visit to Ukraine in 2022, hoping to draw the world's attention, days after the largest wave of missile strikes across the country.
The WHO regional chief said he was to meet officials, health workers, and patients to offer the UN body's unwavering support to the Health Ministry, government, and Ukrainian people.
"And to express my gratitude and respect for Ukraine's doctors, nurses, and other health workers who continue to show their heroism," Kluge said.
He said hundreds of thousands of premises across the country, including private homes, schools, and hospitals, have no essential gas supplies for cooking and heating, while 10 million people -- a quarter of the population -- are without power.
Temperatures are predicted to plummet as low as minus 20 C (minus 4 F) in parts of the country.
"As desperate families try to stay warm, many will be forced to turn to alternative heating methods, like burning charcoal or wood or using generators fueled by diesel or electric heaters," Kluge said.
"These bring health risks, including exposure to toxic substances harmful to children, older people, and those with respiratory and cardiovascular conditions, as well as accidental burns and injuries."
Those leaving their homes will face unique health challenges, including respiratory infections such as Covid-19, pneumonia, and influenza, and the severe risk of diphtheria and measles in under-vaccinated populations.
The WHO official said the war was also taking its toll on the mental health of Ukrainians.
"This week, the war enters its ninth month, and already, some 10 million people are at risk of mental disorders such as acute stress, anxiety, depression, substance use, and post-traumatic stress disorder, or PTSD," Kluge said.
He also expressed great concern for 17,000 HIV patients in Donetsk who may soon run out of critical antiretroviral drugs that help keep them alive. (Anadolu)