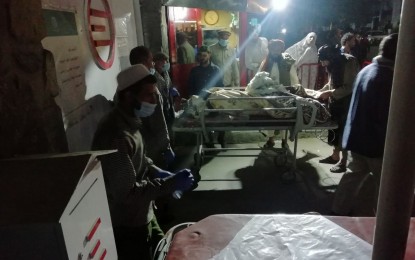 KABUL, Afghanistan/Washington - Multiple explosions shook Afghanistan's capital Kabul on Thursday, including two outside the airport serving the city, killing dozens and injuring over 100, according to media reports and Anadolu Agency's correspondent on the ground on Thursday.
A BBC report citing a senior Kabul health official said that more than 60 people had died, while over 140 were injured in the explosions.
Fresh explosions were also heard later in the evening, with reports indicating that the total number of blasts had risen to six, according to Anadolu Agency reporter on the ground.
US CENTCOM commander Gen. Kenneth McKenzie confirmed that 12 US soldiers had been killed and 15 others were injured in the blasts. An earlier Twitter statement by Pentagon spokesperson John Kirby had said that there had also been "a number of" casualties among afghans.
Turkey's Foreign Ministry said on Twitter that there had been "no damage or casualties" among Turkish troops in the airport.
Unconfirmed reports suggest that some of the explosions were the result of suicide attacks.
Meanwhile, Taliban spokesman Zabihullah Mujahid condemned the attack on Twitter: "The Islamic Emirate strongly condemns the bombing of civilians at Kabul airport, which took place in an area where security is in the hands of US forces."
"The Islamic Emirate (Taliban) is paying close attention to the security and protection of its people, and evil circles will be strictly stopped," he added.
In a later statement, Mujahid said several explosions had been heard in Kabul in the evening, accusing US forces of carrying out the blasts inside Kabul airport to destroy their equipment.
He also added that the explosions had not worried residents of the city as they were not against them.
EU foreign policy chief Josep Borrell also took to Twitter to condemn the attacks. "Strongly condemn the cowardly attacks at Kabul airport against people longing for safety. EU stands in solidarity with the Afghan citizens."
"We will continue fighting terrorism together with international partners," Borrell added.
At a press conference, spokesman Stephane Dujarric said UN Secretary-General Antonio Guterres is following the terrorist attacks around Kabul airport in Afghanistan with deep concern.
Guterres also condemned the attack that killed and injured a number of civilians in Kabul, Dujarric said, adding that the attack once again revealed the instability in Afghanistan.
US forces are in control of the airport as evacuations continue ahead of an Aug. 31 deadline -- the only area of the country still under US control.
Thousands of people are waiting at the airport for evacuation, and large crowds have gathered outside the airport grounds, seeking a way inside to get a flight out.
NATO chief condemns 'horrific terrorist attack'
NATO chief Jens Stoltenberg on Thursday condemned the explosions outside the Kabul airport, calling them a "terrorist attack."
"I strongly condemn the horrific terrorist attack outside Kabul airport," Stoltenberg wrote on Twitter, expressing his sympathy to "all those affected and their loved ones."
He stressed that NATO's priority remained "to evacuate as many people to safety as quickly as possible."
Two explosions occurred outside Kabul's Hamid Karzai International Airport.
At least 10 people were killed and some 50 injured in the bombings, according to media reports.
Thousands of people are waiting at the airport for being evacuated, while large crowds gathered outside the airport, hoping to get on a plane.
The Belgian government stopped on Wednesday evacuations because "the daytime security situation has very significantly deteriorated" in Kabul and they had received intelligence on "an imminent threat of suicide bomb attacks," Prime Minister Alexander De Croo said earlier on Thursday. (Anadolu)