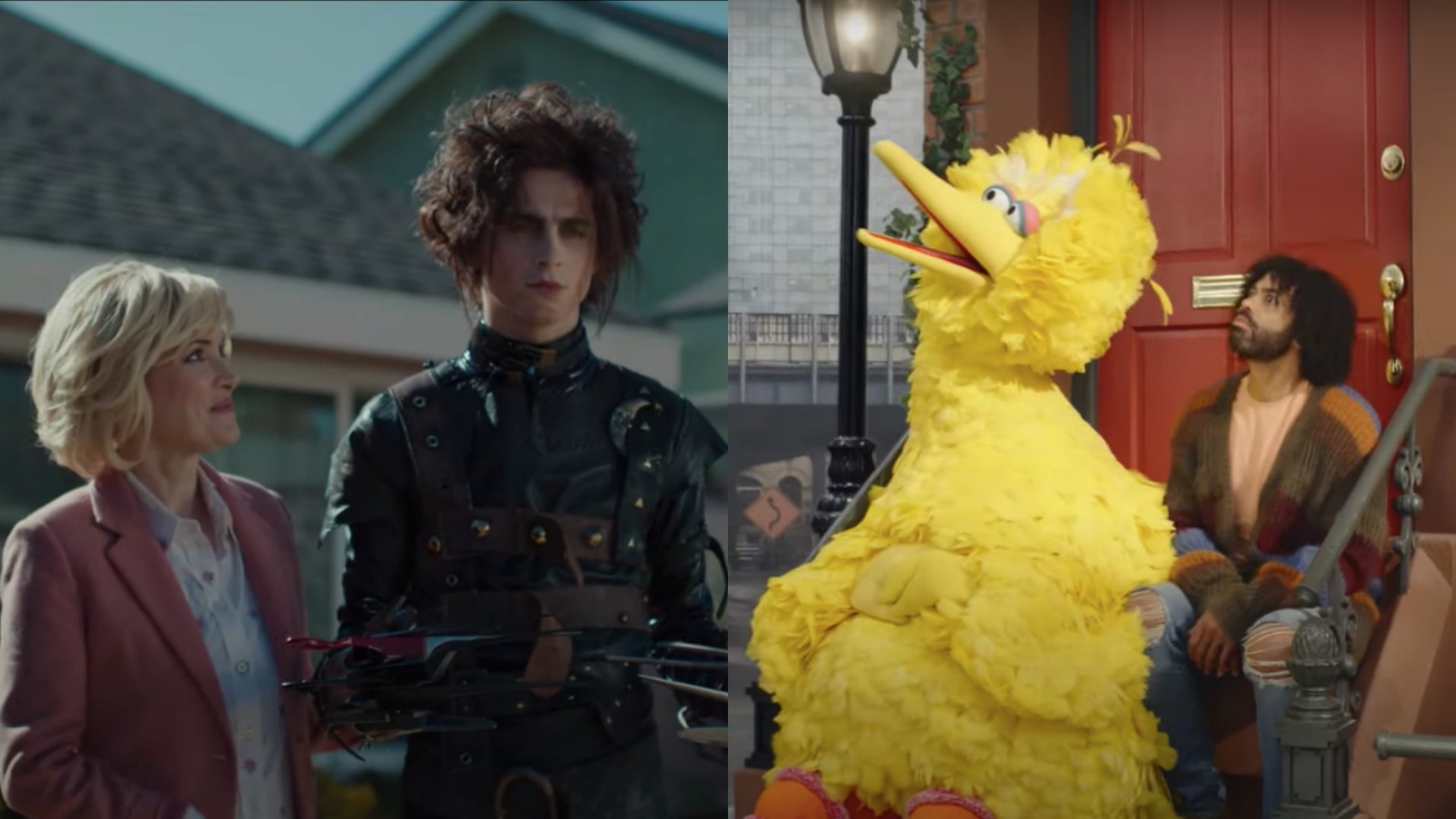 Photo credit: Cadillac and DoorDash YouTube channel
Even when there are many more entertainment options as adults, why do we seem to go back to watching reruns? Well during uncertain times, knowing what to expect can ground us and offer comfort. In the same way, seeing familiar faces and visuals can remind us of our childhood. So what we're really trying to say here is that this year's Super Bowl ads took that logic and ran with it, digging deep into the nostalgia box for the following commercials.
ScissorHandsFree (Cadillac)
We think of this ad as a spiritual successor to the 1990 film by Tim Burton. Winona Ryder sorta reprises her role and though unconfirmed, we like to imagine that she's still Kim Boggs. She is the supportive mom of Edgar Scissorhands, yes, Edgar, who is played by Timothée Chalamet. Like Edward Scissorhands before him, Edgar goes through the same struggles in the film, only this time there's a solution. You can watch the rest of the ad to find out!
The Neighborhood (DoorDash)
With people heavily relying on food deliveries these days, this commercial is mad relatable content. The ad features Daveed Diggs, from Hamilton the musical and the Snowpiercer series, and Big Bird of Sesame Street fame. Together, the pair skip across the street passing by eateries where Muppets are happily serving and leisurely dining, while singing a tweaked version of "People in your Neighborhood." (You'll see even more familiar faces when you watch the whole ad!)
"It Wasn't Me" (Cheetos)
This Cheetos commercial serves twice the nostalgia! You may first recognize the real-life couple Ashton Kutcher and Mila Kunis best as Kelso and Jackie from That '70s Show, which was a sitcom from the '90s. But then you look over at the dude in the purple robe sitting in the background and spot another familiar face. Yes, that is reggae artist Shaggy backing up a remix of his hit 2000 single "It Wasn't Me."
Wayne's World - Wayne and Garth are back! (Uber Eats)
With the craziness of the past year, it's comforting to know that some things never change. In this case, a certain slacker duo, who personified '90s MTV culture, are still rocking out in the basement. There's an added layer of absurdity knowing that Wayne and Garth did a bit in their feature film, which made fun of blatantly sponsored ads. And well, here we are! Party time! Excellent!
BONUS:
The First Touchdown of Puppy Bowl XVII! (Animal Planet)
This may not count as a Super Bowl ad but you can't deny that cute and adorable puppies are peak childhood material. At some point, we tried convincing our parents to bring home a puppy, which may have resulted in either success or failure. The gruff sports commentary as these dogs tumbled around the mini football field just added to the experience.
What was your favorite Super Bowl 2021 ad?