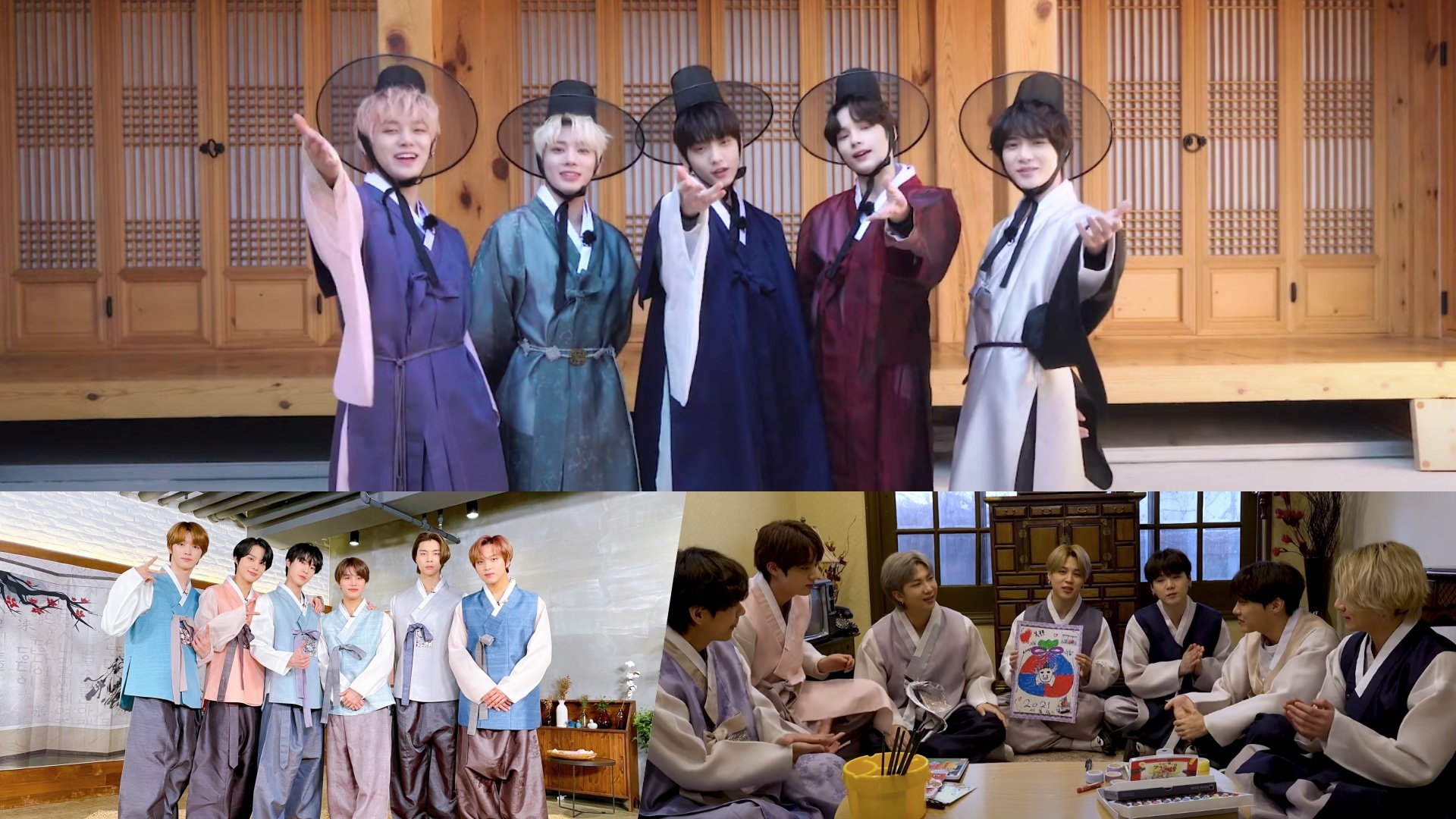 Photo credit: NCT Twitter page, TXT Twitter page, and BANGTANTV YouTube Channel
It's truly a happy Lunar New Year to one and all as our beloved K-POP boy bands give us the gift that keeps on giving: oppas looking fine in traditional Korean garb. Check out what BTS, TXT, and NCT were up to today. P.S. Don't forget to click on the closed captioning button for the English subtitle! Then again, perhaps now is the time to practice your Hangul.
BTS get creative by doing a New Year's card relay race
The Bangtan boys worked on a New Year's greeting card to give the ARMY lots of luck. The catch? They are split up into three groups and given only nine minutes (three minutes per team) to accomplish their task. Watch as artsy members V and Jungkook happily sway while casually sketching a tiny cow and a giant bokjumeoni (Korean Lucky Bag). Meanwhile, Jin and J-Hope energetically color the drawing and RM, Suga, and Jimin embellish the card with stickers and messages. Some highlights from the activity include Jungkook insisting on drawing a mohawk, Jimin jokingly explaining that V's scary drawing is meant to ward off evil spirits, and Jin saying with a straight face, "This bokjumeoni has the members' blood, sweat, and tears."
TXT compete to determine who best exemplifies a traditional Korean gentleman
Based on their Playground appearance, we already expect shenanigans from Tomorrow x Together. But we did not expect the hilarity of the boys putting on exaggerated aristocratic airs for this video special. Imagine: Soobin doing calligraphy, Yeonjun wistfully looking out the balcony, Beomgyu intensely reading an ancient scroll, Taehyun elegantly posing, and Hueningkai twirling his robe with a flourish. In this Lunar New Year special, the boys are split into two teams of hyungs (Soobin and Yeonjun) and dongsaengs (Beomgyu and Taehyun) with Hueningkai as the beleaguered MC. Throughout the video, the TXT boys insist on formal speech while "appreciating the arts" before devolving into chaos. Rinse and repeat.
Peak humor was achieved when a heated debate of "Harry Potter versus Iron Man" came to a head. Taehyun unleashed his killer logic, cooly saying that, "Harry Potter survives until the end of the series, while Iron Man ends up dying." To which Yeonjun's impassioned rebuttal of, "Iron Man will live in my heart forever! Do not dishonor his noble death!" while dramatically clutching his chest.
NCT plays an ancient board game while trolling each other
NCT's Haechan, Jungwoo, Doyoung, Taeil, Johnny, Sungchan, rep their band and play Yut Nori. This ancient board game is traditionally played during the Lunar New Year and consists of wooden sticks, cut in half, and black and white checkers. The group was split up into two teams consisting of Doyoung, Sungchan, and Jungwoo, versus Taeil, Johnny, and Haechan.
For this video, there's an added objective: the boys must refrain from using foreign words, speaking only in Korean or else they skip a turn. A supersized version of Yut Nori was set up with the sticks looking more like melee weapons. Because of this, the boys made a self-imposed penalty of hitting the opposing team member with a stick whenever they spoke in English. (Don't worry, the sticks are made of lightweight material!) The rest of the video features the boys attempting to trick each other into accidentally committing an error. When Haechan asks the opposing team to choose between cola and cider, Jungwoo and Sungchan immediately say, "cola," causing Doyoung to exclaim, "You fools! You just used a foreign word!" To which Sungchan seriously replied, "What should we say then, black water?"

After watching these videos, we feel blessed with prosperity and look forward to a brighter future. Saehae bok mani badeuseyo, everyone!