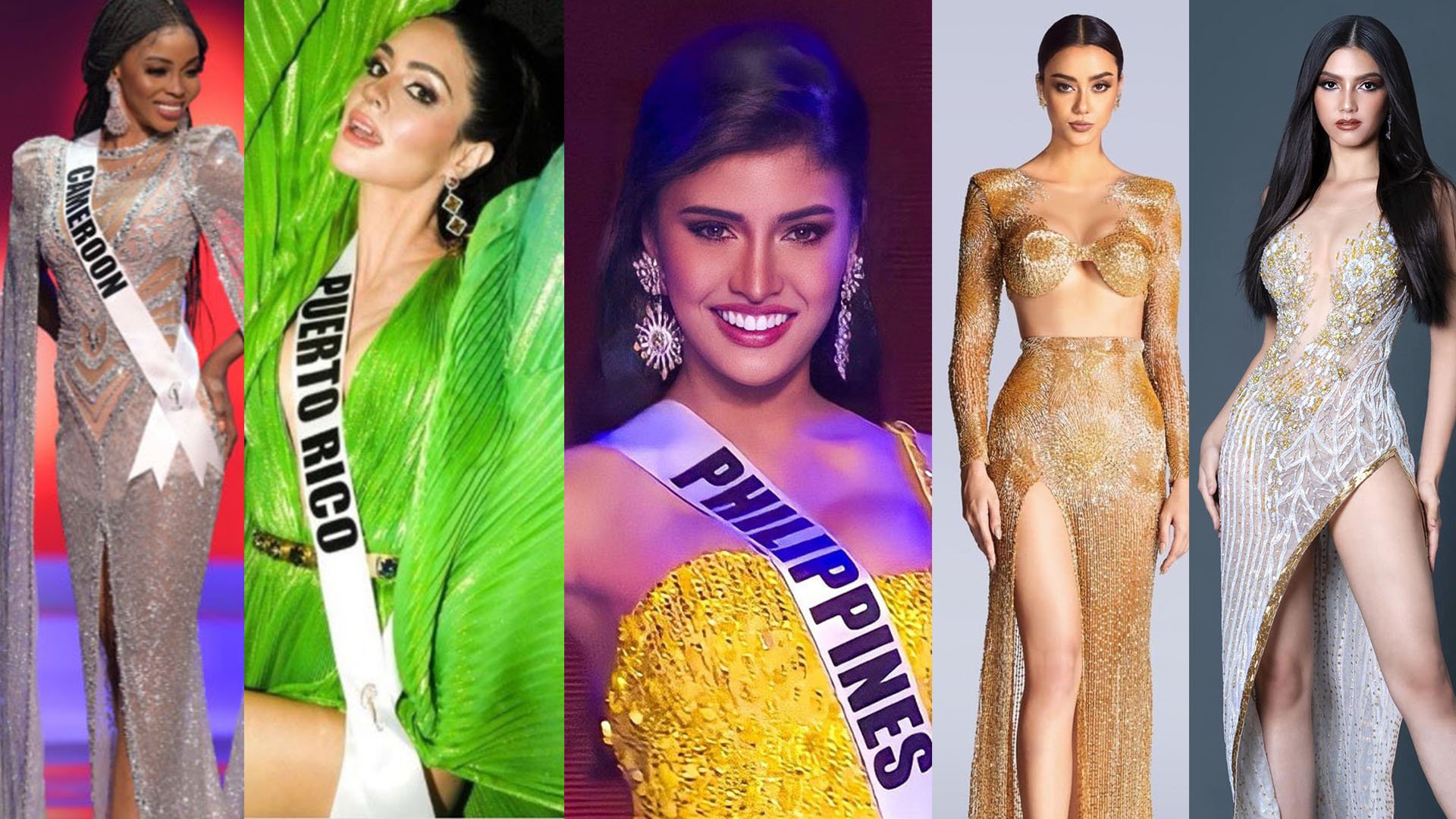 Photo credit: Miss Universe Organization/website, ecliptica_atelier/Instagram, jhnmrkcrls/Twitter, Miss Universe Thailand/Instagram, Miss Universe Laos/Facebook
On the day of Preliminaries, Miss Universe Philippines woke up to a million followers on her Instagram account.
READ: Rabiya Mateo's Instagram account reaches 1M milestone days before Miss Universe finals
This seemed like a good omen after the much-talked about National Costume event that happened on the previous day.
READ: Victoria's Secret? Missing Crown? Unraveling Rabiya Mateo's national costume
Rabiya Mateo brought her A-game during the preliminaries, which consisted of the swimsuit competition and the evening gown competition.
Dressed in yellow for both swimsuit and evening gown, more specifically, a canary yellow swimsuit by Ema Savahl and a topaz-hued Furne One evening gown.
READ: Review: Miss Universe 2020 preliminary competition standouts breakdown of participation results
While most of the contestants definitely wowed in their choice of evening wear there were also ones that lived rent-free in our heads. We narrow down our favorites for the night.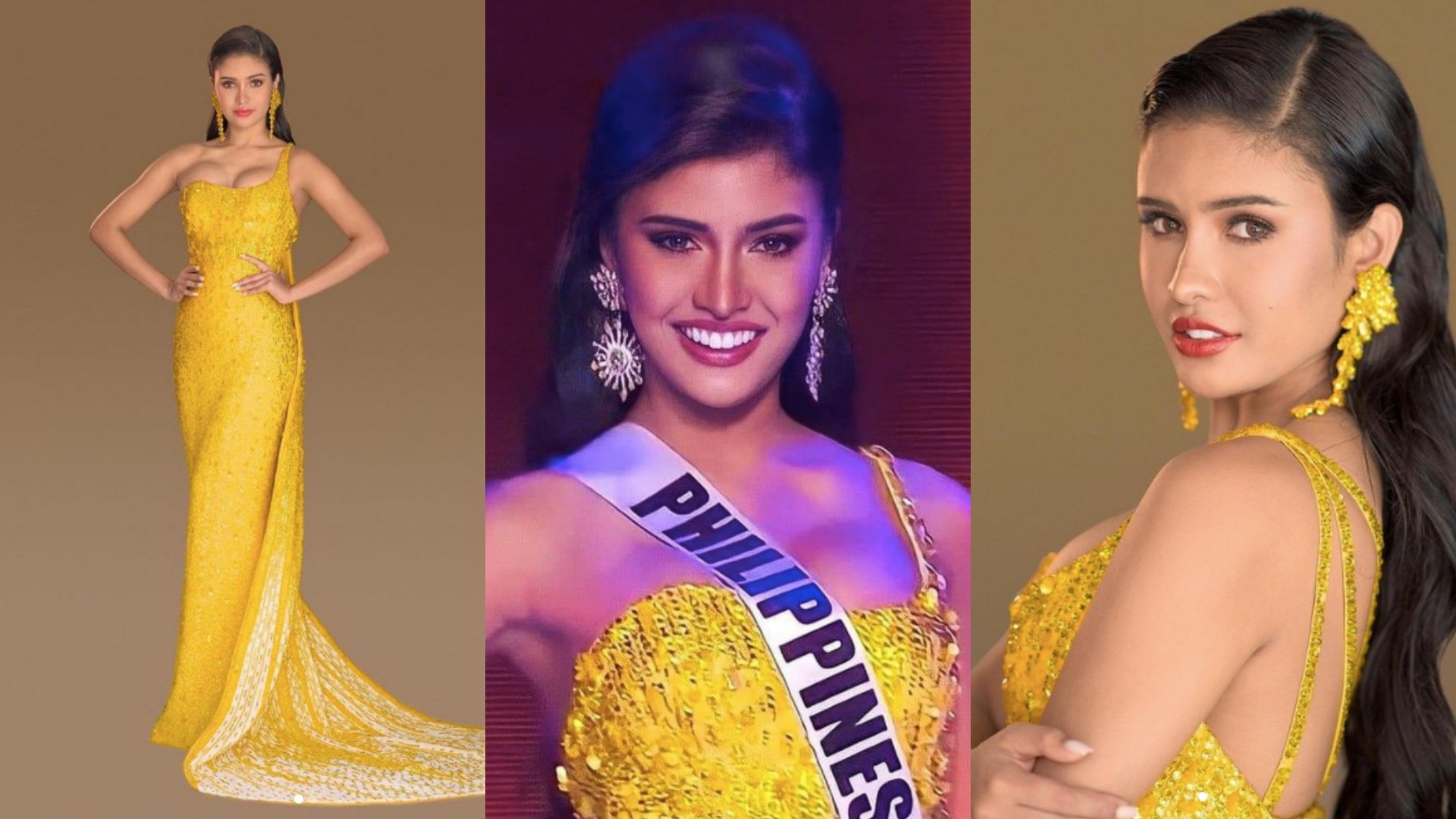 Photo credit: Aces and Queens/Instagram
Here comes the sun
Our Miss Universe Philippines might not have been able to wear her sun headpiece during the National Costume event but she definitely shone as bright as the sun in her evening gown. Mateo wore a Citrine Swarovski crystal-encrusted gown designed by Dubai-based designer Furne One. The inspiration for the dress comes from the radiance of the Philippine sun which symbolizes positivity and optimism. We are loving all the positive vibes from this gown from the elegant beading to the sparkling train. Shine on, Miss Philippines!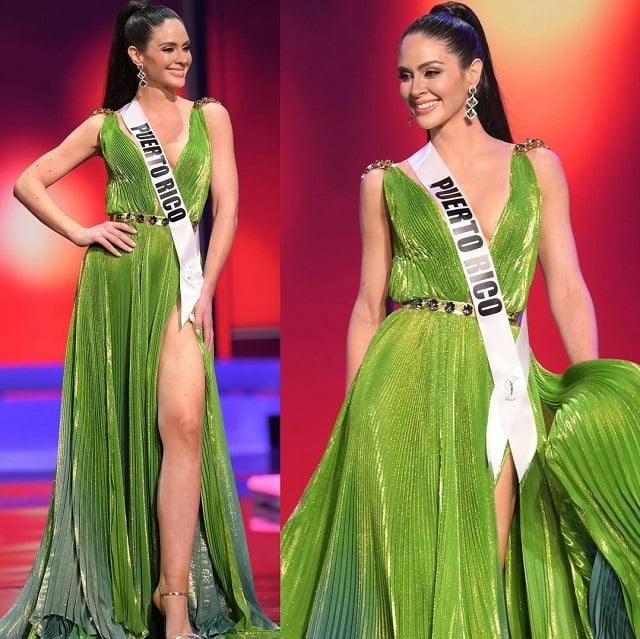 Photo credit: brightchivalryy/Twitter
Looking gorgeous in green
Estefania Soto Torres from Puerto Rico wore a flowing green ensemble designed by Ecliptica, a clothing brand based in her homeland. According to an Instagram post by the beauty queen, the gown had "flow, color, [and] uniqueness."
She gushed on her post and said, "[This is] exactly what I wanted to portray on Miss Universe's preliminary night."
She continued, "[The gown] is inspired [by the] green mountain landscapes of Puerto Rico. Green is also considered the color of creativity. [The dress also represents] stepping into new post-pandemic beginnings [with] complete freedom of movement guided by [the] lessons learned."
Yes, queen! Torres also hosts a podcast called Voices de Reinas (very fitting!) if you ever want to brush up on your Spanish.
Photo credit: Miss Universe Laos/Twitter
Blooming like a white flower
Miss Laos was a favorite among pageant stans during the evening gown competition. Christina Lasasimma wowed in a stunning gown designed by Unkuniya. The gown's inspiration stems from the national flower of Laos known as the champa or the plumeria. You can see the subtle white flowers on the gown's sequined appliqués. The gown's high slit also adds more oomph to the overall aesthetic.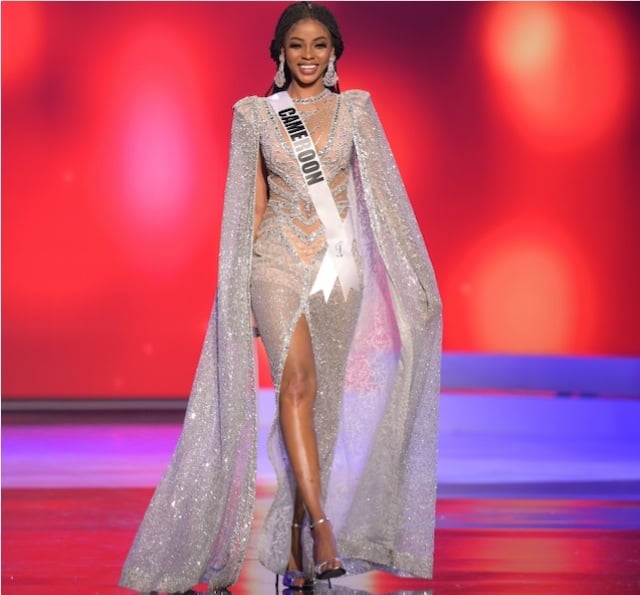 Photo credit: Miss Universe Organization/website
Shine bright like a diamond
Miss Universe Cameroon Angele Kossinda is already a winner in our books because she made history as the first candidate to represent her country. Miss Cameroon has already made quite an impression among Pinoys when she wore an ensemble designed by Filipino fashion student Kennedy Gasper during the National Costume event. The costume was inspired by Cameroon's national animal, the lion. The outfit featured an elaborate lion headdress and a backpiece that fans out into two lion faces at each side. For the evening gown category, Kossinda tapped another Filipino designer, Benj Leguiab. The gown is an intricately embroidered sparkly number with an open back and floor-length cape sleeves.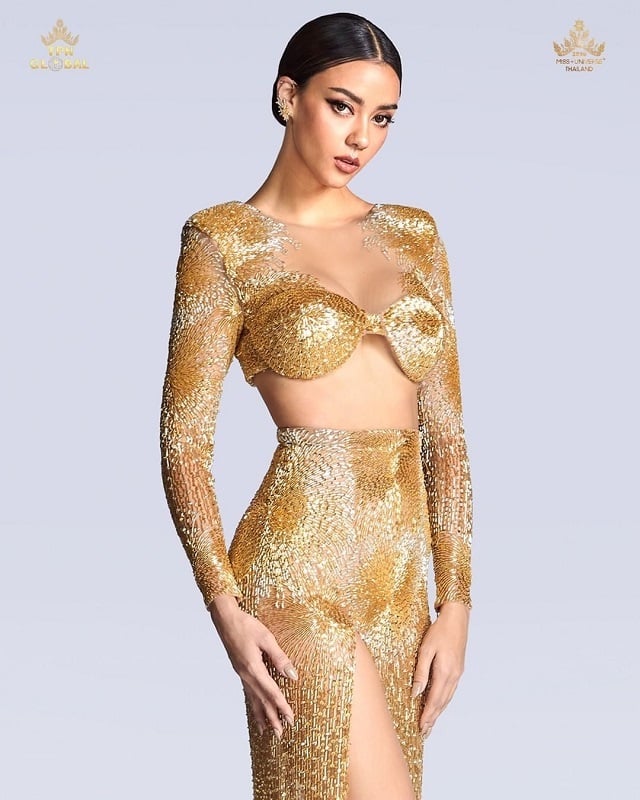 Photo credit: Miss Universe Thailand/Instagram
Baby, you're a firework!
Miss Universe Thailand Amanda Obdam did not come to play and wowed in a two-piece shimmery gown by Valentier. The overall design was based on fireworks, which according to the designer, represents a woman's power—loud, beautiful, and lights up the sky. The fashion house elaborated further in a post and said, "[The firework-inspired] silhouette and [style of] cutting [represent] the strength and vigorous quality [of a] Woman Warrior, [which describes] Amanda, the fighter. This two-piece gown depicts the modernity and agility of the modern woman."
The work that goes behind each of these elegant evening gowns is truly awe-inspiring.
From the conceptualization to the actual execution, each number is a fashion masterpiece. That's not even mentioning the hair styling, makeup, and accessories to match the whole look.
It's also quite delightful to see fellow Pinoys designing pieces for other Miss Universe contestants. Other pieces that haven't been mentioned yet are the gowns of Miss Romania and Miss Czech Republic designed by Michael Cinco, Miss Belize's dress by Jian Lasala, and Miss Cambodia's ensemble by Rian Fernandez. (Talk about world-class Pinoy talent!)
As we appreciate all the beauty and grace that these queens are projecting, let's also remember all the hard-working people behind it.
Which was your favorite gown? How do you feel about this year's Miss Universe event?