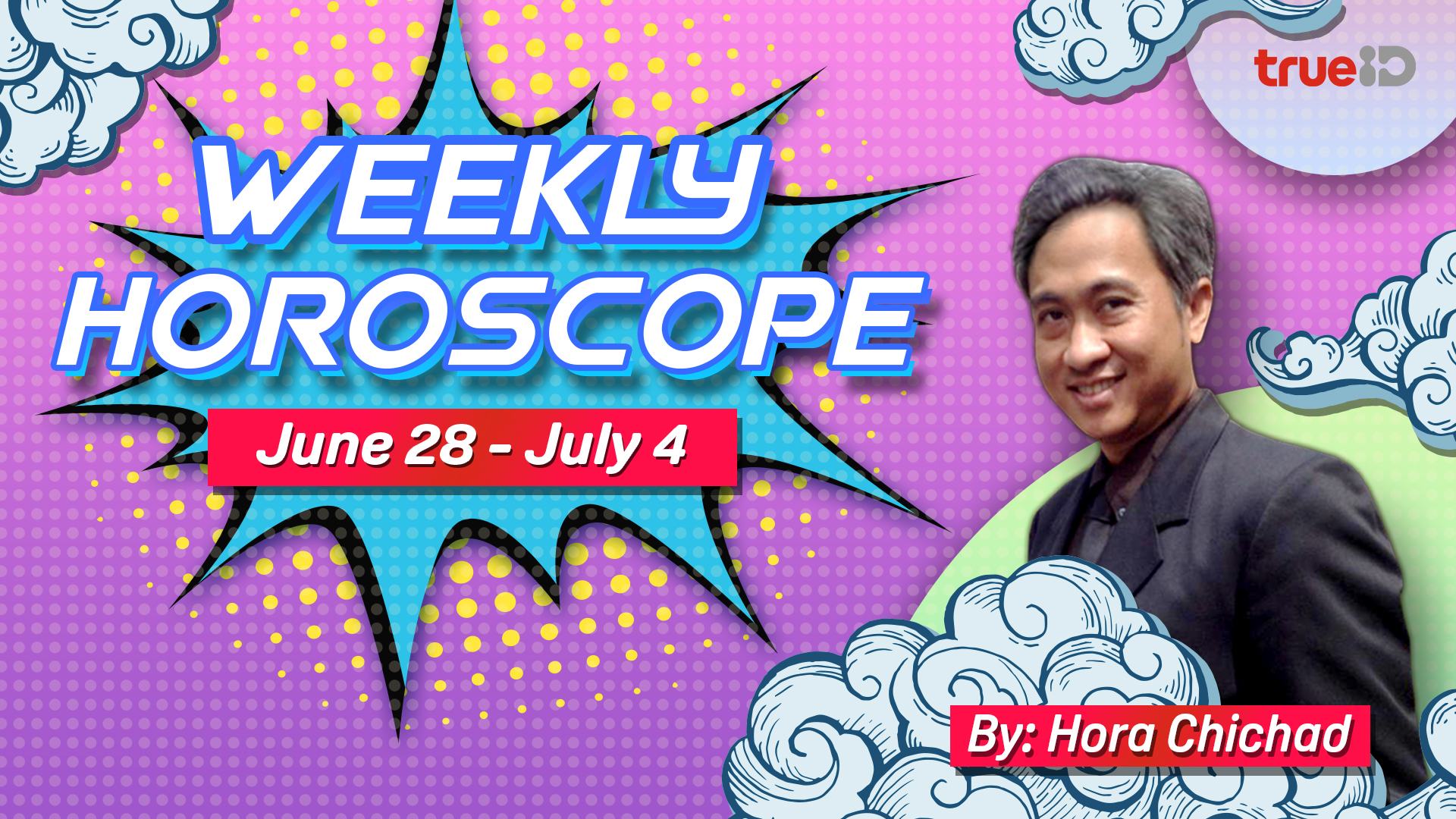 QUOTE OF THE WEEK: "Ignore the rumors and become a beacon of happiness in a sea of insecurities."
BUSINESS: Hearsay doesn't hold any water so be more confident in yourself. Focus on the work at hand to ensure steady progress. Find out who your real friends are among office colleagues.
FINANCES: Rejoice because you'll be earning more income than previously expected. However, there will also be some surprise expenses so better save up! Your lucky numbers are 4 and 9.
RELATIONSHIPS: There's a lot of uncertainty in your commitment so make sure to talk it out to avoid any misunderstandings. You might be feeling overwhelmed in your relationship because there's so much happening right now.
HEALTH: You're a bit worn out but at least still better physically and mentally. If you were suffering from a minor cold then you'll be able to recover this week.

QUOTE OF THE WEEK: "It's a gift to exist right now as you receive luck and success in all aspects of your life."
BUSINESS: You've got luck on your side because business is looking good! You are shining brighter than ever, attracting the support of office colleagues. With all this attention though, you must remember to accept everything with grace and humility.
FINANCES: It's smooth sailing for your income this week. Now is the time to negotiate benefits and expedite billings because once you start talking, it's instant money. Your lucky numbers are 1 and 5.
RELATIONSHIPS: The committed Leo must have a good understanding of their lover in order to grow and mature as a couple. You might have said something out of turn but lucky for you, it didn't blow up into a big fight. Just be more careful with what you say next time.
HEALTH: You may be prone to minor illnesses but you are generally in great shape.

QUOTE OF THE WEEK: "Destiny will lead you toward a positive direction so don't get distracted and lose your way."
BUSINESS: You will be doing a lot of entertaining as you meet new people and expand your industry circle. Remember the task that got stuck for a while? It's going to start moving again so maintain the momentum.
FINANCES: Get ready to receive payment from all your hustles. Keep up the good work and you'll earn good money. Your lucky numbers are 0 and 6.
RELATIONSHIPS: Your potential partner may look charming and dependable on the outside but once you get to know him or her, you'll get bored. Learn to enjoy your own company.
HEALTH: You might suffer from a dizzy spell so don't overwork yourself and always keep a calm mind.

QUOTE OF THE WEEK: "Get ready for one confusing week so don't easily trust news that you read or hear from other people."
BUSINESS: Manage your time wisely because you're going to have a packed schedule this week. As if that wasn't enough, there will be more people who will line up to set a meeting with you. Good luck!
FINANCES: Set aside time to clean up your place. You never know, you might just hit the jackpot and uncover some treasure. You're going to need that extra dough because your payments might get delayed. Make sure to follow up with the employer or client to resolve the problem. Your lucky number is 7.
RELATIONSHIPS: Stop comparing yourself to others because it will only leave a bitter taste in your mouth. Work on self-improvement to avoid experiencing envy towards your peers.
HEALTH: You might be at risk for toothaches and bone-related problems. There's also a possibility of suffering from blurred vision, rashes and sore muscles.
QUOTE OF THE WEEK: "Destiny is there to lead the way but only you can make things happen. Be mindful of your every move because it can greatly affect your future."
BUSINESS: You have a lot of problems at the office right now but don't worry, you can handle them. However, you might feel disappointed because someone else was given the credit for the project. It stings right now but with a little patience your time will come and you will get recognition.
FINANCES: Expenses will eat at your income this week so make sure to budget your cash. Your lucky numbers are 6 and 8.
RELATIONSHIPS: You will receive the affections of a person who turns out to be already committed. Avoid enabling their behavior because you don't want to end up being the third party. You are at risk of becoming the scandalous gossip for the week.
HEALTH: Get yourself checked down there because you might experience trouble urinating or other infections.

QUOTE OF THE WEEK: "Before making any big decisions, make sure you've got the budget to back up your idea. Focus on earning money first!"
BUSINESS: Congrats! You will be receiving a generous amount of financial support for your current project. Now is the time to go full speed ahead with your initiative.
FINANCES: As mentioned earlier, you're in luck because there are many sponsors who are funding your project. This will lead to a profitable outcome! Your lucky numbers are 2 and 6.
RELATIONSHIPS: Your vibe will attract a large tribe! People will find you irresistibly charming this week and will want either a romantic or close platonic relationship with you. Just don't let it get to your head.
HEALTH: You are dealing with an overactive imagination that may be causing some anxiety. Ground yourself in the real world and do some meditation.
QUOTE OF THE WEEK: "You can't solve problems with a tired mind. Find a quiet corner in your room to recharge."
BUSINESS: As they say, you can't please everybody so just try to achieve the quality that will make you happy.
FINANCES: Money will continue to come in so you can rest easy this week. You should support a valued cause. Your lucky numbers are 2 and 9.
RELATIONSHIPS: You are experiencing a lot of mood swings so it's best to tread carefully when speaking with others to avoid conflict. When someone tries to start an argument just walk away from the situation.
HEALTH: You seem dehydrated this week so make sure to have a reusable bottle of water handy. You might also be staring at the screen too often, possibly causing vision problems.

QUOTE OF THE WEEK: "Working towards a goal is like aiming your arrow at the target. You must shoot only once but with fierce accuracy. If you overdo it and keep shooting, you'll end up destroying the target itself leaving no room to hit the bullseye. "
BUSINESS: Your mind is currently at war with itself due to many work-related decisions that must be done. On the bright side, you will be doing good business with a foreign investor very soon.
FINANCES: You may not be earning a lot right now but it's good enough to keep you satisfied. Your lucky numbers are 0 and 2.
RELATIONSHIPS: If you're single then you're going to have a lot of chances to mingle. However, you must think before jumping into a relationship because the attraction might only be at the surface level. It's important to seek deep and fulfilling relationships that go beyond appearance.
HEALTH: With the amount of work that you're doing right now, you might neglect to take care of your health. You may be at risk for heart problems and not the romantic kind.

QUOTE OF THE WEEK: "The beginning of another month means a chance to try new things and gain experiences. Go for it!"
BUSINESS: You will be doing more of the behind-the-scenes background work in your current project with great results. Also, don't underestimate your regular office tasks because you might end up in trouble for messing them up.
FINANCES: Now is the time to experiment and discover new side hustles that generate a lot of income. Find things and revisit ideas that can turn into potential assets and you'll have an easier time renegotiating debts. Your lucky numbers are 2 and 5.
RELATIONSHIPS: If you have been keeping your situation under wraps then it's high time to take it to the next level and become official.
HEALTH: Expect some chest pains due to external shock and pressure. Take a break and remember to eat lots of freshly cooked food!

QUOTE OF THE WEEK: "Be strong and take control of your situation and good fortune will follow."
BUSINESS: Work on a game plan before making any big decisions. Otherwise, you might fail to deliver on a promise or enter a contract at a disadvantage.
FINANCES: Channel all your energy into earning and saving a lot of money. You will need it in the future. Your lucky numbers are 2 and 8.
RELATIONSHIPS: Your partner might not be feeling his or her best this week so you need to step up and express some love language. Only you know what your partner truly needs to feel fully supported in the relationship.
HEALTH: You might not be getting enough rest these days due to insomnia and skin sores. Get some sleep so you can also avoid damaging your eyes.

QUOTE OF THE WEEK: "A mission will challenge both your heart and mind. Take action without any hesitation!"
BUSINESS: There will be some issues raised at the workplace that will cause a lot of stress. Despite this, you must remain confident in the face of a challenge so you can emerge victorious.
FINANCES: You might have gone through a crazy week previously but fortunately, things are going to calm down. You will be paid generously for your efforts. Your lucky numbers are 0 and 5.
RELATIONSHIPS: Communicate effectively with your loved one by asking a few questions that are right on the money.
HEALTH: Your mind is in a vulnerable state so pay attention to your own needs first to maintain sanity during this difficult time.
QUOTE OF THE WEEK: "Luck and opportunity exist to help you on your journey. But before anything happens, you must take the first step and share your blessings."
BUSINESS: There aren't any new work opportunities available at the moment so take the time to revisit and appreciate your past accomplishments. You might get some much-needed inspiration.
FINANCES: You are one lucky person because gifts and fortune will come pouring in this week. However, there are also some bills that need to be paid. Your lucky numbers are 5 and 8.
RELATIONSHIPS: You're both going through some ups and downs in the relationships but at least you're weathering it together. The single Gemini may encounter a potential relationship at work.
HEALTH: Don't be too complacent or you might relapse due to an old ailment.