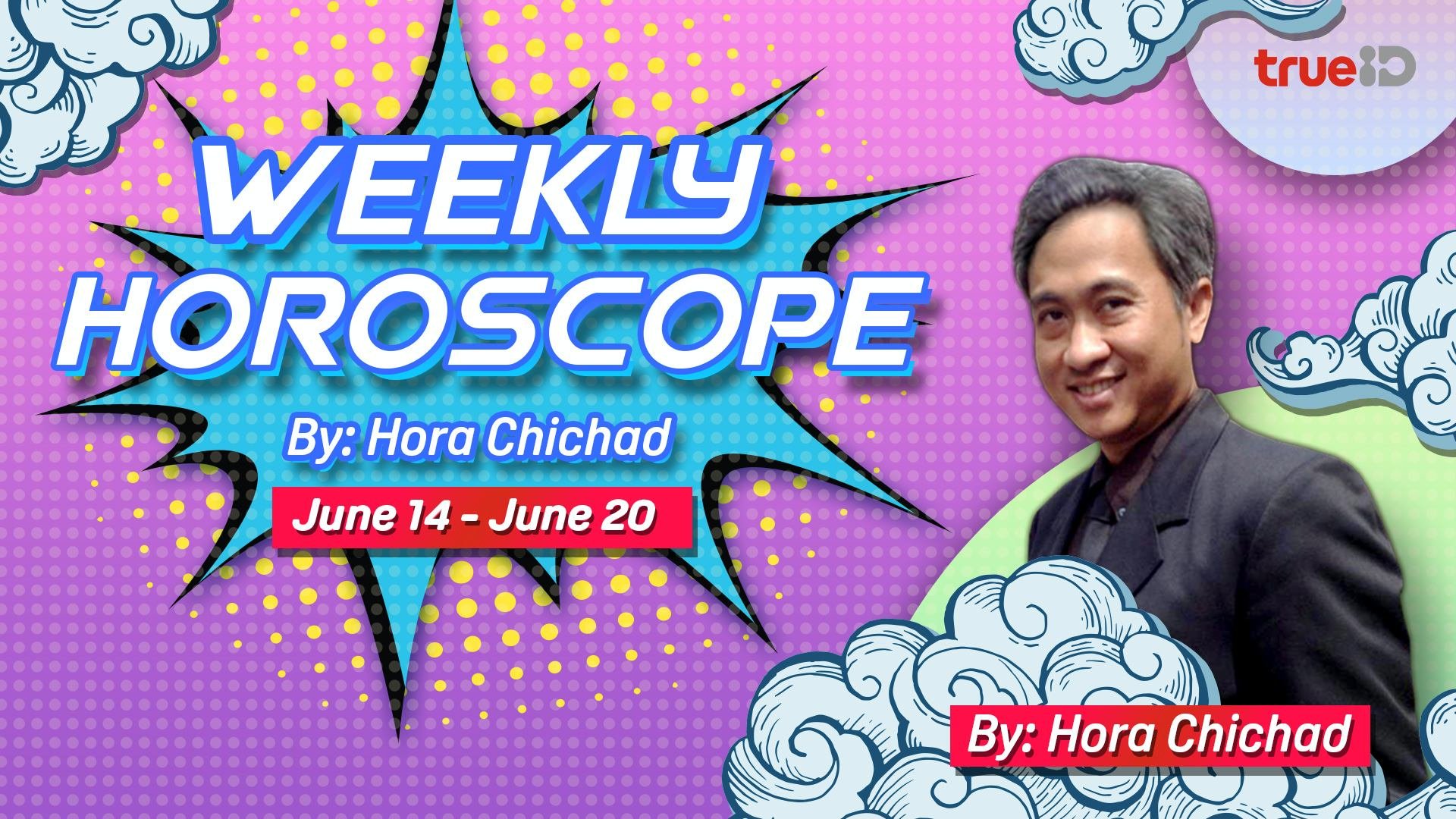 QUOTE OF THE WEEK: "Remember to stay grounded as you dwell in your emotions or else you'll float away from reality."
BUSINESS: Your carefully laid plans have gone awry so learn to adjust and adapt. Luckily, you can always go through the proper channels to resolve your issue.
FINANCES: You will end up spending more this week but fortunately, you will discover an opportunity that will help you earn money. Taking a break might help you sort everything out. You can also rely on old friends to bring you good fortune. Your lucky numbers are 6 and 9.
RELATIONSHIPS: There's a fine line between joy and suffering when it comes to commitment. You may feel bad about loved ones who act dismissive towards you but don't use it as a reason to compromise your needs and values. Love yourself more, Gemini!
HEALTH: If you're not feeling mentally up to most activities then it's time to meditate. Also, wash thoroughly to avoid skin diseases and rashes.

QUOTE OF THE WEEK: "The fountain of luck is overflowing so hurry and fill up your bucket because opportunity awaits."
BUSINESS: Put all your effort into getting the job done and you'll receive successful results. In this context, the reward is definitely worth the risk.
FINANCES: The week is looking good for potential investments and project pitches so go full speed ahead. Your lucky numbers are 7 and 8.
RELATIONSHIPS: If your heart is set on your potential partner then make the commitment. Don't be swayed by any possible third parties or else face karmic retribution.
HEALTH: Avoid the intake of any kind of drugs or liquor. Your eyesight and overall health might be in poor condition.

QUOTE OF THE WEEK: "Try to think outside of your comfort zone and you'll be surprised at the kind of innovation that will materialize in front of you."
BUSINESS: You are dominating the workspace, Leo! Your efforts have resulted in many successes this week. However, remember that if you're having difficulty, don't be afraid to rely on others to pick up the slack.
FINANCES: You are earning a lot of dough and the opportunities keep coming. Treat yourself to something nice! Your lucky numbers are 6 and 0.
RELATIONSHIPS: Love can be uncertain during this time but at least single Leo has many chances to meet new people. You might even end up revisiting an old flame although results may vary.
HEALTH: Consult a doctor regarding your current symptoms so you can get diagnosed. You will feel hot and bothered due to a strangely intimate dream.

QUOTE OF THE WEEK: "A good plan can only come into fruition when it is carried through by action. Live in the present!"
BUSINESS: Work profits will take a dip first before it improves. Just hold your head up high and keep pursuing the objective. Things will be better soon!
FINANCES: Your budget must be perfectly balanced—as all things should be. When it comes to money, you win some, you lose some. Your lucky numbers are 1 and 2.
RELATIONSHIPS: The single Virgo can easily find love online but don't get too caught up in your romantic entanglement. The married Virgo on the other hand might be heading for splitsville. Be careful when engaging in an argument against your spouse. Don't bring up the possibility of separation if you're still not sure or else you will be forced to make a decision you might regret later on.
HEALTH: Watch where you're going or you might run into a tall structure. Keep your body in shape because health is wealth.

QUOTE OF THE WEEK: "You will receive great fortune and benefit from the kindness of others. The message is as clear as day."
BUSINESS: If you have been feeling anxious regarding a certain outcome then fret no more because something good is coming your way. Your senior colleagues will be extremely supportive this week and join forces with you. This is a great time to be bold and pursue ambitious projects.
FINANCES: You will gain a generous amount of profit from a short-term activity. Don't spend it all in one go and wisely manage your earnings. Make sure that you can lock it in for long-term savings. Your lucky numbers are 4 and 5.
RELATIONSHIPS: Your commitment to your partner should be based on equality. Be mindful and share both the physical and emotional labor of a relationship. If your lover is sick, then make sure to take care of him or her.
HEALTH: You are mentally exhausted and need to take a break. You might also feel numbness in your arms and legs so stand up from your desk and shake it off.
QUOTE OF THE WEEK: "Attract sponsorships for your cause and all works will be successful!"
BUSINESS: When it comes to work, always get a second opinion from a trusted colleague. What was once a difficult task will then become easy for you. Don't chase this goal alone because it might result in epic failure.
FINANCES: Your income stream keeps flowing so there's no need to worry about money this week. Perhaps you can try paying it forward by donating to a church or a hospital. Your lucky numbers are 3 and 5.
RELATIONSHIPS: You may feel confident putting your charm on full blast but potential partners are feeling overwhelmed by your vibe so don't be too forward. If you need inspiration in the love department, look no further than the old, happily married couples around you.
HEALTH: You have been overthinking and overexerting yourself, Scorpio! You need to rest up and focus on recovery. You are also at risk for a sore leg and a vehicle-related accident.

QUOTE OF THE WEEK: "If you arrogantly demand your fortune then you will be left feeling impatient and frustrated. However, if you just focus on other things then your big break will easily come to you."
BUSINESS: While work issues have caused understandable stress, don't give up just yet. Instead of panicking, focus your energy on being calm and collected so you can take a more logical approach in solving problems.
FINANCES: This might not be your best week but at least you have some extra cash to spare. Expect some added expenses but nothing too major to break the bank. Your lucky numbers are 1 and 8.
RELATIONSHIPS: Don't ignore the signs because there is a good reason to be separated right now. Your current situation causes more suffering than happiness.
HEALTH: Check on your parents or parental figures because they might be feeling under the weather. An old medical issue of yours might return due to a weak immune system. Blurred vision might also pose a problem this week.
QUOTE OF THE WEEK: "No matter how many times you are provoked, show mercy and refrain from getting even."
BUSINESS: You need to be on top of your workload, Capricorn. Don't give in to the pressure and negative emotions or you'll further delay any progress. Kick things up a notch and attempt more ambitious moves.
FINANCES: Don't push your luck when it comes to earning more money or it might backfire. You haven't reached your goals in terms of savings but that's okay because there's always next week. Your lucky numbers are 8 and 0.
RELATIONSHIPS: How you present yourself to others and your true inner self are currently conflicting with each other. Make sure to keep it consistent for a harmonious relationship with the self. Mind your temper this week or it might get the best of you.
HEALTH: Steer clear from a drinking session and alcoholic beverages in general. Maintain hygiene and cleanliness to prevent itching and inflammation. Watch out for a past ailment that might make a comeback tour on your system.

QUOTE OF THE WEEK: "Own your personal beliefs and practice them by donating to a place of worship or another worthy cause."
BUSINESS: This week brings great work opportunities especially in terms of buy-and-sell businesses and second-hand antique trades. As a buyer, you should be careful of dyes for sale and do your research.
FINANCES: You will be making a profit at work and a lot of risks you've taken will pay off in the end. Your lucky numbers are 8 and 9.
RELATIONSHIPS: You and your partner or potential partner aren't very clear about your true intentions and have both been acting inconsistently so far. Use the power of friendship as a unifying link to gain a better understanding of each other. You can also do something nice like get a thoughtful gift.
HEALTH: You might struggle moving around due to joint problems. Relax your body and consult a doctor if it gets worse. Avoid fermented or very pungent types of food. Also, be careful when handling electrical equipment to prevent any accidents.

QUOTE OF THE WEEK: "There's no need to wait for an external force to push you into making a decision. You already know in your heart what is good and bad for you."
BUSINESS: Remember to maintain work-life balance and learn when to push back on certain tasks. Only pursue projects that you feel will be feasible for you to accomplish.
FINANCES: You might be facing money issues but luckily they will be resolved thanks to a generous sponsor. Your lucky numbers are 3 and 0.
RELATIONSHIPS: A long-distance commitment may prove to be very challenging on both sides. Constant communication and transparency are what you need to practice to make this relationship go the distance.
HEALTH: Remember that you're not invincible and might suffer an injury due to carelessness. For a better state of mind, do something good for the benefit of others such as donating food to your community pantry.

QUOTE OF THE WEEK: "Things are heating up and we're not just talking about the weather."
BUSINESS: It's time to unleash your beast mode because work is going to get demanding in the next few days. Learn to be more proactive and strike while the iron is hot.
FINANCES: Get ready for a major payday! Don't question your fortune and suffer from imposter syndrome. You deserve to get paid and then some! Just be thankful for the blessing. Your lucky number is 1.
RELATIONSHIPS: While it's great that you were able to leave a toxic relationship, that doesn't mean that you're ready for another romantic entanglement even if they will treat you better. As they say, easy come, easy go, so don't fall in love too quickly this time. Learn to value yourself first before getting back into the dating scene.
HEALTH: Watch out for any loose electrical wiring to avoid an unpleasant shock. You are at risk of burning up with a fever. Remember to take breaks in between working or studying!

QUOTE OF THE WEEK: "You might feel lost in the dark right now but know that there's a light at the end of the tunnel. Fortune will come to save you from your troubles."
BUSINESS: You are winning at work this week thanks to your intelligence and skills of persuasion. However, don't exploit this impressive talent or you might end up making enemies outside and inside the company.
FINANCES: This week, you might be tempted to spend on takeout food but this will only cause more unnecessary spending. You must learn how to wisely allocate your budget and not just spend on yourself but share the wealth to others in need. Your lucky numbers are 5 and 8.
RELATIONSHIPS: You might be developing a crush on a close colleague or classmate the more you hang out together. To effectively sort out your feelings for this person, you must avoid putting them on a pedestal and see the real him or her from an objective point of view. Otherwise, you might ruin a great friendship.
HEALTH: It's time to calibrate your mindset because you have been prone to anxiety and panic attacks as of late. There's also a chance of you accidentally destroying your valued belongings so store them in a safe place. When eating, look before you take a bite.