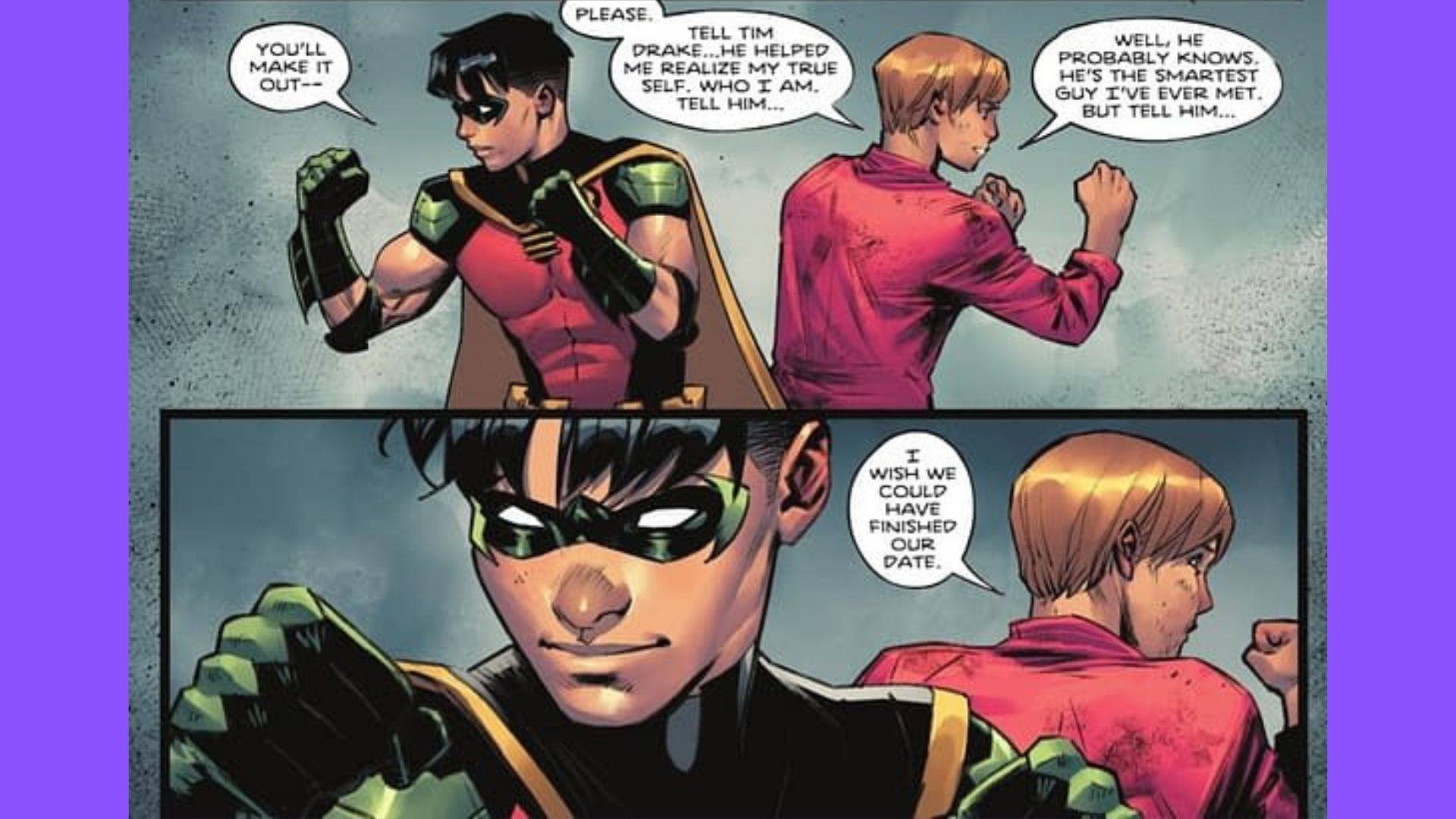 Photo credit: DC Comics/Bleeding Cool
By Jerald Uy
Batman's third sidekick in the comics Tim Drake is apparently bisexual, unless we were all queerbaited in Batman: Urban Legends— a title that spotlights on the other members of the Bat-Family. The only Robin to deduce that Bruce Wayne was Batman, Drake might finally be coming to terms with his sexuality in the series.
The reveal was foreshadowed in issue no. 4. Then, Barbara Gordon aka Oracle, an erstwhile Batgirl, told Tim he was scared to analyze himself for what he is going to "find is going to change you." In the story, Tim reunited with an old friend Bernard Dowd, a forgotten supporting character from Robin's solo series in 2004. Readers got kilig when Bernard hugged his "friend," who was eventually kidnapped by a Chaos Monster—such a killjoy!
READ: Paul Pablo: Emerging LGBTQIA+ artist to watch out for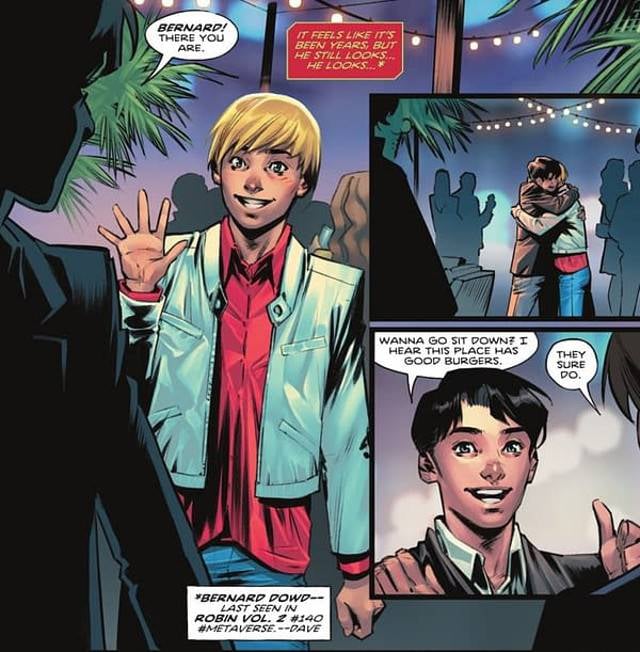 Photo credit: DC Comics/Bleeding Cool
While there was some homoerotic subtext, the issue also acknowledged Tim has dated girls in the past, with his ex, Spoiler-slash-former-Batgirl-former-Robin Stephanie Brown making a cameo. They've dated for years in the comics, so we doubt she's a beard.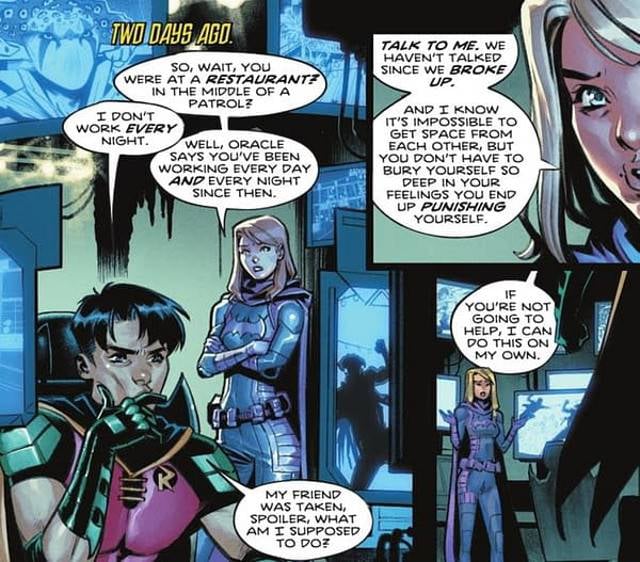 Photo credit: DC Comics/Bleeding Cool
Because this is a superhero comic book, the next issue found Bernard and Robin fighting together against Chaos Monsters who have kidnapped a bunch of teenagers. Bernard told Robin that he would want to continue his date with Tim should they survive the battle, hinting that he knew Drake's alter ego all along.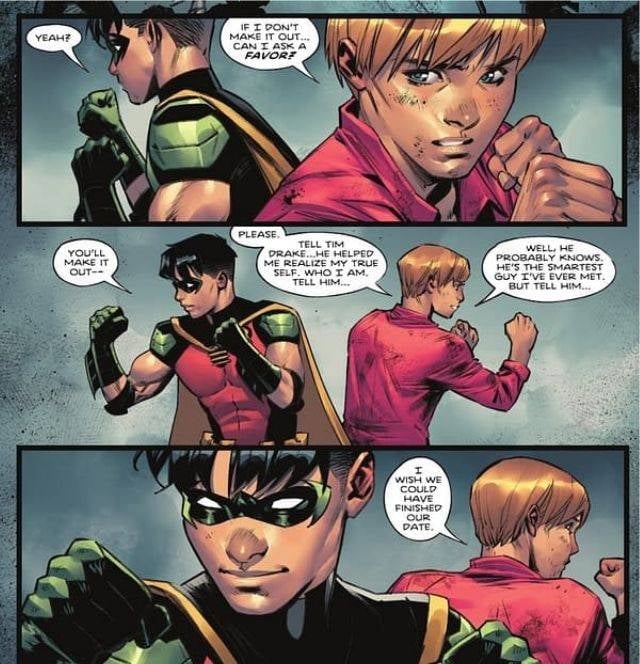 Photo credit: DC Comics/Bleeding Cool
Good thing, this isn't Romeo and Juliet. At Bernard's doorstep, Tim accepted his invitation to go on a date.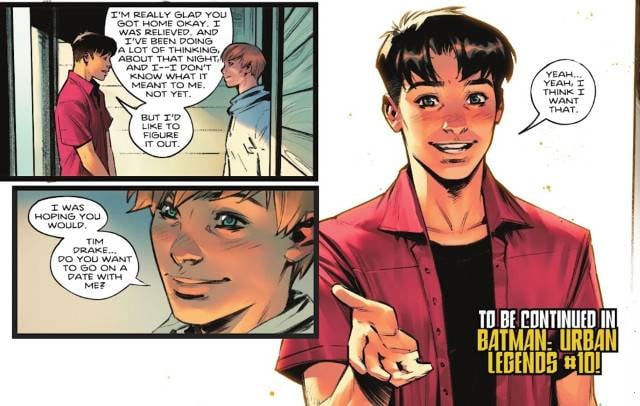 Photo credit: DC Comics/Bleeding Cool
DC Comics, if you are queerbaiting, you have a lot of things to answer for! But if Tim Drake is really bisexual, then we salute the creative team of Meghan Fitzmartin, Belen Ortega, and Alejandro Sanchez for the much-needed LGBTQ+ representation in teenage superheroes. We're rooting for the Boy Wonder to get a colorful love life, too!