The Department of Health bulletin today contains grim news: the total number of COVID-19 cases in the Philippines is now over the two-million mark. With the Delta variant running rampant and driving this surge, it's very hard to find a bright side to all this.
Not to worry: the government will do all it can to make sure the news is rosy.
So here's where we're at: New infections were at an all-time high in August, with the highest-ever single-day tally of 22,366 reported on Tuesday, August 31. There were an additional 14,216 cases reported today, September 1, but the relatively low numbers are due to five laboratories being unable to submit their data on time.
But, just hours after the DOH released its figures, the Philippine News Agency (PNA)—the official state-run news wire agency attached to the Presidential Communications Operations Office (PCOO)—ran a story highlighting the number of recoveries from the coronavirus.
Under the headline "PH Covid-19 recoveries reach 1,829,473", the PNA focused on what might sound like good news. "An additional 18,754 patients have beaten the coronavirus disease 2019 (Covid-19), pushing the country's overall recovery count to 1,829,473 as of Wednesday," runs the lede.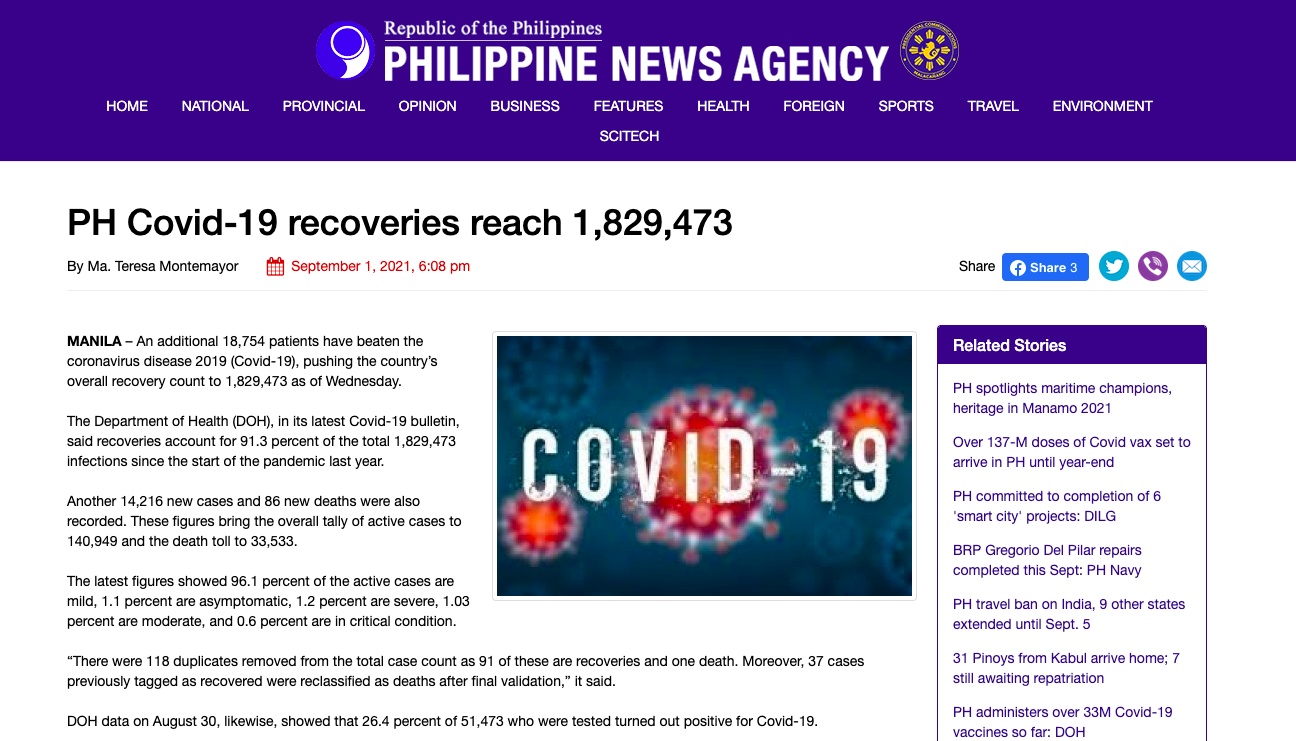 This glosses over the fact that there needs to be COVID-19 infections in order for there to be recoveries.
Though the PNA story quoted from the same DOH bulletin, its angle was decidedly different: "The Department of Health (DOH), in its latest Covid-19 bulletin, said recoveries account for 91.3 percent of the total 1,829,473 infections since the start of the pandemic last year."
While these numbers also sound positive, data gathered by the Johns Hopkins Coronavirus Resource Center shows that the Philippines remains among the twenty most affected countries when it comes to mortality caused by COVID-19.
highlight the small-looking percentages.